Section Branding
Header Content
GA Today: The Braves are headed to the White House
Primary Content

You've arrived at the online edition of the Sept. 20 Georgia Today newsletter, a twice-weekly publication featuring original stories from GPB News reporters and the latest headlines from around the state.
Prefer to receive the news fresh to your inbox so you don't miss any important headlines? 
Sign up here to receive the newsletter on Tuesdays and Thursdays.
Now, the news:
Funeral of Queen Elizabeth II broadcast live at monument in Midtown Atlanta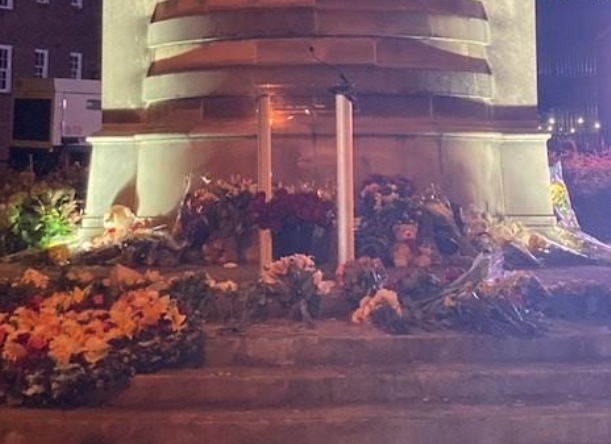 On Monday morning, while world leaders and dignitaries congregated at Westminster Abbey for the funeral of Queen Elizabeth II, people gathered at the Prince of Wales's World Athletes Monument in Midtown Atlanta.
The National Monuments Foundation hosted a live broadcast of the queen's funeral at the monument, which was gifted to the city of Atlanta by the former Prince of Wales, now King Charles III, for the 1996 Olympics.
"The mood was respectful, mournful and, I would say, quite beautiful," said Rodney Mims Cook, Jr., president of the National Monuments Foundation. "The monument was piled high with Paddington bears, horses, little Corgi dogs, beautiful cards and just heartbreaking cards."
Cook said just under 1,000 people attended. 
Want to weigh in on Georgia Power's proposed rate increase? Here's how
Georgians will be able to voice their concerns about Georgia Power's plans to raise electricity rates by 12% during a series of hearings beginning later this month before a final vote in December.
The Georgia Public Service Commission has adopted new procedures that allow each person to speak for up to three minutes during the first hour of each hearing day, but after the time runs out, people who wish to speak must return another day and anyone not directly involved in the case will be asked to leave the meeting room.
There will likely be at least seven hearing days throughout the rate case for people who want to speak their mind and commission meetings are also streamed online, PSC Chairwoman Tricia Pridemore said.
"We're limited in space; it's first come first serve," she said. "We have a signup sheet for public witnesses so we do it in order of who gets here first and we've got an open facility for them."
Yes, expecting parents in Georgia can now claim their embryo as a dependent
Even with a wave of new state-level abortion restrictions passing or taking effect this summer, Georgia's law stood out because of its so-called personhood provisions that accompanied the better known six-week ban on the procedure — especially a new tax break for expecting parents.
"In the state of Georgia, House Bill 481 recognizes the fundamental truth, life begins at conception," said Cole Muzio, president of the conservative Christian lobbying organization Frontline Policy Action and a backer of the new law. "And so we recognize that throughout our code. That means that a woman, as soon as she's pregnant, can begin claiming that child on her taxes as a dependent."
But others say the sweeping changes could have unforeseen consequences.
"When you are going to start to equate a fetus with a person that is born in the personhood clause, as exemplified by this claiming of a fetus on tax returns, it just opens up a huge host of very thorny questions, constitutional questions, freedom of movement questions that we just haven't even begun to scratch the surface of, much less answer," said Atlanta Democratic state Sen. Elena Parent.
POLITICAL HEADLINES:
An 'unprecedented flood' of book bans engulfs U.S. school districts, PEN report says
More than 1,600 book titles across 32 states were banned from public schools during the 2021-2022 school year, with the bulk of the ban requests coming from a handful of right-wing groups pushing for censorship of books that feature LGBTQ+ characters and characters of color, a new report issued Monday said.
"What I want to be really clear about is the books are a pretext," Ashley Hope Pérez, an author of a banned book, said. "(Book banning) is a proxy war on students who share the marginalized identities of the authors and characters in the books under attack."
In 2015, Pérez wrote Out of Darkness, a young adult romance about a Mexican American girl and an African American boy set in the 1930s, but the book was banned from school districts last year.
Abrams' strategy to boost turnout: Early voting commitments
Stacey Abrams, Georgia Democrats' nominee for governor, is launching an intensive effort to get out the vote by urging potential supporters to cast in-person ballots the first week of early voting as she tries to navigate the state's new election laws.
The strategy, outlined to The Associated Press by Abrams' top aides, is a shift from 2018, when she spent generously in her first gubernatorial bid to encourage voters to use mail ballots.
It also moves away from Democrats' pandemic-era emphasis on mail voting, a push that delivered Georgia's electoral votes to President Joe Biden and helped Raphael Warnock and Jon Ossoff win concurrent U.S. Senate runoffs to give Democrats control of Capitol Hill.
Historic bridge built by African American rededicated at Stone Mountain
Stone Mountain Park, originally created as a Confederate memorial, now features a historic covered bridge named in honor of the 19th century African American who built it.
The Stone Mountain Memorial Association rededicated the Washington W. King/College Avenue Bridge during a ceremony late last week at the site of the bridge on the back side of the 3,400-acre park.
King, the son of a freed slave, engineered, designed and built the bridge in 1891 to cross the Oconee River in Athens, connecting College Avenue and the University of Georgia with the more rural regions of eastern Clarke County.
Floods damaged the wooden bridge on its moorings in 1910 and again in 1961. The bridge was then replaced with a concrete and steel crossing, and the old bridge was set aside on the banks of the Oconee.
 
Headlines around the state
The Atlanta Journal-Constitution:
Savannah Morning News: 
Red and Black:
Secondary Content
Bottom Content