Section Branding
Header Content
The Valdosta Symphony opens its new season with some closure from its past
Primary Content
LISTEN: Valdosta Symphony music director Howard Hsu speaks with GPB's Sarah Zaslaw about everything from the big-name soloists the group attracts to its string education program — and why opening night Sept. 24 will feature one symphonic blockbuster in particular.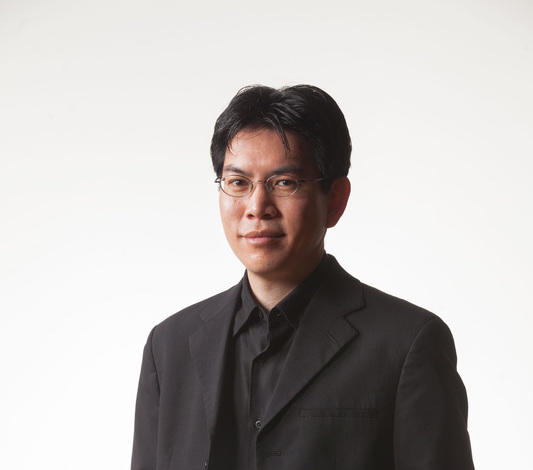 You could say the Valdosta Symphony Orchestra punches above its weight.
It serves as a cultural anchor not just for Valdosta but for a large swath of South Georgia and northern Florida. Its unusual hybrid structure pairs professional musicians and Valdosta State music faculty with students on stage. And it's a national award-winning ensemble, placing first in the American Prize competition in 2014 in the community orchestra division.
Now the Valdosta Symphony is gearing up for its 2022–23 season. Music director Howard Hsu recently sat down with GPB's Sarah Zaslaw over Zoom to chat about everything from the big-name soloists the group attracts to its win-win string education program — and why opening night Sept. 24 will feature one symphonic blockbuster in particular.
Highlights
Edited for brevity and clarity. 
On the night the lights went out — and this opening night
We have been chomping at the bit to get a crack at Mussorgky's Pictures at an Exhibition. Because eight years ago or so we had it programmed, and while we were performing it the electricity went out. We were about to perform "Chicks." And we kept waiting in almost total darkness, with just the emergency lights on, and the audience was being really patient.
Our soloist, Rachel Barton Pine, who had just played Mendelssohn with us a few minutes earlier, was still down the hall in her dressing room, and she came out wondering what in the world was going on. Once she found out, she said, "I'd be happy to play," and we were like, "Yes, please!" She came out and started playing Bach. She was taking requests—she also loves heavy metal and I think somebody had yelled out Black Sabbath or something so she was about to go there. And then we smelled smoke, and the fire marshal came out and said everybody has to leave.
So in short, we didn't get to finish Pictures. And of course you want to finish with the last part, "Great Gate of Kiev." We didn't get there. And every year, members of the orchestra were telling me, hey, we have to finish that piece. Once COVID hit, we're like, "okay, we are not putting that many people on stage again." But once we felt comfortable having everybody come back, then it seemed like it was time. So what better way than to kick off the season with Pictures.
On landing major soloists
We've had this amazing tradition even before I got here. When I was looking at the list of some of the performers that have come through, I was like, "wow!" 
We have really great connections through our principal players, who are also faculty members at Valdosta State. They know a lot of people. We have a fantastic executive director who also knows a lot of agents. So it's through word of mouth and also speaking with agents and then word of mouth from our principal players. They will tell me or the executive director, "We just heard this phenomenal pianist; we have to have her come in."
Also we're in the position where we can be telling them, "We'd love to have you come: what do you want to do?" They would really love to play certain works they're presenting that season, so we can offer them that. And then I think they usually have a pretty good experience, so that we have them keep coming back as well. [Pianist Awadagin Pratt returns to perform Jessie Montgomery's Rounds with the VSO Feb. 25, 2023].
There's a consortium across the country of string projects. In this case the string project is part of the Valdosta Symphony and also Valdosta State University. It gives really low-cost or free lessons, depending on the financial situation of the students.
Also, the students get to play in ensembles, and they'll bump up from one level to the next, starting from the beginning. That includes participation with the parents. The parents will be taking classes with their kids and then they'll learn violin or viola or whatever instrument they're interested in.
It also has another role. We have string majors at Valdosta State University. They play in the VSO but also they teach as part of the String Project. They are under a master teacher, they get a lot of teaching experience, and some of them are music ed majors as well. That helps them get that first experience to become great teachers on their own.
We've worked together in the past and actually we will get to work together again this season (in the Brahms Requiem in March). She's a phenomenal singer, and she was phenomenal before I knew her. She was one of the apprentices with San Francisco Opera in their Merola program. She has an extensive performing career as an opera singer, and then also as a teacher. She teaches voice at Valdosta State University — she's the voice area chair there now — and she's taught in the past at NYU Steinhardt as well.
On whether he still plays his violin
I will take it out of the closet and dust off my case if there's a passage in a piece that I'm looking at and I need to feel it in my hands. Most of the times when I'm reading a score, I'm just imagining how it will probably go. There are times that there's just too much separation from actually playing it versus hearing it. I can get closer by plunking on the piano. But since I'm a string player, sometimes it's easier just to try something and do the fingering or do the bow and realize in two seconds, oh, that doesn't work; if I ask for that it will not be good.
On his Valdosta colleagues
We're so fortunate to have the community support we have, and also the support from Valdosta State University and my fantastic colleagues in the Valdosta Symphony. We constantly support each other, pick each other up, pick each other's brains. I couldn't imagine in my career having such an amazing group of people to work with. Being through the whole COVID situation, that just made it even more clear.
Secondary Content
Bottom Content