Section Branding
Header Content
Georgia Today: HB 481 explained, R. Kelly sentenced, Delta pilots picket, robots are coming
Primary Content

🍑 Greetings, Georgia.
It's Thursday, June 30, 2022, and you've arrived at the digital version of the Georgia Today newsletter.
Sign up here to receive it in your inbox on Tuesdays and Thursdays and share it with your friends.
Travel safely this holiday weekend, and keep our state's COVID-19 cases and fireworks laws in mind. If you're listening to GPB Radio on the road, join us in welcoming the voice of Peter Biello, our new host for All Things Considered.
 
That's what's new for us. Here's what's new in Georgia today:
What does Georgia's HB 481 bill do?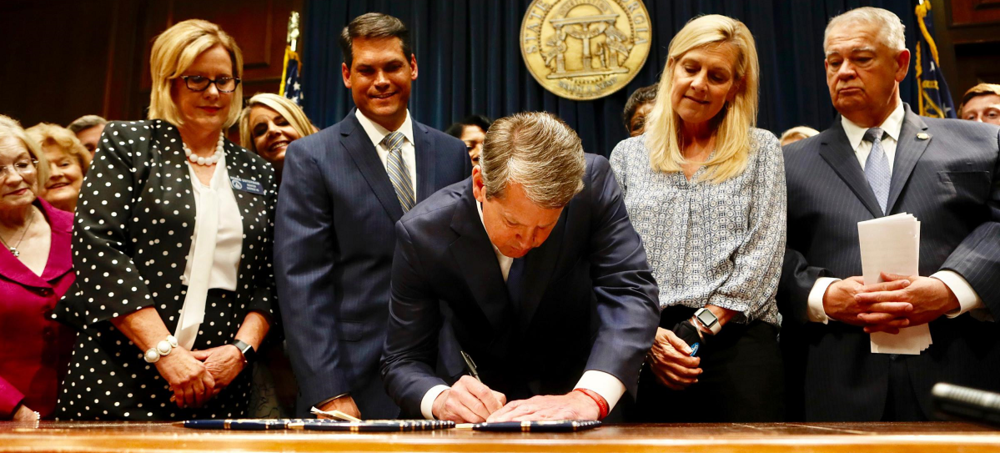 Surrounded by supporters, Gov. Brian Kemp signs House Bill 481, the "heartbeat bill," into law in 2019. (Bob Andres / Atlanta Journal Constitution)
Abortion is still legal in Georgia without exceptions until 20 weeks into a pregnancy. But a 2019 law currently held up in the courts could soon virtually eliminate abortion access in the state.
WHAT TO KNOW: GPB News' Stephen Fowler breaks down the details of House Bill 481, which would criminalize most abortions after about six weeks into pregnancy — before many women may know they are pregnant — and adds so-called "fetal personhood" language that would change the definition of a "natural person" to include "an unborn child at any stage of development who is carried in the womb." 
Delta Air Lines issues travel waivers ahead of holiday weekend
Delta Air Lines pilots picket outside Hartsfield-Jackson Atlanta International Airport's South Terminal on June 30, 2022, as part of a nationwide demand for better pay, scheduling and retirement benefits. (Amanda Andrews / GPB News)
Beginning tomorrow, Atlanta-based Delta Air Lines is issuing a systemwide fare difference travel waiver which allows customers the option of rebooking flights affected by disruptions between Friday and July 4. Rebooked travel must take place by July 8, 2022.
GPB News' Amanda Andrews reported that as the company's pilots demonstrated at airports across the country today — including Atlanta — Delta CEO Ed Bastian took to Instagram to address customers.
 "If you've encountered delays or cancellations recently, I apologize," Bastian wrote. "Thank you for your patience and understanding as our team works to restore the world-class reliability you deserve and have come to expect from Delta." 
R. Kelly sentenced to 30 years in prison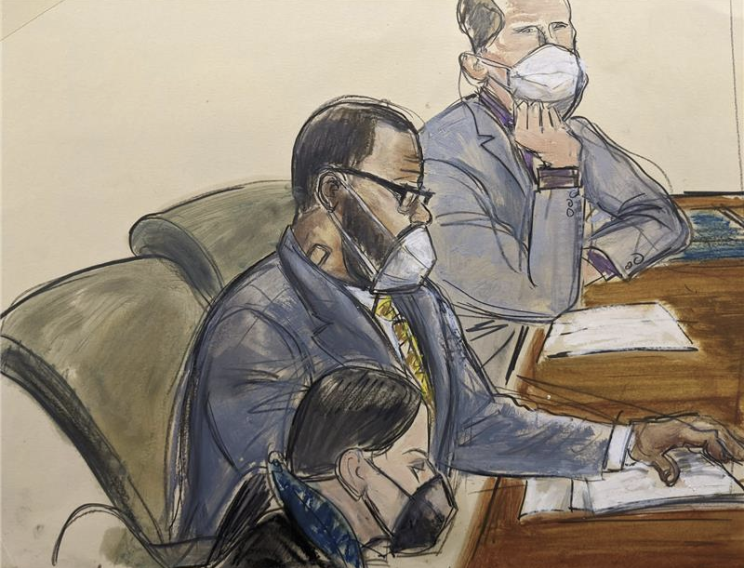 Singer R. Kelly (center) appears in a courtroom drawing. (AP News)
R&B star R. Kelly, 55, was sentenced Wednesday to 30 years in prison and a $100,000 fine for using his fame to sexually abuse young fans, including some who were just children, in a systematic scheme that went on for decades.
As reported by GPB News' Devon Zwald: The parents of Joycelyn Savage, a woman who was involved with Kelly, are pleased with the embattled singer's sentence, issuing a statement through their attorney Gerald Griggs:
"[We hope the sentence] will continue to send a strong message that sexual predators will be punished."
The COVID vaccine for kids under 5 is here, but ...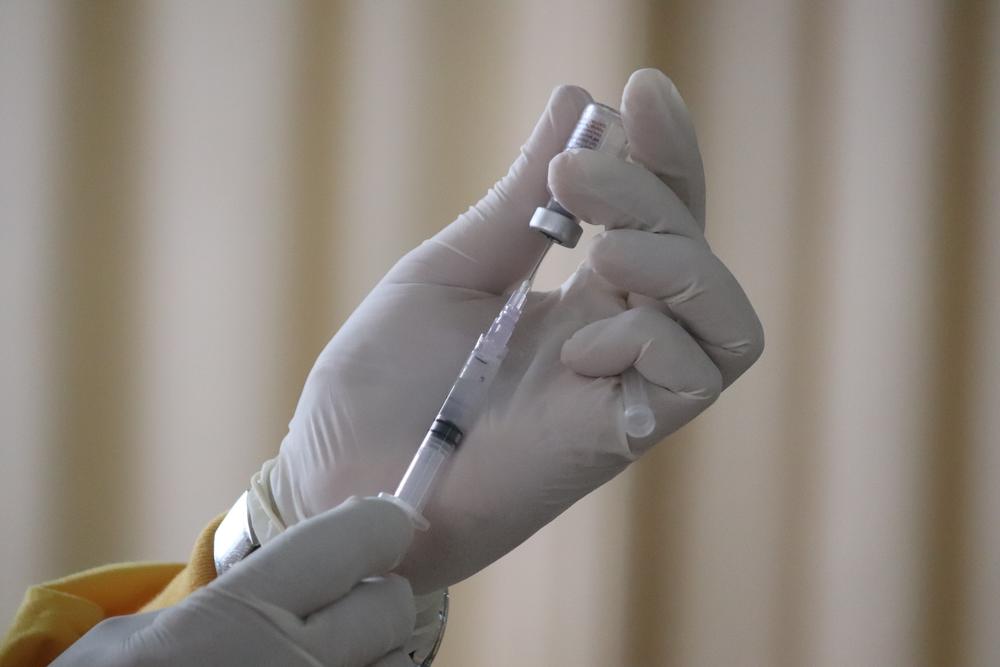 COVID vaccines for kids under age 5 were approved last week in a major development to tackle the pandemic. Health experts are telling parents to contact pediatricians for a shot, but for many that's not an option, reports GPB News' Sofi Gratas.
Parents who hoped to have their young children protected against COVID-19 as soon as vaccines became available for their age group were surprised to hear doctors say there isn't enough interest among parents. 
"It's disappointing that some of the major pediatricians in town are not going to administer it," said Jo Thomas, the mother of an 8-month-old and a bioengineering professor at Macon's Mercer University. "Any boost I can give my kid's immune system that's been proven safe … I want my kid to have that." 
New laws set to bring delivery robots to Georgia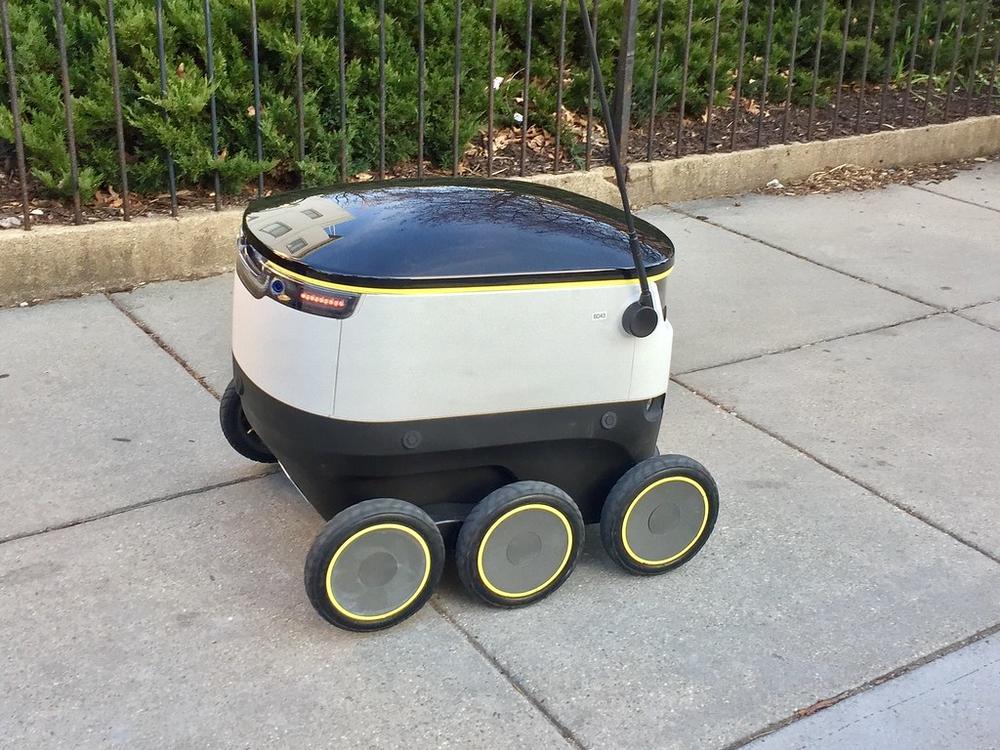 Without rules in place for delivery robots, the technology has seen limited use in Georgia. But that may be about to change. (Joe Flood/Flickr)
Georgia is about to embark on a new form of transportation technology that fits the needs of the era of e-commerce, reports Dave Williams, Bureau Chief of Capitol Beat News Service.
 
Legislation the General Assembly passed this year that takes effect on Friday will authorize "personal delivery devices" better known as delivery robots to ply the state's highways and sidewalks.
 
House Bill 1009, which cleared the Georgia House of Representatives and state Senate overwhelmingly, sets out regulations governing delivery robots, including where and when they can operate and at what speeds, weight limits, and penalties for violators.
All-star night of Georgia music premieres July 4 on GPB TV
Georgians make great music: R.E.M. founding member Mike Mills has collaborated with students from Mercer University's Robert McDuffie Center for Strings and its founder, violinist  Robert McDuffie, as well as former Allman Brothers Band member and current Rolling Stones keyboardist Chuck Leavell for A Night of Georgia Music.
A film of the concert premieres July 4 on GPB TV and features songs made popular by Otis Redding, Ray Charles, the Allman Brothers Band, R.E.M., Outkast, the B-52s, Brook Benton and others.
Listen to Peter Biello's All Things Considered interview with Mike Mills on GPB Radio on Monday, and tune into GPB-TV at 7 p.m. to watch the concert. 
Georgia Today is written by Sarah Rose and written and edited by Khari Sampson and Kristi York Wooten.
Thank you for sharing your evening with us. Feel free to send us feedback at GAToday@gpb.org.
Like what you're reading? Share with a friend!
Secondary Content
Bottom Content