Section Branding
Header Content
What does Georgia's 2019 abortion law HB 481 do?
Primary Content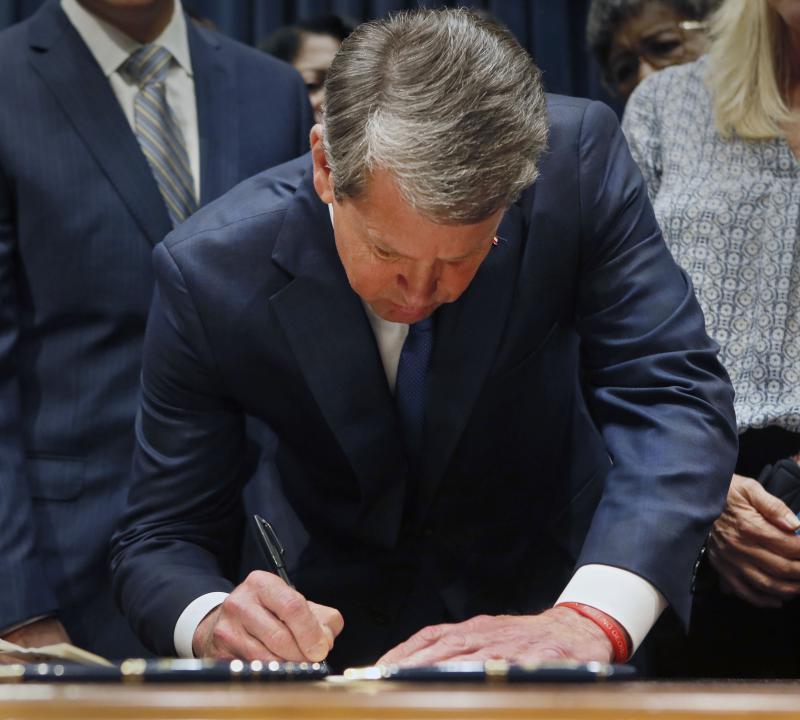 It is still legal to get an abortion in Georgia without exceptions until 20 weeks into a pregnancy, though a 2019 law currently held up in the courts could soon virtually eliminate abortion access in the state.
Some Republican-led states are enacting "trigger" laws that would ban abortion now that the U.S. Supreme Court's decision in Dobbs v. Jackson effectively reversed the Roe v. Wade precedent last week.
But Georgia is different.
House Bill 481, a 10-page bill passed in 2019 and almost immediately blocked by a lawsuit, would criminalize most abortions after about six weeks into pregnancy — before many women may know they are pregnant — and adds so-called "fetal personhood" language that would change the definition of a "natural person" to include "an unborn child at any stage of development who is carried in the womb." 
Both the abortion restrictions and personhood language have wide-reaching effects if the courts ultimately allow the law to move forward. Here is a look at the current status of abortion in Georgia and how it would change under HB 481, also called the Living Infants Fairness and Equality (LIFE) Act.
READ GEORGIA'S 2019 ABORTION LAW HB 481
What is the law today?
Currently, state law allows for abortions until 20 weeks into a pregnancy with no limitations, and after 20 weeks in certain circumstances, including a physician determining the pregnancy is medically futile or determining it is necessary for the life and health of the mother. 
Georgia law does not currently ban the use of medicated abortion, which uses the two drugs mifepristone and misoprostol and can take place within 10 weeks into a pregnancy, but does prevent physician's assistants and advanced practice registered nurses from providing medicated abortion.
According to Georgia Department of Public Health data, there were more than 31,000 abortions that took place in the state in 2020, the most recent year with reported data. In 2017, there were 15 clinics and 26 total facilities in Georgia that provided abortions in Georgia, according to the Guttmacher Institute, a pro-abortion rights research organization. But that number has gone down, including the June 24 news that the only facility providing surgical abortion in Savannah has closed.
The Georgia Rules & Regulations for the Department of Public Health also states that no abortion shall be performed after the first trimester unless it is performed in a hospital, ambulatory surgical center or abortion facility, and the abortion facility can only provide dilatation and evacuation procedures.
If you seek an abortion, the "Woman's Right to Know Act" in state law requires mandated counseling about information such as medical risks of abortion, probable gestational age of the fetus at the time, that the father will be liable for child support and medical assistance benefits for prenatal care and childbirth.
There is also a 24-hour waiting period unless there is a medical emergency.
What does HB 481 change about when you can get an abortion?
The most noticeable change, if Georgia's LIFE Act is allowed to take effect, would be the time frame that abortions would be allowed under law. HB 481 says that no abortion shall be performed if the physician makes "a determination of the presence of a detectable human heartbeat," defined as "embryonic or fetal cardiac activity," which typically occurs around six weeks into pregnancy.
O.C.G.A. § 16-12-141 also says an abortion is legal if the pregnancy is less than 20 weeks along and is a result of rape or incest and a police report has been filed. There are also still exceptions in cases of a medical emergency or when a pregnancy is diagnosed as "medically futile."
The law also does not criminalize miscarriages and stillbirths, labeling them "spontaneous abortions" and also exempts removing ectopic pregnancies.
Since existing law spells out potential punishments for the offense of criminal abortion (between one to 10 years in prison), the new law lists several affirmative defenses against prosecution, including if a woman "sought an abortion because she reasonably believed that an abortion was the only way to prevent a medical emergency."
Changes to the 'Woman's Right to Know Act'
Under the new law, the materials that a woman eligible to seek an abortion would have to review before moving forward with the 24-hour waiting period would be updated to reflect Georgia law stating that "'as early as six weeks' gestation, an unborn child may have a detectable human heartbeat."
The law also updates reporting requirements for physicians who perform abortions to include information about how they determined the gestational age of a pregnancy, if the pregnancy was medically futile and the method used for an abortion. 
What is 'fetal personhood' included in HB 481?
Georgia's abortion ban is different from many other states in that it considers an unborn child to be a "natural person" under state law, leading to several implicit and explicit changes to numerous parts of the law.
One way this is spelled out deals with child support. Under HB 481, courts could order fathers to pay for "direct medical and pregnancy-related expenses of the mother of the unborn child" as soon as cardiac activity is detected.
The LIFE Act also changes a code section dealing with recovering damages for the homicide of a child to include the fetal cardiac activity definition as a starting point.
Georgia's Republican-controlled General Assembly also modified the law to include a fetus as a "dependent minor" for tax purposes and that they be included in population-related counts.
But there are other parts of the law that include the term "person" that could also be affected by the personhood language. For example, O.C.G.A. § 32-9-4 gives the authority for High Occupancy Vehicle lanes that can be used by "Passenger vehicles occupied by two persons or more," defining person as "any individual, partnership, corporation, association, or private organization of any character."
It is not clear at the moment if that means someone who is at least six weeks pregnant can use the HOV lane under the new law.
Currently, HB 481 is blocked while the 11th Circuit Court of Appeals hears an appeal of a federal judge's ruling striking down the law.
Secondary Content
Bottom Content