Section Branding
Header Content
Blue state businesses offer travel money for employees in need of abortion care
Primary Content
After Friday's Supreme Court decision to overturn Roe v. Wade, many businesses are offering added benefits for their employees who may need abortion care. GPB's Ellen Eldridge has more.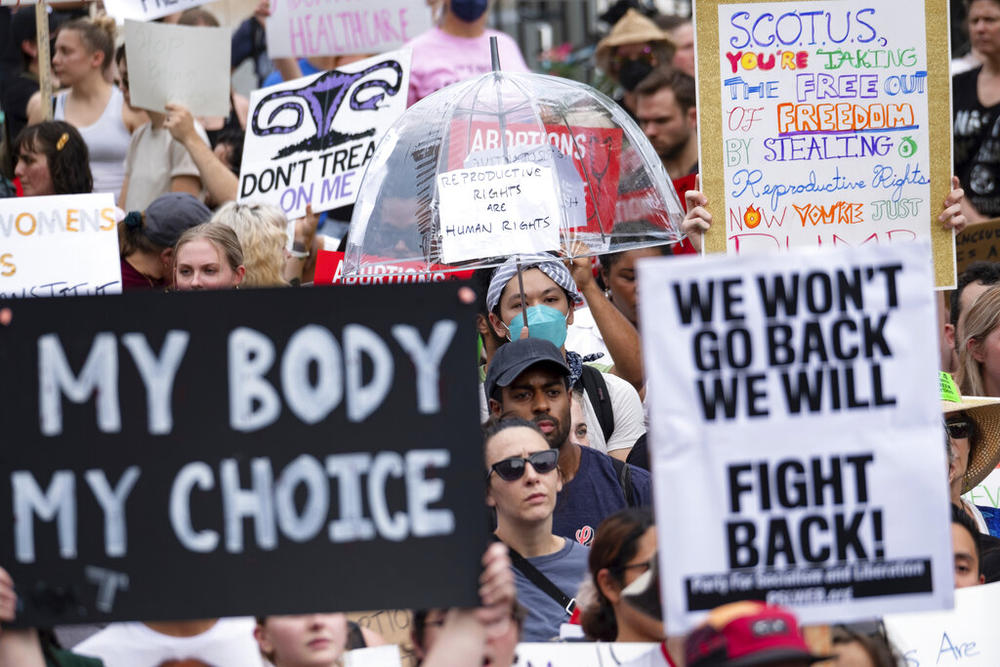 The relationship between corporations and society has changed so that, now, businesses are often more trusted than government, according to Emory University's business and society institute.
"If you look at the surveys last year from goBeyondProfit here in Georgia, about 91% of Georgia employees expect CEOs to take stances," Executive Academic Director of Goizueta's Business and Society Institute Wes Longhofer said. "In particular, people tend to trust their own employer on issues that are politically fraught."
The research center conducts interdisciplinary research exploring the connections between business practices, market structures and social outcomes.
The U.S. Supreme Court last week officially reversed Roe v. Wade, declaring that the constitutional right to abortion no longer exists. That means that states are now responsible for laws associated with reproductive rights.
Gov. Brian Kemp, who in 2019 signed a strict abortion ban that is pending in court, called the ruling "a historic victory for life."
"I look forward to its impact on the legal proceeding surrounding Georgia's LIFE Act and hope our law will be fully implemented and ultimately protect countless unborn lives here in the Peach State," Kemp said.
Attorney General Chris Carr immediately filed a notice in the 11th U.S. Circuit Court of Appeals requesting it reverse a district court's decision currently barring Georgia's so-called "heartbeat law" from taking effect.
Georgia's House Bill 481 would ban most abortions once a doctor could detect fetal cardiac activity with an ultrasound — usually around six weeks into pregnancy.
As people protest the Supreme Court's ruling, the bar for what companies should do is being raised, Longhofer said, and the stakes have gotten higher as statements no longer seem to be enough, he added.
"Employees in particular are expecting companies to be specific on policies that they will implement or resources that they are dedicating to particular social issues," Longhofer said.
JP Morgan, the largest bank in America, told employees in a memo that if they live in states where abortion is outlawed, the company will cover the cost of travel to a state where it's legal, beginning in July.
There is a oftentimes a cascading or domino effect that oftentimes begins with just a few companies coming out and taking a stance that quickly spreads, especially when popular opinion clearly supports one side of an issue, such as a right to abortion.
JPMorgan's decision triggered a raft of statements and internal memos to employees at several companies including:
Disney
Paramount
Netflix
Condé Nast
Meta
Warner Bros
Comcast
Sony
Intuit
BuzzFeed
Duolingo
Dick's Sporting Goods
Patagonia
Box
Johnson & Johnson
Dick's Sporting Goods is not based in Georgia but has more than 20 stores here. The company said it's offering to pay up to $4,000 for any employees accessing abortion services out of state.
California-based Live Nation has an Atlanta office and is offering to post bail for employees arrested on charges related to peacefully protesting the court's decision.
Live Nation recently matched pop star Lizzo's $500,000 donation in tour proceeds to Planned Parenthood.
"The most important thing is action & loud voices," Lizzo wrote in a follow-up tweet.
While these and other companies have gone public on the topic, there are many more that prefer not to do anything or keep any changes to their employee benefits policies quiet, Longhofer said.
Another concern, Longhofer said, is whether legislators in states where laws that punish those aiding and abetting abortions will target companies or health insurance providers.
"In Texas, 14 members of the House of Representatives have pledged to introduce bills that would prevent corporations doing business in Texas from paying for out-of-state abortions," Longhofer said.
There is a question of how likely a pregnant employee would be to ask an employee for not only time off but also travel funds for abortion care.
Part of the original Roe decision also was about a right to privacy. 
Employers tend to do a pretty good job protecting the privacy of their employees, Longhofer said, but this falls outside of current health care packages and it's going to take some work to figure out how to ensure that an employee can take advantage of a policy while protecting their privacy, especially if it's going to require out-of-state travel."
"So, I think privacy has to be top of mind for employers," Longhofer said.
Some companies will work through a third party to manage all the arrangements, he said, and they're there so the employer would not have the medical information about an employee's health decisions.
He also noted that when rights are protected by the private sector rather than the state, those rights are no longer universally guaranteed.
Secondary Content
Bottom Content