Section Branding
Header Content
Battleground: Ballot Box | Kemp, Raffensperger prevail over Trump in Georgia primary contest
Primary Content
After months of speculation, campaigning, fundraising, and polling, many of Georgia's primary results were both anticlimactic and significant.
A record number of Georgians showed up for the 2022 partisan primary elections this week, and incumbents won big.
Gov. Brian Kemp trounced Trump-backed challenger David Perdue, capturing nearly 74% of the vote, while Secretary of State Brad Raffensperger notched a decisive win over U.S. Rep. Jody Hice in a rebuke of false election fraud claims.
"Conservatives across our state didn't listen to the noise," Kemp said. "They didn't get distracted. They knew our record of fighting and winning for hardworking Georgians."
Meanwhile, several key races go to June runoffs and Democrats look ahead to November, led by gubernatorial nominee Stacey Abrams.
"I'm running because I believe in one Georgia," she said Tuesday. "Whether it's bringing together neighborhoods or bringing together counties or bringing together an entire state, our responsibility is to see the needs of every Georgian, to make certain those who are doing well continue to do well."
On this week's podcast, we look at who won, who lost and what it all means for battleground Georgia.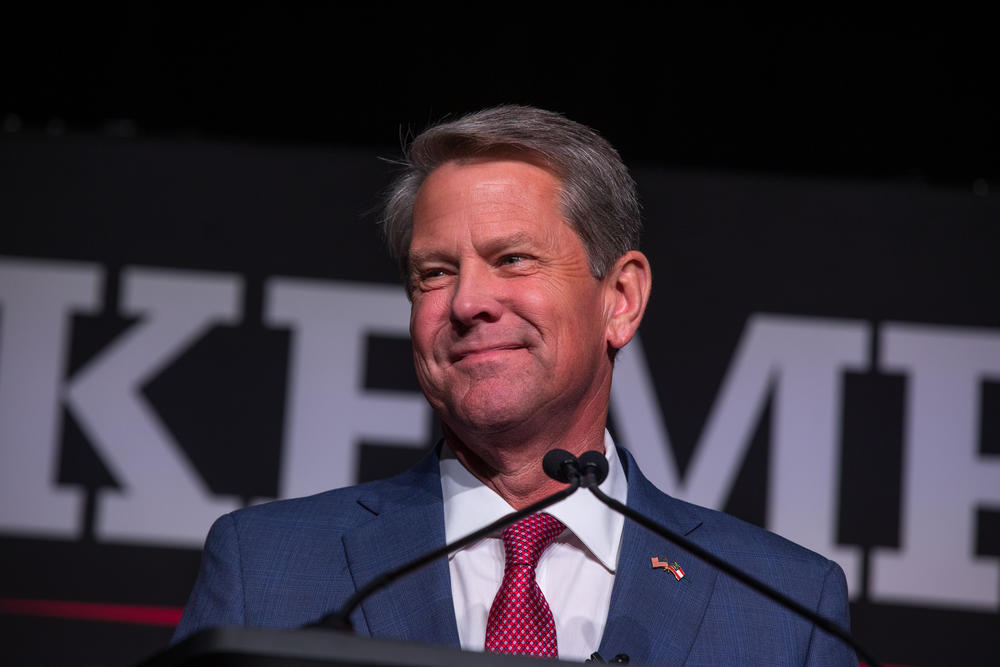 It was an early night for celebrating at the College Football Hall of Fame, where Gov. Brian Kemp held court after shellacking Trump-backed former Sen. David Perdue with about three quarters of the vote. Perdue conceded the race about 90 minutes after polls closed.
"You know, everything I said about Brian Kemp was true," Perdue said to a small crowd. "But here's the other thing I said was true: He is a much better choice than Stacey Abrams. And so we are going to get behind our governor. Bonnie and I committed to him right now what Jack Kingston committed to me back in 2014, and that is there's nothing they can ask me to do that I won't do."
The quest to unseat the popular incumbent ended with a whimper after six months of campaigning by Perdue — campaigning that never really took off.
Kemp flexed the power of his office to give pay raises to teachers and state employees, cut taxes and push conservative policies on guns, voting rights and abortion and regularly touted Georgia's strong economy.
Perdue's main focus was on the past, pushing Trump's false claims about the 2020 election being stolen, and voters just didn't buy it.
That result resonates far beyond Georgia, where incumbent governors are surviving Trump primary challengers. It shows that endorsements don't always trump, so to speak, what voters see and experience on the ground, and that there's room for liking the former president and having a different opinion about who should implement Trump-inspired policies.
"We have a great team in our state," Kemp said to a roaring crowd Tuesday night. "No one could have predicted the unprecedented challenges that we would all face together. But we hunkered down and we emerged stronger than ever."
Kemp, for his part, looked ahead to the future in his victory speech. He's headed for a rematch against Stacey Abrams, the Democratic rising star that narrowly lost to Kemp in 2018 by about 55,000 votes. Part of Kemp's success at the polls, too, is Republicans uniting around beating Abrams once more.
"But I want to be crystal clear with all of you here tonight: our battle is far from over," he said. "Tonight, the fight for the soul of our state begins to make sure that Stacey Abrams is not going to be our governor or the next president. And the reason that's so important is because Abrams would take Georgia in a completely different direction. We don't have to wonder what she would do if she was governor. She's already told us in her own words."
Some of those words include a speech last weekend in Gwinnett County, where Abrams said she was "tired of hearing about how we're the best state in the country to do business when we are the worst state in the country to live," before contextualizing a number of poor rankings for Georgia in areas like mental health care and maternal mortality where Georgia rates dead last.
Tuesday morning, Abrams was asked to explain those comments:
"I had an inelegant delivery of a statement that I will keep making, and that is that Brian Kemp is a failed governor who doesn't care about the people of Georgia," she said. "If you look at his record, if you look at the results under his four years of leadership, there has been failure after failure."
The race is sure to be one of the most expensive, bruising campaign battles Georgia's ever seen: part of a new normal for Georgia politics.
 
So, too will be the race to be Georgia's chief election official. Republican Secretary of State Brad Raffensperger stunned most political watchers by winning outright with about 52% of the vote over election denier Jody Hice, also backed by Trump.
"It feels rewarding," he told GPB News after declaring victory. "I took an oath to follow the law, follow the Constitution, and that's what we did."
Raffensperger faced attacks from fellow Republicans for certifying the 2020 election and misinformation surrounding Georgia's voting system. And on an infamous call with Donald Trump, refused to "find" enough votes to overturn the election.
"And so for the last 14, 15 months, I've been traveling all over Georgia explaining to people what happened in the election of 2020, and then also cleaning up all the misinformation and disinformation about the Election Integrity Act of 2021," he said.
His opponent, Jody Hice, ran a campaign based on the false premise that 2020 was stolen and that Raffensperger let fraudulent ballots be counted. But three separate counts of the totals said otherwise.
It's not completely surprising that Raffensperger won outright, though many pundits believed he would be forced into a runoff, or lose. There's also data that suggests a sizable number of Democrats requested Republican ballots, possibly helping get Raffensperger over the top.
Hice also didn't campaign much, didn't spend as much money on raising awareness of his Trump endorsement and wasn't on TV in the final part of the race.
For his part, Raffensperger loaned himself hundreds of thousands of dollars and shored up his campaign with a focus on banning non-citizen voting (though it's already against Georgia law) and attacking Democrats like Abrams and President Joe Biden's stances on voting rights.
Plus, for all the talk of Georgia's voting law, the secretary of state was also likely boosted by record early voting turnout. 
On the Democratic side, a runoff will occur on June 21 between state Rep. Bee Nguyen and Dee Dawkins-Haigler, although Nguyen is in the lead.
One of the marquee races with national importance is Georgia's GOP U.S. Senate primary.
Former UGA football star Herschel Walker sailed to an easy victory Tuesday, beating out opponents like Agriculture Commissioner Gary Black and military veteran Latham Saddler.
Walker is a first-time candidate with a lot of baggage — allegations of domestic violence, and numerous instances of overstating his business record and personal achievements. But in the end, that just didn't matter to primary voters.
"I don't look like a politician, I don't talk like a politician," he said at his victory party Tuesday in Atlanta. "I don't even dress like a politician, because my neck is a little too big for this tie. But I like not being a politician."
Some Republicans are worried that Walker's untested nature and list of negatives could make him more likely to lose to Sen. Raphael Warnock this fall, but the wide margins on Tuesday suggest for now, there's still a lot of support.
One of the final drubbings of primary day came in a member-on-member battle in Gwinnett County-based 7th Congressional District, where redistricting pitted Democrats Lucy McBath and Carolyn Bourdeaux against each other after McBath's 6th District was redrawn to heavily favor Republicans.
McBath, a gun safety advocate, won by a wide margin.
And just before polls closed, when news of a horrific shooting at a Texas elementary school left nearly two dozen children and adults dead, McBath scrapped her victory speech and gave an emotional plea instead.
"Tonight. I came to give one speech, but I am now forced to make another," she said. "Because just hours ago, we paid for the weapons of war on our streets again with the blood of little children sitting in our schools. We paid for unfettered gun access with phone calls to mothers and fathers who have gasped for air when their desperation would not let them breathe, who have sunk to their knees, when their agony just would not let them stand. It was the phone call that every parent fears."
 
McBath was inspired to run for Congress after her 17-year-old son Jordan was murdered outside a Florida gas station by a man angry about loud music being played.
"We are exhausted, all of us," she said. "The American majority. We are exhausted because we cannot continue to be the only country in the world where we let this happen again and again and again."
Many of Georgia's other congressional primaries are headed to runoffs, including two where Trump-backed candidates made the cut. Jake Evans is in second behind Rich McCormick in Georgia's 6th District, and Vernon Jones is in second behind Mike Collins in Georgia's 10th District.
Controversial U.S. Rep. Marjorie Taylor Greene easily won in her district, and Republicans Chris West and Jeremy Hunt will square off June 21 for the right to face Democrat U.S. Rep. Sanford Bishop in Southwest Georgia's 2nd District.
There were few surprises Tuesday night, but in the state legislature House Redistricting chairwoman Bonnie Rich lost her seat after redrawing herself a more favorable district. She was paired against Rep. David Clark, who originally said he would not run but changed his mind.
Georgia's primaries saw record early voting, and election day turnout, driven by interest in who will represent the political parties. And much will be said about what that means for November, for Senate Bill 202's impact, and much, much more.
But those storylines have yet to fully unfold, and we will keep a close eye on them on this podcast.
Battleground: Ballot Box from Georgia Public Broadcasting is produced by Stephen Fowler. Our editor is Josephine Bennett. Our engineer is Jake Cook and Jesse Nighswonger wrote our theme music. You can subscribe to the show on Apple Podcasts or anywhere you get podcasts. Thanks for listening.
Secondary Content