Section Branding
Header Content
Six things to watch in Georgia's May 24 primary elections
Primary Content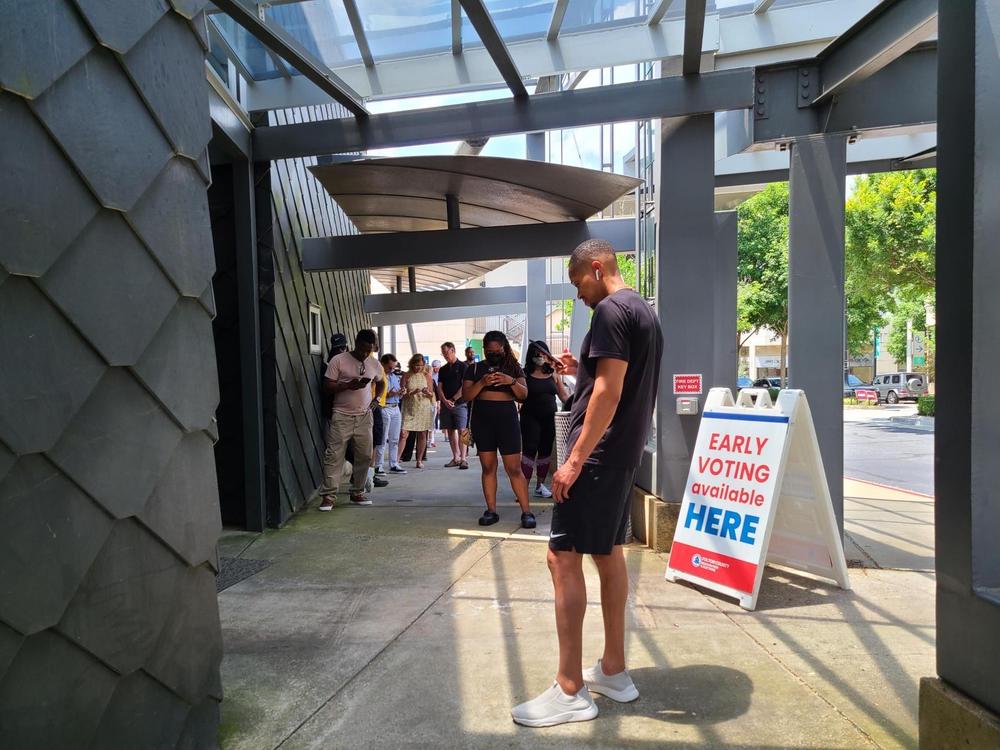 Tuesday's primary election in Georgia is about more than deciding party nominees for races up and down the ballot in November, as Georgia's battleground status continues to play an outsized role in shaping the future of American politics.
Former President Donald Trump, seeking to oust incumbents who refused to overturn the election and fill open seats with loyalists who push the lie that 2020 was stolen, faces his biggest test yet as GOP kingmaker — and several potential defeats.
Trump recruited former Sen. David Perdue to challenge Gov. Brian Kemp in December, but Perdue's campaign has failed to catch on in either fundraising or polling as Kemp flexed the power of his office to enact conservative social policies and highlight the state's strong economy.
A marquee matchup for the U.S. Senate could decide control of the upper chamber again, as former football star Herschel Walker is poised to win a six-person primary to challenge Sen. Raphael Warnock. And Republican Secretary of State Brad Raffensperger faces election denier U.S. Rep. Jody Hice and others in a race to be the state's chief election official in a time when some Republicans like Hice have indicated a willingness to possibly violate the law and overturn election results they do not like.
Meanwhile, Democrats, led by presumptive gubernatorial nominee Stacey Abrams, are aiming to capitalize on Republican infighting and avoid the terrible national environment for their own party by focusing on issues such as Medicaid expansion and voting rights in an attempt to flip control of statewide races.
In other words, it's another election day in the new normal of Georgia politics. Here are six things to watch in tomorrow's election:
1. By how much will Brian Kemp beat David Perdue?
Kemp is one of the most conservative governors Georgia has ever seen, but that hasn't stopped Trump from constantly attacking the first-term incumbent since the 2020 election.
The former secretary of state, who's noted he was legally obligated to certify the election results, faces Perdue, who lost a 2021 runoff in part because Trump's false claims about the election contributed to lower Republican turnout.
Perdue's campaign, which has exacerbated a growing wedge in the Georgia GOP, was centered around blaming Kemp for that wedge and pushing false claims about Georgia's elections.
But Perdue's gambit never took off.
Buoyed by allies in the General Assembly, Kemp walked away from the 2022 legislative session touting a host of successes: an income tax cut, a teacher pay raise, salary increases for state employees and increased gun rights. 
Since taking office in 2019, Kemp has also signed two strict election laws, one of the toughest abortion restrictions in the country, announced countless economic development projects — including two major electric vehicle manufacturing plants in recent months — and constantly reminded voters of his conservative credentials.
Polling shows Kemp is comfortably ahead of Perdue, and that Republicans view him just as favorably as Trump, showing that the former president's word may not completely supplant on-the-ground evidence that voters see around them.
After being joined on the campaign trail by former New Jersey Gov. Chris Christie, Arizona Gov. Doug Ducey, Nebraska Gov. Pete Ricketts, he will hold a Monday afternoon rally with former Vice President Mike Pence, who called Kemp "one of the most successful conservative governors in America."
There are three other candidates, most notably Kandiss Taylor, a far-right educator whose platform of "Jesus, Guns, Babies" and conspiracies about the 2020 election has cut into Perdue's support and could pose a problem for Republicans in November if voters who believe the election was stolen (and that Kemp was complicit) stay home.
If Kemp wins the primary, he will face Democrat Stacey Abrams in a rematch from 2018, where Kemp narrowly won by about 55,000 votes.
2. How will Herschel do?
Even in a world where Trump's endorsements were not a thing, Herschel Walker would still probably run up the score in a primary challenge. The former Heisman Trophy winner from the University of Georgia, Walker enjoys name recognition and goodwill in Georgia that few others could top.
Bearing Trump's backing for the U.S. Senate nomination, Walker has yet somewhat sidestepped making the false claims of election fraud that dominate other Trump-aligned candidates.
Walker's easy romp in the primary (including skipping debates against opponents) will likely come to a swift end if he wins the primary: A history of violence against women, overstating achievements and business endeavors and other issues will quickly be brought to a larger statewide audience.
The closing message from many of Walker's primary opponents, including Agriculture Commissioner Gary Black and military veteran Latham Saddler, is that Walker's controversial past and untested campaign — that has largely avoided public events and media scrutiny — will be ill-suited to take on Warnock in November and lose a winnable race.
After Warnock and Sen. Jon Ossoff won Jan. 2021 runoffs to give Democrats the advantage in the Senate, the outcome of this race could very well decide the chamber's control once more.
3. What will Trump do?
The former president has seen a mixed bag with his primary endorsements in the midterms so far, and Georgia's GOP primary is likely to hand him more sour grapes than fruitful victories.
Out of 13 total endorsements, he has endorsed five safe incumbent members of Congress and can likely count on Herschel Walker's victory to add to his win column. Endorsed candidates for two open congressional races — Georgia's 6th and 10th districts — could head to runoffs, and state Sen. Burt Jones has a chance to win the lieutenant governor primary against fellow Sen. Butch Miller.
But Trump's obsession with Georgia's election results has led him to also back long-shot primary challengers like Perdue and dip into down-ballot races like attorney general and insurance commissioner.
U.S. Rep. Jody Hice, one of three candidates seeking to unseat Brad Raffensperger, has lagged in polling and fundraising in that race and at best could force a runoff, though Raffensperger's campaign says the incumbent can win outright.
With Kemp set to deliver a shellacking in his race against Perdue, how will Trump react towards someone he has called a "turncoat" and "traitor" in Kemp's quest to defeat Abrams, the person Trump said would make a better governor than Kemp? 
4. Can Raffensperger hold on?
Normally a sleepy, boring bureaucratic position, the secretary of state race has taken on a more urgent tone in Georgia and other states as election-denying Republicans have sought to control positions of power following Trump's 2020 defeat.
Raffensperger has drawn Trump's ire for certifying the 2020 election and offering public and private pushback to false claims made about the state's election system, including an infamous call where Trump pressured him to "find" votes to overturn the results.
The main challenger is U.S. Rep. Jody Hice, who objected to the 2020 election results and has made misinformation and false claims about voting the cornerstone of his campaign.
For his part, Raffensperger has courted the Republican base with a push to ban non-citizen voting, which is already against Georgia law but a potent point with the primary electorate. The secretary of state has also frequently attacked Stacey Abrams and Democrats over their concerns with Georgia's new voting law, and he has been boosted in recent weeks by record early voting turnout that he says is evidence SB 202 was a good reform that did not harm access to the polls.
Also of note: more than 38,000 people who voted in the 2020 Democratic primaries have pulled Republican ballots in 2020, including many who have said they plan to vote against Georgia's Trump slate.
On the Democratic side, state Rep. Bee Nguyen leads a crowded field of candidates for the party's nomination. At a recent debate, all five candidates said if they were elected secretary of state and a Republican presidential candidate narrowly won the state in 2024 they would follow the law and certify results, even if there were questions about the outcome.
5. What turnout can (and can't) tell us about SB 202
Many people will try to read the tea leaves about the record-setting 857,000-plus voters who participated in early and mail-in voting for the primary, and many more have opinions about the effect of Georgia's 98-page voting law. But it's too soon to make even broad generalizations about what it all means.
Pre-pandemic, Georgia voters generally preferred casting their ballots during the three-week in-person early voting period, and this year's numbers suggest a return to that norm. But until we see election day turnout, it's hard to say whether the huge crush of voters is from people who'd normally vote on election day shifting to early voting or if there are giant swaths of new voters participating in Georgia's newly competitive environment — or both.
While SB 202 changed access and procedures for mail-in and in-person early voting methods, it is important not to directly compare the 2020 election cycle (high turnout, presidential race, during a pandemic) with the 2022 primary election (lower turnout, less mail-in voting, different voter interest in primary races).
Many of the people who have voted so far are regular voters who participate in most elections and may have a greater ease and familiarity with voting rules, so the effects of changes in access on a broader number of people cannot yet be known.
Bottom line: SB 202 does add more restrictions to mail-in voting while expanding other aspects of elections. Record turnout does not necessarily mean the law makes it easier to vote — or that the new rules are actually creating insurmountable obstacles for numerous voters.
6. Who will be Georgia's newest U.S. House representatives?
The 2022 midterms come on the heels of once-a-decade redistricting, where Republican lawmakers drew more Democratic General Assembly seats (while still protecting their majorities) after a decade of explosive population growth.
In Georgia's 14 House districts, it's a different story. Democrats will actually lose at least one seat in Atlanta's fast-growing suburbs, while a Southwest Georgia district, long held by Democratic Rep. Sanford Bishop, has grown slightly more competitive.
In 13 of 14 races, the winner on Tuesday will all-but-certainly win in November, placing increased importance on competitive primaries in the 6th, 7th and 10th districts.
The new 6th District, drawn to favor Republicans, has Trump-backed Jake Evans and former 7th District nominee Rich McCormick in the top spots and headed to a likely runoff. The district's current representative, Democrat Lucy McBath, has decamped to the neighboring 7th District, which is now a liberal safe haven based in Gwinnett County.
McBath faces a member-on-member primary against incumbent Rep. Carolyn Bourdeaux in a de facto referendum over Bourdeaux's moderate policy stances in a diverse, rapidly-growing part of metro Atlanta.
Bourdeaux, the only Democrat to flip a House seat in 2020, is not seen as the frontrunner after her district's lines were reconfigured to include a more progressive electorate centered in fast-growing diverse Gwinnett County northeast of Atlanta.
In East Georgia, the 10th Congressional District has a deep field of Republican candidates seeking to replace Rep. Jody Hice, including trucking executive Mike Collins and Trump-backed Vernon Jones, a longtime Democrat-turned Republican who switched into the race to clear the field for Perdue in the governor's contest.
Secondary Content
Bottom Content