Section Branding
Header Content
Battleground: Ballot Box | Abortion news, 2020 election dominate Georgia primary debates
Primary Content
On this week's episode, we take a look at how abortion news and the 2020 election affected Atlanta Press Club primary debates.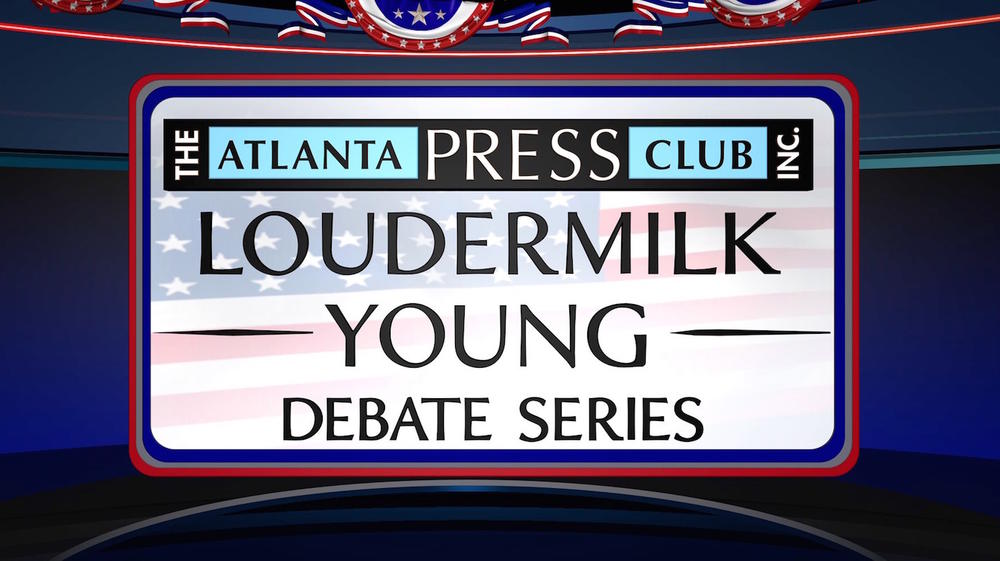 Early voting is underway in Georgia for the primary elections that will decide who represents each party in the crucial November midterm elections.
This week, the Atlanta Press Club debates saw almost every candidate in 14 different contests take the stage to share their campaign with voters and put their best foot forward.
Incumbent Republicans defended their records from their right flank as Donald Trump's influence on the party threatens the status quo, while Democrats used their time to argue there is an opening to flip control of key offices.
And preparing for one of the most consequential U.S. Senate races in the country, Herschel Walker was a no-show.
This week, we look at the Atlanta Press Club debates setting the stage for the May 24 primary.
——
Debates are a good opportunity to see all of the candidates for office — or at least the ones who show up — square off and push their platforms side by side.
And in the first three days of May, the Atlanta Press Club showcased more than a dozen different primary contests at the studios of Georgia Public Broadcasting to help voters learn more about their choices.
The first day featured several congressional primaries and ended with the high-profile Republican governor's debate. And right off the bat there were fireworks.
Redistricting created two new districts in Atlanta's suburbs with competitive primaries that will essentially determine who wins in the general election — Republicans in the 6th District and Democrats in the 7th. U.S. Rep. Jody Hice's decision to challenge Secretary of State Brad Raffensperger left a wide-open race to replace him in the safely conservative 10th District, and a never-ending stream of controversies brought forth several challengers to Rep. Marjorie Taylor Greene in the 14th District covering Northwest Georgia.
In the 10th District covering east Georgia, a good chunk of the debate centered around term limits, as Walton County's Marc McMain, a self-proclaimed "outsider," brought up.
"I think career politicians are destroying our country," he said. "Nowhere did our founding fathers ever imagine that people were going to Washington, D.C., and make a career out of the House of Representatives."
Candidates in the race have loaned more than $2.2 million of their own money to get ahead, but the debate centered around two frontrunners: Mike Collins and Vernon Jones.
Collins is a hard-charging trucking executive who said he'll stand up to "liberal left-wing wackos, RINOs, elites — and even the Republican establishment" — and who had harsh words for Jones:
"I'll tell you something: I've had 30 years in a career business of building a business and providing jobs for people in the the 10th District," he said. "But let me tell you about Vernon Jones: When he's attacking the trucking industry and he's attacking hardworking families in the 10th District, he's really attacking your family, your shared values and our work ethics. He is a corrupt career politician and a DeKalb County Democrat."
Vernon Jones is a conservative Democrat-turned-Trump supporter, who has the president's blessing in the race. And he was chief executive of liberal DeKalb County, though he clashed frequently with his party. Jones switched out of the governor's race to clear a path for former Sen. David Perdue against Gov. Brian Kemp.
And Jones wants you to know he's got Trump's back.
"Well, I've made it clear: I'm an America First agenda candidate, I was endorsed by President Trump, I would like to have President Trump as Speaker of the House," he said. "We cannot afford to wait for four more years or three more years for Joe Biden. We have to take Joe Biden out now. I am all for President Trump because I will also be offering articles of impeachment to impeach Joe Biden and Kamala Harris because they have failed in their responsibilities."
In a prescient comment, former U.S. Rep. Paul Broun said that the country must completely ban abortion.
"We must overturn Roe v. Wade," he said." I'm a medical doctor and the very first bill I introduced in Congress was my Sanctity of Human Life Act, which defines life beginning at fertilization. I believe very firmly that God cannot continue to bless America unless we stop this murder of almost a million unborn babies every year."
More on abortion later.
Marjorie Taylor Greene has been in Congress just over a year but has quickly become one of its top fundraisers and most controversial members. Stripped of her committee assignments because of inflammatory  comments made in person and on videos before taking office, Greene has continued pushing the envelope of decorum and good taste.
So several Republicans made the case in debates of a world where Greene wasn't in office, promising the same amount of conservatism with a fraction of the antics.
"I believe the Republican Party still stands for the same principles," Jennifer Strahan said. "It's always stood for limited government, low taxes, family values. We need to make sure we are emphasizing and prioritizing, prioritizing national security. These are issues that matter to every single American, but certainly across the Republicans. What I can tell you is if I'm elected as your representative, I will maintain my conservative values and I will also get results because you do not have to sacrifice effectiveness for conservatism."
For parts of the debate, Greene tried to bully her opponents with sarcastic digs about being first-time candidates and had harsh words for Republicans and Democrats.
"I feel that there is a true civil war in the GOP and it's a very serious, serious issue," she said. "For decades, Republicans allowed the slow slide to happen in America, where they worked hand in hand with Democrats that now has us over $30 trillion in debt."
But not all was doom and gloom. James Haygood, a railroad professional, had a more positive outlook:
"The Republicans have to come back to the middle about some point and just join each other," he said. "And you don't have to give up your values, but at some point you're going to have to agree with the Democrats to get something done. We're living in a country now that you have the Marjorie Greenes and the AOCs and the people in the middle, they've gotten lost."
Things were a little less positive with Republicans in the 6th and Democrats in the 7th districts. Remember, winning this primary is smooth sailing for the general election, so there's a lot at stake.
Many of the 6th District candidates went after the two financial frontrunners, Jake Evans and Rich McCormick.
Here's Mallory Staples reading back to Evans some of his own less-than-kind words about Trump:
"Should we believe your words in 2016 and 2018 when Trump was in office?" Staples said. "Or should we believe you now when it's politically convenient to use his name?"
McCormick lost to Rep. Carolyn Bourdeaux in the 7th District in 2020, and was attacked by Evans for a wide range of endorsements, including one he ultimately did not accept.
In the new 7th District, Bourdeaux clashed with Lucy McBath over McBath's decision to run against her instead of stand for reelection in the now-Republican-leaning 6th against someone like Rich McCormick.
"How can you say you're fighting for choice or gun safety reform when you're handing your seat in Congress to Republicans like him?"
For her part, McBath called herself the frontrunner and said the district knows she could represent them well.
"And, you know, I have to honestly say, I'm really proud to be the frontrunner in this race because people know me," she said. "They know the work that I've done. They know I have worked diligently on their behalf in Washington. And I'm running in this race because I simply believe that we should not allow Gov. Kemp, the Republican Party or the NRA gun lobby, to dictate who represents our communities in Washington."
Kemp and Perdue had two debates for the GOP governor's primary before the one hosted by the Press Club, and both of them were about the same: Perdue lied about the 2020 election results and attacked Kemp for many of his policies while trailing behind Kemp in fundraising and the polls.
That trend continued some during the Press Club debates, where the three other candidates were also invited to attend. 
Kemp touted his record in office so far, from teacher pay raises to a booming economy.
"Last fiscal year, we had a record year for economic development where 74% of the 379 projects that total $11 billion went outside the ten metro counties," Kemp said, "furthering my commitment to strengthen rural Georgia. Not to mention rural broadband that we have done."
Perdue tried to knock that record down.
"The governor has been running around for the last six months telling people and taking credit for all the things he didn't do. He's spending money that we got for him in this COVID thing."
Polls show Kemp is poised to win the primary without a runoff, and Perdue said he would campaign for his rival if he lost.
One of the most closely watched positions is Secretary of State, after incumbent Brad Raffensperger drew a primary challenge from Trump-backed Jody Hice for failing to overturn the election results of 2020.
Raffensperger, the normally mild-mannered engineer, repeatedly called Hice a liar for many false claims made about the 2020 election and Georgia's voting system.
"But here's the facts: Georgia's now recognized No. 1 for election integrity by Heritage," he said. "We also recognize that having won the cleanest voter list. So, Jody Hice, you were lying about that."
He said Hice did nothing to fix election laws during seven years in Congress, and blamed him for a sizable number of conservatives staying home in the January 2021 runoffs and not trusting the voting systems.
"But that rumor still lives a year and a half, and if you get down to it was actual total disinformation, misinformation, outright lying," Raffensperger said. "And there's not much I can do about that because Jody Hice has been running from one rumor to another for the last 18 months. And how can you have confidence, when people that should be holding a responsible position as a sitting congressman should be telling the truth?"
On the Democratic side of the race for secretary of state, all the candidates said they would certify election results if a Republican was winning the race, even if there were questions and a narrow margin.
"There's nothing more important than electing a secretary of state who will certify the results of the election, whether or not she likes them," state Rep. Bee Nguyen said. "And as secretary of state, I would do exactly that and uphold the will of the people."
But perhaps the biggest bombshell of the debate cycle was a leak of a draft opinion by the U.S. Supreme Court that would overturn nearly a half century of precedent around abortion, ending Roe v. Wade.
In the race to lead the state Senate, Democratic lieutenant governor candidate Renitta Shannon stood out after leading opposition to Georgia's abortion law, passed in 2019, that would effectively ban all abortions after about six weeks of pregnancy.
"I've always known what's at stake," she said. "And I know that I know policy well enough to be able to defend our rights. Reproductive freedom should have never been left up to the courts, and it is something that we need to codify in law."
And on the Republican side, candidates like Jeanne Seaver, Butch Miller and Burt Jones said they would ban all abortions from being legal.
While virtually every Republican Senate candidate also said they would ban abortion, no excuses, not even for rape, incest or the health of the mother, another issue dominated that debate: Herschel Walker's absence.
State Agriculture commissioner Gary Black asked a question of an empty lectern:
""I'm just wondering if the podium's ever had a conversation with your candidate: Have you ever told your candidate how important it is to tell the truth? And if you haven't, when are you going to start?"
Latham Saddler asked a question on many peoples' minds: "Where the heck is Herschel Walker, and how on earth does he think that he can beat Raphael Warnock in a general election?:
The Trump-backed candidate is leading in polling and fundraising, and his campaign defensively said on social media he was at a fundraiser in east Georgia and is "focused on beating" incumbent Democratic Sen. Raphael Warnock.
But the five other candidates say he's not prepared to handle Warnock and the intense scrutiny of the race — especially if he won't show up to debates.
"I think a simple question for Herschel Walker is what do you think the United States Senate does?" Saddler asked, "It's the deliberative body of Congress. It's what you do as a United States senator. You get up there and you debate ideas, you debate policy, and you have to win for your state and for the country. And if Herschel Walker can't get up here — this should be the easy part. I mean, most of us agree on most issues. So he can't do this. He certainly can't beat Raphael Warnock in November."
Early voting is underway in Georgia, and many of these races will not be decided once polls close May 24, so expect more debates for a June runoff.
Battleground: Ballot Box from Georgia Public Broadcasting is produced by Stephen Fowler. Our editor is Josephine Bennett, our engineers are Jake Cook and Jesse Nighswonger, who also wrote our theme music. You can subscribe to the show on Apple Podcasts or anywhere you get podcasts. Thanks for listening.
Secondary Content
Bottom Content