Section Branding
Header Content
Political Rewind: GOP clashes on debate stage; Immigration features as wedge issue in Ga. and beyond
Primary Content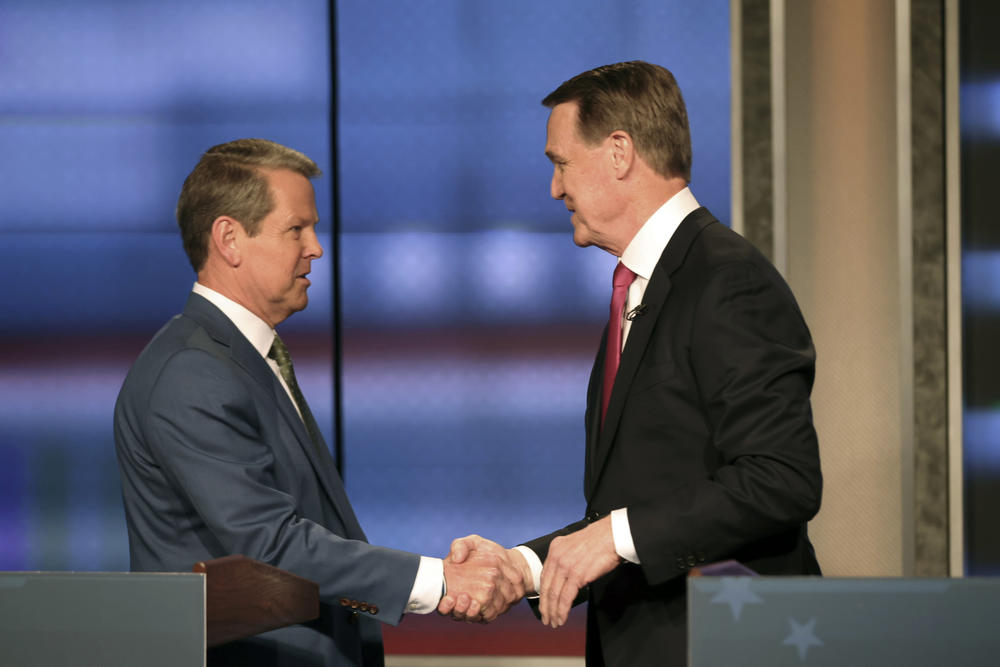 The panel:
Patricia Murphy — Political reporter and columnist, The Atlanta Journal-Constitution
Rene Alegria — CEO, Mundo Hispanico
Karen Owen — Professor of political science, University of West Georgia
Chuck Kuck — Immigration attorney
The breakdown:
1. Republican gubernatorial candidates clash in first debate.
Gov. Brian Kemp and former U.S. Sen. David Purdue butted heads in a fiery debate Sunday night. 
The debate was the first in a series of debates between the two Republican candidates in the month ahead of the primary. 
Perdue doubled down on his false claims of a stolen 2020 presidential election. Meanwhile, Kemp insisted that Perdue is a proven loser unable to beat Democratic gubernatorial candidate Stacey Abrams. 
Two more Republican gubernatorial primary debates approach in the coming days.

On Thursday night, the next debate is set to be hosted by Savannah's WTOC.
The Atlanta Press Club is scheduled to host a gubernatorial debate Sunday, May 1, to be aired by Georgia Public Broadcasting.

Listen live on GPB Radio or online at GPB.org.
2. U.S. Rep. Marjorie Taylor Greene testified in court to stay on the ballot for the upcoming election.
Greene took the stand on Friday to argue that she should be allowed to be on the ballot for the 14th District's upcoming congressional race. 
She was questioned at length about her involvement in the Jan. 6 insurrection. 
The New York Times reported over the weekend that Cassidy Hutchinson, an aid to Mark Meadows, talked about Greene and U.S. Rep. Jody Hice before a Jan. 6 committee in Congress.

Hutchinson said Hice and Green, among other Republican members of Congress, worked with Meadow's office to try to come up with a plan to block the certification of President Joe Biden's election. 

The judge will submit recommendations to Georgia Secretary of State Brad Raffensperger for him to decide if she should be kept on the ballot for the primary.
3. Kemp highlighted his stance on immigration on the southern U.S. border during the debate. 
Kemp said he has cracked down on undocumented immigration and noted that he sent Georgia National Guard to the U.S.-Mexico border. Perdue said he has not done enough to stop undocumented immigration. 
Kemp also claimed that Latino voters have praised him for keeping businesses open during the pandemic.
Immigration attorney Chuck Kuck points out that Georgia is not a border state. 

Tuesday on Political Rewind:
The Atlanta Journal-Constitution's Tamar Hallerman joins us.
Secondary Content
Bottom Content