Section Branding
Header Content
Battleground: Ballot Box | How Georgia elections officials helped quash more voting law changes
Primary Content
After crafting a 98-page election overhaul in 2021, lawmakers seemed poised to make even more changes before the 2022 primary. And for years, elections officials have tried unsuccessfully to make their voices heard on voting laws that need to be changed and those that need to be kept in place.
As the big lie about the security and outcome of the 2020 election drags on into 2022, lawmakers' ideas and local officials' realities were bound to clash. So how did we get from a 40-page behind-the-scenes bill to a single tweak that passed with a whimper?
This week, we look at how elections officials stepped up and helped stop the creation of unnecessary voting laws.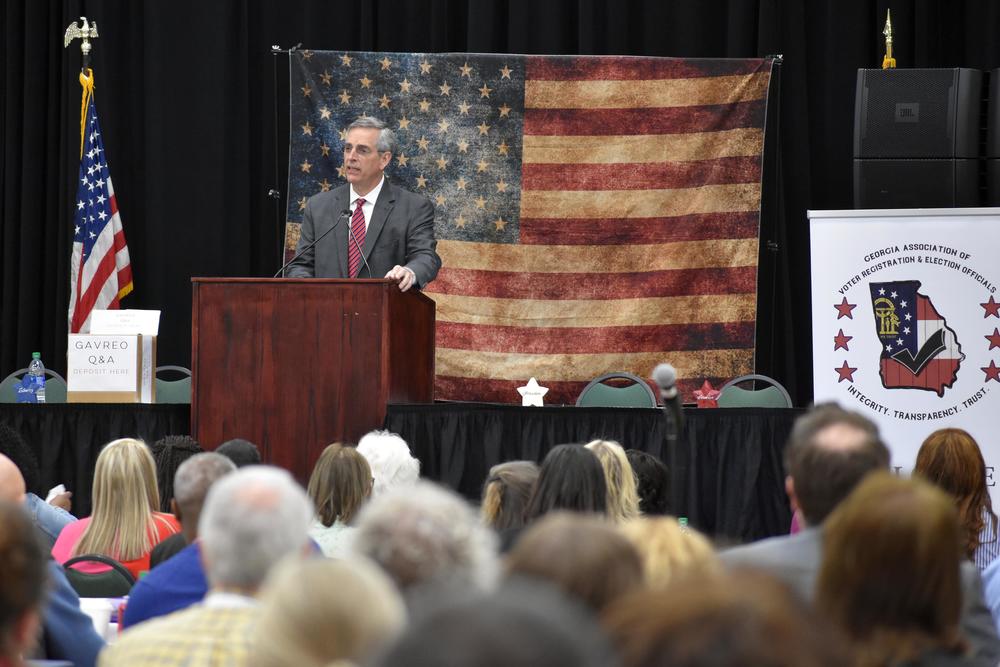 Remember the Georgia Association of Voter Registration and Elections Officials (GAVREO) conference from one of our recent episodes? Well, county elections supervisors and board members did more than just sit through training sessions. 
They were motivated to action by comments like this one from the Secretary of State's general counsel, Ryan Germany.
"And I'm also going to invite you guys — more than invite, basically plead with you guys — to please contact your representatives, your state representative and your senator," he said. "They really need to know what you guys think about this stuff, because they hear from a lot of people, but I don't think they hear from a lot of election officials."
Germany would know. He's been the one sitting in legislative hearings explaining to lawmakers what their proposed changes would do to Georgia's voting laws.
For much of the 2022 session, voting bills weren't on the horizon. Gov. Brian Kemp didn't mention any changes during his State of the State address, and no committees heard any voting bills.
And then, bam: 40 pages came to light in a March 9 meeting of the House Special Committee on Election Integrity.
There were several different ideas crammed into the bill, as sponsor Rep. James Burchett said.
"This bill is an amalgamation of several different ideas that were previously submitted into one bill," he said. "And if the chair so pleases, I'll go section by section through the bill and and tell you what the bill does."
First in the proposal: a further crackdown on outside grant funding for elections offices, after Republicans expressed skepticism about funding from the Center for Tech and Civic Life that many Georgia counties received.
Another section cleaned up language passed in Senate Bill 202, the 98-page election overhaul approved in 2021. This clarified that two of the three members on an election board review panel could be an elections supervisor or member of another elections board. Another part clarified what third-party groups had to do if they sent out absentee ballot applications.
But most of the bill dealt with the concept called chain of custody, tracking different steps in the behind-the-scenes process.
"There's many provisions in here for chain of custody for ballots as they are cast, and that includes ballots from drop boxes and absentee ballots," Burchett said introducing the bill in committee.
Chain of custody has become one of the many rallying cries for people who claim without evidence the 2020 election was rigged and that large, metropolitan Democrat-heavy counties manipulated the vote count.
This originally proposed bill would have added onerous chain of custody forms to document numerous parts of the behind-the-scenes election process, elections officials said.
However, some local officials testified there were things in the bill they liked, such as Forsyth County election board member Joel Natt. He supported a measure that would give counties flexibility to have fewer voting machines out on Election Day if more people voted early or absentee by mail.
"As an election person, I can't applaud you enough for helping us a little with that," he said. "We have limited space at a poll on Election Day …  actually now it's not just a machine: It's the touch screen, the printer, the box that goes around it to ensure privacy." 
But a new requirement to have additional tracking and counts of unused ballot paper?
"To put a security count on that paper would be a waste of resources, time and energy," he said.
Milton Kidd, the elections director in Douglas County, had concerns about giving the Georgia Bureau of Investigations power to investigate election law violations.
"The most concerning piece of the current legislation for me is the idea of bringing in the GBI," he said. "The secretary of state's office has a more than capable state elections division that we're just bypassing with elections issues."
When the GBI did get involved in investigating the 2020 election, a review of absentee ballot envelopes in Cobb County only found two that merited further scrutiny — out of thousands.
Also, Georgia has a history of intimidation and discrimination with voting, and Kidd and voting rights groups worried bringing in law enforcement could have a chilling effect.
Bartow County elections director Joseph Kirk said most of the bill was fine for local officials, but said the limits on donations and grants to counties could end up having unintended consequences.
"I used to take donations of facilities from local groups," he said. "So I ask that you exempt those small in-kind donations to facilities and allow folks to go and donate the church, donate the chamber of commerce, rather than being forced to charge them under the current law."
To make a long story short, the bill passed out of committee with a few slight tweaks, and made it to the House floor for a vote March 15 — Crossover Day, the final day most bills have to clear one chamber or the other to be considered in the final days of the session. 
Before it passed, Rep. Donna McLeod, a Gwinnett County Democrat, asked House special committee on election integrity chairman Rep. Stan Gunter (R-Blairsville) what elections officials thought.
"I don't know; I know that some of them spoke at the committee hearing and some had criticism of the bill, things that they would like to see changed,"  Gunter said. "No strong opposition to the bill, I'll put it that way, but there was criticism of some things in the bill, yes."
So now the bill — 39 pages at this point — was in the Senate's hands. The following week on March 20, the GAVREO conference with almost all the state's local elections officials kicked off in Athens. 
There were already training sessions on dealing with the old law, and conversations were swirling during breaks about how to address potential new changes. 
And of course, the Senate Ethics Committee was set to meet while virtually no election official could testify. But a concerted effort by the GAVREO executive board to reach out to the Senate committee and ask for a delay in public comment led to more time for local elections leaders to make their voices heard.
When the March 28 hearing rolled around, elections officials showed up in force.
Joseph Kirk, the Bartow elections director who helped get the public comment period moved, expressed concerns over many of the chain of custody requirements in the bill.
"There are two kinds of security in elections: There is real election security that we need, and there's security theater that helps," Kirk said about some chain of custody sections. "I'm not opposed to it, but all it really does is make folks feel better without accomplishing any good towards security of our elections. And this bill covers both."
"Now you're considering HB 1464, which, as I read it, has new items that may conflict and change what's in SB 202," DeKalb County elections board member Karli Swift said. "And it actually makes elections less secure and doesn't seem like you're listening to elections professionals and leaders who administer the election."
Rocky Raffle with the Athens-Clarke election said the county would "lose staff" if some of the changes were made. Most of the comments made were against various parts of the massive measure.
Then, on April 1 — a new version of the bill appeared.
It was no April Fool's prank: The then-11-page bill, called Senate Bill 89, got rid of many things elections officials did not like — and did like.
On the final day of the session, the House committee tasked with voting changes met and walked through the slimmer bill. Officials and voting rights groups were surprised.
And as the hours ticked by on Sine Die, the last day of the session, dozens of bills other than SB 89 were called. Later in the day, the House eventually voted to approve it, but word came the Senate would not.
Then, towards the end of the night, SB 441 — a third bill — was brought to the floor, called the "Criminal Records Responsibility Act."
Tacked on to the end of it were two sections that gave the GBI original jurisdiction to investigate election law violations and given subpoena power to conduct those investigations.
So after all the hype, testimony, pushback and concern, the legislature agreed on just one voting change.
Was it entirely because of election official testimony? Probably not. Was it exhaustion at the end of the session? Maybe partially. Had there been a string of other high-profile bills that Republican lawmakers could point to as victories to distract from far-right constituents' complaints about voting? Absolutely.
In the end, that's the somewhat complicated story of how a 40-page bill ended up being a small add-on to another one.
But don't worry: there's plenty of things for voters and local officials alike to deal with in 2022 already: contested primary races, new rules around absentee voting, fewer drop boxes, vote counting and more. Plus, all eyes will remain on Georgia in November as one of the nation's marquee governor's races and a critical U.S. Senate race that could help decide control of the chamber. 
But moving forward, local elections officials will likely feel more empowered — and vindicated — in their decisions to speak up.
Battleground: Ballot Box from Georgia Public Broadcasting is produced by Stephen Fowler. Our editor is Josephine Bennett. Our engineers are Jake Cook and Jesse Nighswonger, who also wrote our theme music. You can subscribe to the show on Apple Podcasts or anywhere you get podcasts. Thanks for listening.
Secondary Content
Bottom Content