Section Branding
Header Content
Kemp signs bill allowing permitless carry of a concealed handgun in public
Primary Content
Gov. Brian Kemp signed legislation Tuesday that makes it legal for Georgia gun owners to carry a concealed handgun in public without a license from the state.
Second Amendment enthusiasts gathered in front of Gable's Sporting Goods in Douglasville to watch the Republican make good on a promise from four years ago.
Kemp's signature on Senate Bill 319 etched "constitutional carry" into law.
"People don't have to carry if they don't want to," the governor said. "But this is a constitutional authority that people have and they certainly shouldn't have a piece of paper from the government to be able to legally carry a weapon."
Before Tuesday afternoon, gun owners had to file an application for a weapons carry license if they want to carry a concealed firearm in public. But the process is no longer required after the bill signing.
Conservative lawmakers and Second Amendment advocates praised the measure as a small change to do away with unnecessary paperwork for individuals already legally able to own a gun.
State data shows that a small number of Georgians apply for permits annually and only a fraction are denied. The application process includes a $75 fee and a background check.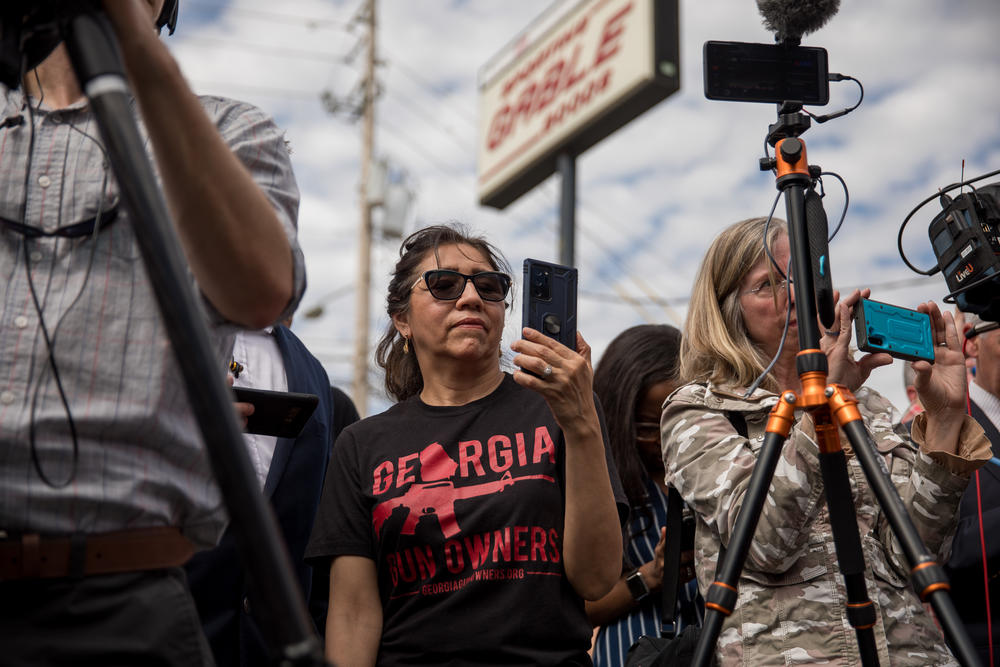 An analysis conducted by GPB News found that almost all Georgia counties have over a 90% approval rating for concealed carry applications. In 2020, more than 280,000 permits were granted with around 5,300 denied — mainly for criminal history.
Those in favor of the bill also argue that gun owners will likely still obtain a permit to have gun carry "reciprocity" in other states.
Kemp and Republican lawmakers cited a widespread concern for safety among Georgians due to a spike in violent crime — being seen not just in Georgia, but across the country.
"The criminals are getting the guns anyway," Kemp said. "The criminals are the ones that are stealing guns. The criminals don't care what the laws say. We're trying to give our citizens the law-abiding ability to protect and defend themselves and their families and their property and their place of business."
Democrats and advocates for stricter gun laws point to similar unsettling trends and say the law will do away with one of the few background checks Georgia has on the books and at a moment in time when gun violence is already reaching record levels.
Georgia does not require a background check in private sales of firearms, so oftentimes permit applications are the first time a check is required.
A poll conducted by The Atlanta Journal-Constitution showed that nearly 70% of Georgia voters opposed permitless carry and said they believe adults in Georgia should not be able to carry a concealed handgun in public without a license.
Kemp capitalized on lawmakers' time under the Gold Dome to fulfill a 2018 campaign promise to pass a "constitutional carry" law — legislation that took center stage in partisan policy battles.
The Republican governor is caught in a heated primary battle against an array of contenders, including former U.S. Sen. David Perdue, who has former President Donald Trump's endorsement in the race.
Permitless carry was among a wave of conservative policy proposals shepherded across the finish line by Kemp's legislative allies. 
Other priorities of the first-term governor included efforts to ban so-called "critical race theory" from K-12 classrooms, bolster parental control over curriculum and bar transgender athlete from school sports — all legislative initiatives that passed in one form or another and are expected to be signed into law.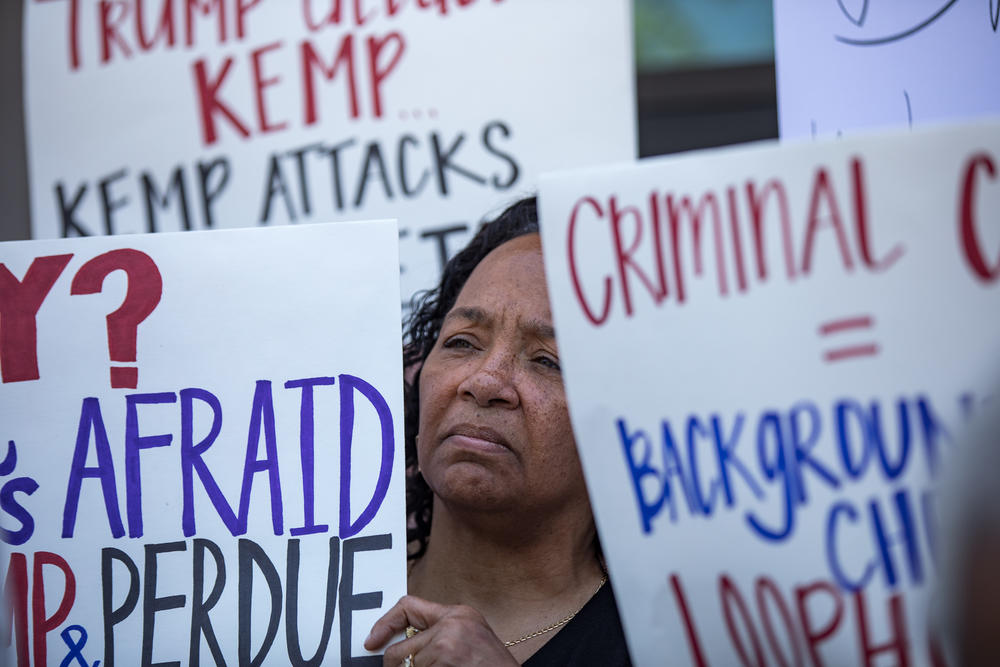 State Sen. Donzella James, an Atlanta Democrat, accused Kemp of using the legislature to push him ahead of his primary opponents.
"Who is he serving with this bill?" James said. "Some say himself. They say he's serving himself by catering to special interest groups, extremists and the far right pro-Trump base. "Criminal carry" is a blatant effort by the governor to score political points in an election year."
Earlier Tuesday, Perdue, too, questioned why it took so long for Kemp to make good on his campaign promise.
Kemp responded simply: The votes weren't there in the legislature before, but this year they were.
Secondary Content
Bottom Content