Section Branding
Header Content
Stronger opioid reversal drugs are needed to combat the fentanyl crisis, Narcan developer says
Primary Content
The Georgia Department of Public Health says opioid overdose and deaths are way up. They're blaming fentanyl, a drug often mixed with illegal drugs and more deadly than heroin. GPB's Ellen Eldridge has more.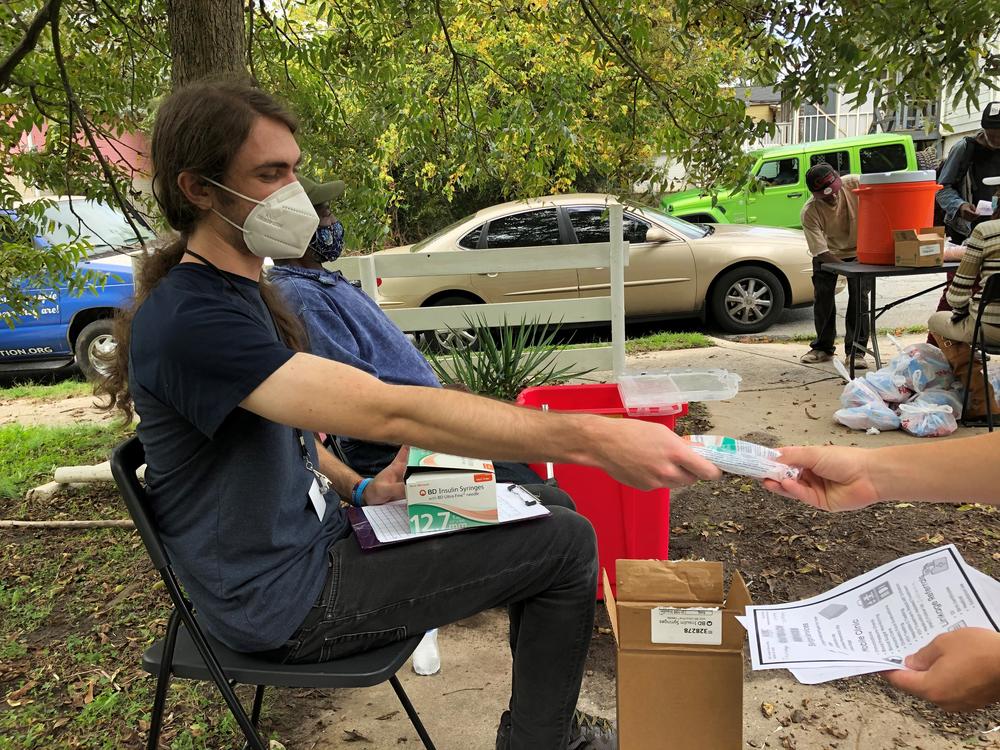 The fentanyl crisis is creating a need for a more potent opioid reversal medication than naloxone, which is the active ingredient in Narcan Nasal Spray, the drug's lead developer says.
The company, Opiant Pharmaceuticals, is working on a similar nasal spray opioid reversal agent using nalmefene.
"We think this has the potential to be, if you like, faster, stronger and longer acting than what's available today, and that's so much more important than ever, given where this (fentanyl) crisis has got to," company founder Dr. Roger Crystal said.
From May 2020 through May 2021, fentanyl-involved overdose deaths in Georgia rose 106% as compared to the same time period the previous year, according to the Georgia Department of Public Health.
Other experts say the fentanyl pills have become so common in the drug market that most users have come to realize what's in them and seek them out because they contain fentanyl.
Nelly Miles, a spokesperson for the Georgia Bureau of Investigation, said the agency is seeing "a significant increase'' in fentanyl, as well as a rise in overdose clusters, opioid-related deaths, and seizures of fentanyl, Georgia Health News reported last week.
"In the crime lab alone, the lab has seen an 80% increase of fentanyl results in the last year,'' Miles said. "We've also seen a disturbing trend of samples called 'purple heroin/purp' that contains heroin and fentanyl."
Caleb Banta-Green, principal research scientist at the Alcohol & Drug Abuse Institute (ADAI) at the University of Washington School of Medicine, told NPR that awareness of fentanyl pills has risen quickly among users. In a recent survey in Washington State, two-thirds of those who used fentanyl said they did so "on purpose."
They said they consumed fentanyl most often in pill form.
RELATED:
The emergency medical technicians, police or fire officials who first arrive on scene often don't know what an unconscious person took, but Crystal said it's safe to assume a fentanyl overdose.
"I will go so far to say that we have to assume it is fentanyl or something much stronger because the vast majority, over 80%, of opioid overdose deaths are fentanyl-related," he said.
The increased likelihood of of deadly overdose comes from the drug's strength.
"A fentanyl overdose is a lot more dangerous than any other prior form of overdose," Crystal said. "It's going to require multiple doses of naloxone to initially revive someone, and people must be aware that even if they are initially resuscitated, they have a risk that the patient is going to fall back into an overdose again."
That's because, he said, while naloxone has a half-life of up to two hours, fentanyl has a half-life of roughly eight hours.
"So when the naloxone wears off, the fentanyl can come back again and bite," Crystal said.
While the new nasal spray formula with nalmefene won't be available until after the U.S. Food and Drug Administration gives its approval, Crystal expects to see availability on the market by 2023. Until then, anyone who is a parent of a teenager or an older family member who may have an opioid prescription should keep naloxone on hand.
"You can get the Narcan nasal spray, for example, from a pharmacist without a prescription," he said.
While Narcan is not officially an over-the-counter treatment, people with insurance coverage can pay as little as a $5 co-pay, Crystal said.
Many local organizations raise money to help police and other first responders carry Narcan.
There is a higher overdose rate per capita in rural communities across Georgia than that of urban areas, according to the Georgia Opioid Overdose Annual Surveillance Report from 2020. Counties such as Bibb, Houston, Coffee, Crisp and Dawson had experienced more than 60 overdose-related emergency department visits per 100,000 people whereas counties such as Fulton and DeKalb had fewer than 50 per 100,000.
"So, first responders, absolutely be mindful of what a fentanyl overdose means," Crystal said. "And for people in the community and parents, for anyone that might encounter an opioid overdose, you can be a first responder. You can arm yourselves with naloxone."
Public health officials emphasize:
If you suspect a drug overdose, call 911 immediately, provide the location of the overdose and stay with the individual until help arrives.
Georgia has a medical amnesty law that protects individuals who may be experiencing an overdose and callers seeking medical attention for drug overdoses.
Naloxone can be obtained from pharmacies in Georgia without a prescription under a standing order from the Public Health commissioner.
For access to services and immediate crisis help, the Georgia Crisis & Access Line, 1-800-715-4225, is available 24/7.
Secondary Content
Bottom Content