Section Branding
Header Content
Schools often ID kids' mental health concerns. That's where Georgia's Apex program comes in
Primary Content
Even before COVID-19, growing stresses for kids led the Georgia Department of Behavioral Health and Developmental Disabilities to create a program to connect community mental health providers with students in K-12 schools. Now, as the pandemic eases, GPB's Ellen Eldridge reports on the health of the APEX program.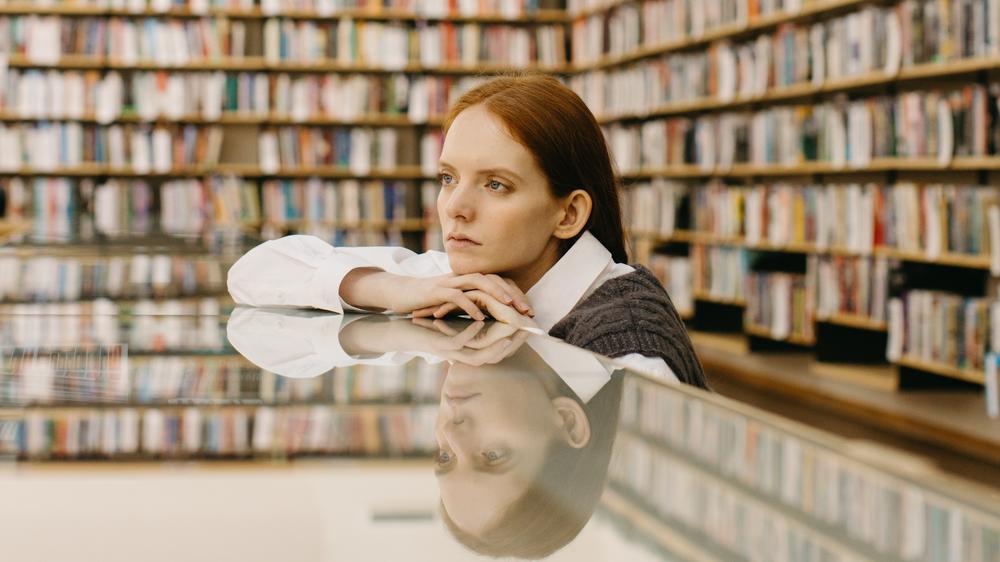 Even before pandemic-related disruptions, therapists were seeing more anxiety and depression in kids.
Deaths by suicide had already been trending upward for two decades.  
That's why leaders conceptualized the Georgia Apex Program in 2015. It's a partnership between community-based mental health providers and local school districts.
The program's three-tiered pyramid puts the students most at risk at the apex. In Georgia schools, that's roughly 3 to 5% of students.
The Apex program also funds individual and group therapy for students in the middle tier.
Mason Pacek, a family and youth counselor with Choices for Life of Georgia, is among those therapy providers.
"So, we are licensed therapists in the state of Georgia and then we travel up to the homes with the permission they understand where we're coming," he said. "We set up a time where a parent is going to be in the house — things like that."
Those mental health house calls were tough enough to set up pre-pandemic. Fear of COVID-19 only made them harder to arrange.
The bottom of the Apex program's pyramid — Tier One — includes universal prevention efforts.
This is where the money comes to host school events, educate parents, and raise awareness of mental health issues.
And teachers really are the first line of mental health care for students.
That's because before the pandemic, teachers spent more time with students than many students did with their own families.
Distance learning flipped that. When students had the greatest need for the state's Apex program services, they were at home. And for a lot of kids, quarantine at home meant more exposure to domestic violence.
Layla Fitzgerald, the program manager for the Georgia Department of Behavioral Health and Developmental Disabilities' Office of Children, Young Adults and Families, said the COVID-19 pandemic amplified all the usual stresses on even more students.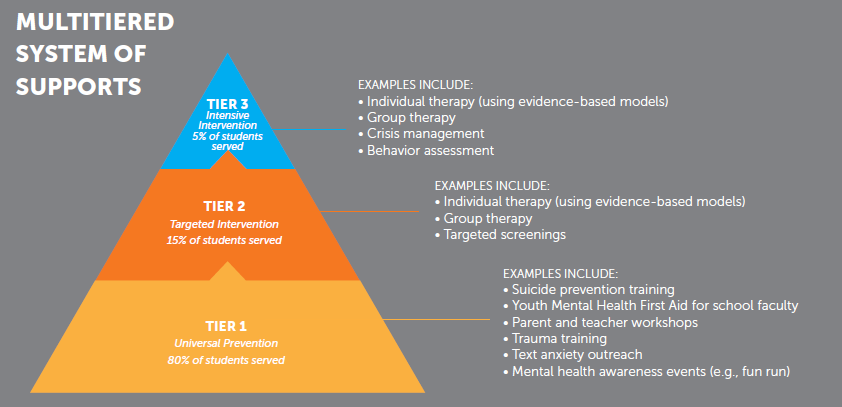 "Because our clinicians embed themselves in the climate of our school environment, our principals, teachers, counselors, social workers reach out to our providers when crises appear," she said.
"Many times it's happened during COVID because of suicides that have happened in our communities as well as passing of family members or violence in the community."
Then, for months, rolling school closures stymied educational goals.
Dante McKay, the director of the Office of Children, Young Adults and Families, said the pandemic forced Apex, designed as an in-person system of care, into uncharted virtual space. 
"It was a huge ramp-up pretty much overnight in March of 2020 in terms of continuing to provide those services it supports remotely via telemedicine," he said.
MORE: For Some, Telemedicine Is A Boon. Others Need To Escape Isolation
Meanwhile, behavioral health care experts are in high demand — which means access to any care for kids is even tougher to find.
"And so, you know, if you get to very rural communities, sometimes those practitioners are scarce," McKay said, adding that Georgia has about 2,300 public schools, and the DBHDD hopes to expand the Apex Program to all of them.
To serve all of the state's public schools, a minimum of 2,300 clinicians are needed for the one-to-one model desired, and there is a huge workforce shortage.
"It's a school-based mental health program that provides services to students who would never have received them before because they are embedded in our school systems," Fitzgerald said.
In short, COVID dramatically slowed the pace of extending mental health care to students which the state began back in 2016.
Yet another the challenge for Georgia schools as they emerge from the pandemic.
This is the first in a series examining how school-based behavioral health has changed over the first two years of the COVID-19 pandemic created as part of the Rosalynn Carter Mental Health Journalism Fellowship.
To listen to the second feature in the series, click here.
Secondary Content
Bottom Content