Section Branding
Header Content
Political Rewind: Federal voting rights bill blocked as Biden marks first year in office
Primary Content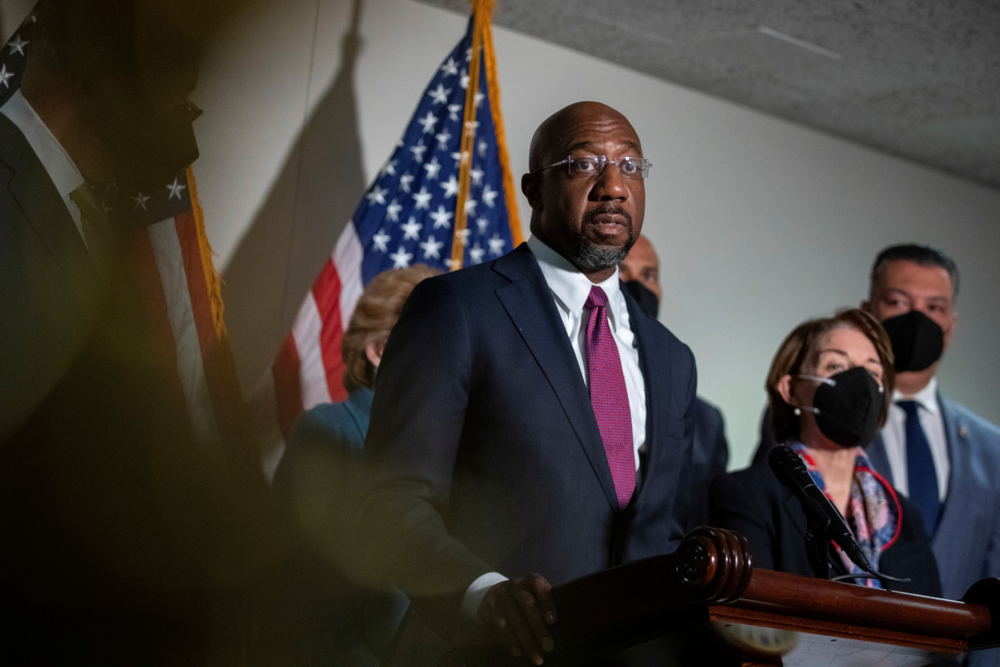 The panel:
Kevin Riley — Editor, The Atlanta Journal-Constitution
Margaret Coker — Editor-in-chief, The Current
Riley Bunch — Public policy reporter, Georgia Public Broadcasting
Tia Mitchell — Washington reporter, The Atlanta Journal-Constitution
The breakdown:
1. Attempt to pass federal voting rights legislation in U.S. Senate blocked by Republicans.
The Atlanta Journal-Constitution's Washington correspondent Tia Mitchell said a new, different federal election bill could be brought forward in the near future.
2. A year in review; the first 365 days of the Biden administration.
The president's approval ratings remain low as we pass the one-year anniversary of his inauguration.

According to polling from RealClearPolitics, only 42% of respondents approved of Biden's performance as of Jan. 18. Meanwhile, 52% disapproved of his performance, according to the same poll.

The president's first term saw a debilitating pandemic, economic uncertainty, a chaotic withdrawal in Afghanistan and perceived inaction on voters' issues.
But Biden did gain several notches on his belt over the first year of his presidency, including an infrastructure bill and a sweeping stimulus package.
3. Longtime U.S. Rep. David Scott receives a primary challenge from a progressive-minded candidate.
Vincent Fort, a former Democratic state senator, announced Thursday his entry into the race for the Atlanta-based district.
Scott is currently in his 10th term representing Ga.'s 13th Congressional District. He was first elected to public office in 1974 as a member of the Georgia House.
Fort gained the endorsement of Sen. Bernie Sanders of Vermont during a 2017 run for Atlanta mayor. 
4. Gubernatorial candidate David Perdue calls for an "Election Law Enforcement Division" as he continues to spread misinformation regarding the 2020 election.
The former U.S. senator is attacking incumbent Gov. Brian Kemp for not doing enough to overturn the last presidential election results in Georgia. 
Tomorrow on Political Rewind:
We return with a live video broadcast of our show, which will be posted on GPB.org and on Facebook.com/gpbnews.
Secondary Content
Bottom Content