Section Branding
Header Content
Georgia's most powerful lawmakers boast of progress. Kemp pledges major $1.6B tax refund
Primary Content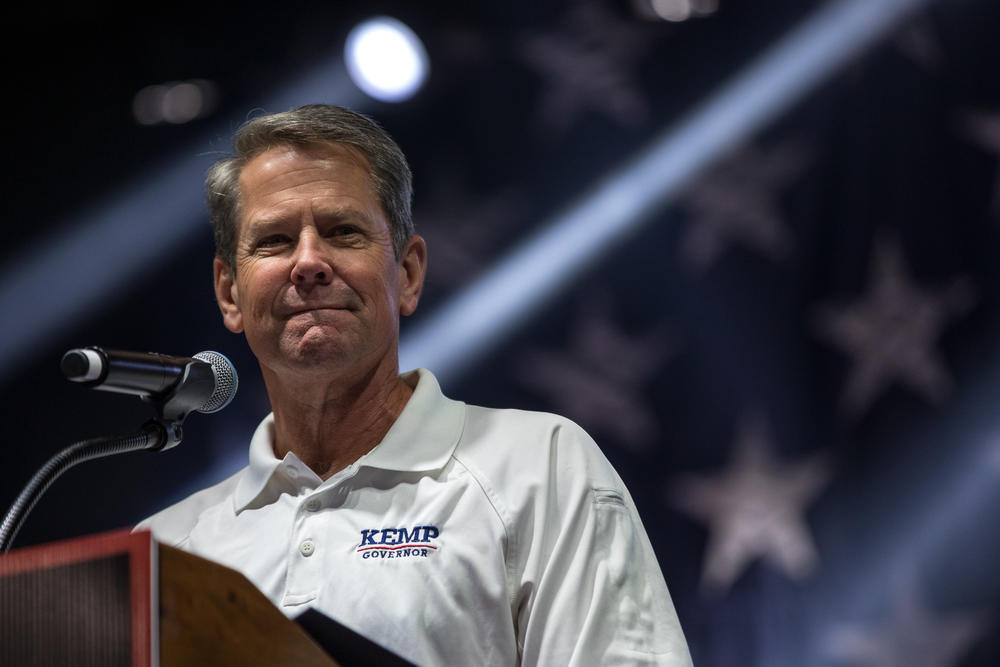 Top politicians from both parties in Georgia courted business leaders early Wednesday morning and emphasized their power in the battleground state.
The Georgia Chamber of Commerce's Eggs and Issues breakfast is one of the only annual traditions in Peach State politics that brings both Democrats and Republicans to the same podium.
In the midst of a tumultuous election year, federal and state lawmakers used the opportunity to boast their contributions to the state's strong economy and outlined plans for the future.
Georgia's top statewide leaders — Gov. Brian Kemp, House Speaker David Ralston and Lt. Gov. Geoff Duncan — also laid out priorities for the 2022 legislative session now in full swing. 
In full campaign mode for his reelection bid, Kemp unveiled a hefty new budget proposal: $1.6 billion in tax refunds to Georgians after the state has bolstered its surplus to record levels.
The plan means every Georgian who files income taxes would receive a refund from $250 for single filers to $500 for joint filers.
He also pledged to enact the second installment of his 2018 campaign promised teacher pay raises and a new proposal to boost state employee salaries by $5,000.
"I believe that when government takes in more money than it needs, surplus funds should be sent back to the hardworking men and women to keep our state moving," Kemp said.
Ralston also endorsed the state employee pay increase during his remarks.
Kemp faces a bitter primary challenge by former U.S. Sen. David Perdue, who has backed a full elimination of the state's income tax — which legislative leaders say is the wrong way to go because it funds so much of the state's budget.
On the offensive for the 2022 election, the governor said he would also back legislation to eliminate the state's income tax on retirement pay for military veterans.
Democratic U.S. Sen. Raphael Warnock delivered the federal update to attendees this year and touted federal infrastructure and COVID-19 relief money that benefited Georgia.
Not long ago, voters sent two Democrats to the U.S. Senate and gave majority control to Democrats of the chamber. The high-profile races put Georgia's freshmen senators in a unique position to lobby on Georgia-focused issues.
Warnock pointed to $8 million in federal funding to help ease congestion at the Port of Savannah. He said, when negotiating with more senior members on committees, he reminds them "that Georgia put those gavels in their hands."
"You're looking at the most junior member of the United States Senate, but I punch way above my weight," Warnock said. "And you gave me that power."
Warnock did not shy from urging the hundreds of business leaders at the Fox Theatre in Atlanta to make their voices heard in the partisan voting rights debate that has centered around Georgia.
Shortly after Democrats made big statewide wins, the Republican-controlled legislature enacted a sweeping new elections law. Proponents argued it made necessary changes after the pandemic upended the voting system but critics decried it as an effort to keep voters from the polls.
The business community is regularly caught between the two sides. Last year, the chief executives of two of Georgia's biggest corporations, Coca-Cola and Delta Air Lines, slammed the new voting law as "unacceptable." 
In retaliation, the Georgia House threatened to revoke a major tax break for Delta and hinted at other consequences for Coke.
Warnock said he knows that businesses would rather "steer clear" of hyper-partisan issues but appealed that the negative publicity from the state's new voting law had a negative impact on the state's business community.
"I submit this to you: that voting rights is above politics," he said. "Restricting access to the ballot is not good for Georgia. And it is certainly not good for Georgia business."
"On this issue, all of us have a moral responsibility to speak out," Warnock said.
House Speaker David Ralston went off-script to hit back at Democrats, slamming President Joe Biden's and Vice President Harris' visit to Atlanta the day before. 
The pair came to the Peach State to urge federal lawmakers to pass voting protections and cited Georgia's sweeping new law as evidence for urgent Congressional intervention. 
"I don't mind criticism — you all probably know I've been criticized sometimes … But nothing makes me madder than lying," Ralston said about Biden's comments on the new election law, known as SB 202. "I will not let someone lie about our state or its values."
A new battle is brewing this legislative session over an effort by some in one of Atlanta's wealthiest neighborhoods to secede from the city. Proponents of the Buckhead cityhood movement cite a rise in violent crime in Atlanta, although the trend is being seen elsewhere. 
The issue is top of list for newly elected Mayor Andre Dickens, who also spoke at the Chamber's event. He announced Wednesday a first step in his effort to combat crime and keep the city whole: a new police precinct in Buckhead opening this week.
"We started the work on day one addressing the issue of crime in our city. This is the concern of all of us," he said. "And while some may want to use this to break us apart, we know that as a city we are stronger together."
Secondary Content
Bottom Content