Section Branding
Header Content
Andre Dickens is the next mayor of Atlanta
Primary Content
Atlanta City Council member Andre Dickens will be the 61st mayor of Atlanta, defeating City Council President Felicia Moore in a runoff election that comes at a pivotal time for the city.
The Associated Press called the race shortly after 10:30 p.m, when Dickens had secured more than 60% of the vote.
Tuesday's results usher in a new era for Atlanta politics after Mayor Keisha Lance Bottoms announced in May she would not seek another term and former Mayor Kasim Reed finished third in the general election earlier this month.
"Progress right now can't wait," Dickens said to a throng of supporters after the race was called. "We have to capture this moment and we will capture this momentum and capture it now and build upon it. The people who have made this victory possible, these people will change Atlanta's future."
Dickens, 47, pitched his campaign to voters as one of both stability and a progressive vision for the city that has struggled with big city issues income inequality, traffic, rising violent crime and the looming threat of a wealthy white enclave seeking to divorce itself from Atlanta's boundaries and future.
In his victory speech, Dickens said he was humbled by the results and vowed to restore Atlanta to "that shining city on a hill."
"Atlanta is here tonight, it is home to the movement that has changed the world," he said. "We need another movement right now, and we have voted for new leadership in this direction. We voted for progress, yes, and a problem solver, a bridge builder for transformation. And this work will start right now."
Dickens' victory was cast as an upset, after the general election was dominated by Moore and Reed in polling, fundraising and headlines. At a polling place in southeast Atlanta earlier Tuesday, Dickens remarked that his campaign had been seen and heard more in recent weeks.
"In the past it was 14 of us, and really from the very beginning, people were describing it as a two person race: of Kasim and Felicia," he said. "So at that time I was in the pack trying to be heard… but now the race started brand new on Nov. 3 and we were both at 0-0."
In the four weeks since the general election where he earned 23% of the vote, Dickens racked up high-profile endorsements from Bottoms, former mayor and U.N. Ambassador Andrew Young and Fulton County District Attorney Fani Willis.
"When Andre is elected our 61st mayor, he will represent us," Bottoms said to a packed crowd at The Gathering Spot late Tuesday night. "Thinking of the least of these, thinking of children in our community, thinking of people across this city: from Bankhead to Buckhead, from Cascade to Chastain, from Whitehall Street to the White House."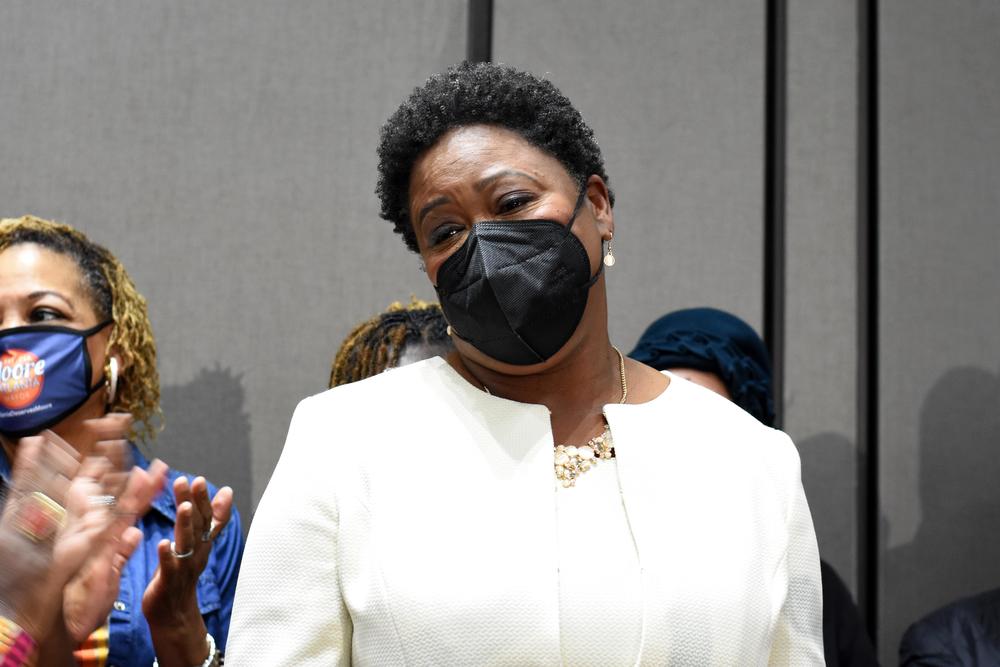 A few miles away in a small hotel ballroom, Moore's supporters expressed gratitude for her campaign and an air of disbelief that the loss was so great.
"I know some of you are very sad, as shocked as I am and your brain is kinda processing," she said. "You had a vision in your head, something that did not materialize. But I just believe that things work in perfect order. There's a reason for this."
Moore stressed that while her campaign was over, there was still work to be done to improve the city and support Dickens as he takes office next January.
"So there's no division tonight, no division tonight between the Dickens camp and the Moore camp, because we're all camp Atlanta," she said.
Of the many issues facing the next mayor and city council, one that has garnered a near-united front is opposition to the Buckhead cityhood movement, backed by Republican lawmakers from outside the city and county and pitched as a right of self-determination stemming from displeasure with crime.
Moore said those residents should work with Dickens and Atlanta officials to solve problems instead of attempting the unprecedented process to de-annex a large swath of land and tax revenue to create a new city.
"I said it before and I will continue to say it, Atlanta is better together than it will ever be apart," Moore said.
Secondary Content
Bottom Content