Section Branding
Header Content
A UGA study shows why you may want a COVID-19 booster shot
Primary Content
The FDA and CDC could approve booster shots this week for anyone 18 or older. But a new study from the University of Georgia says the shots are still most vital for those in high-risk groups. GPB's Ellen Eldridge reports.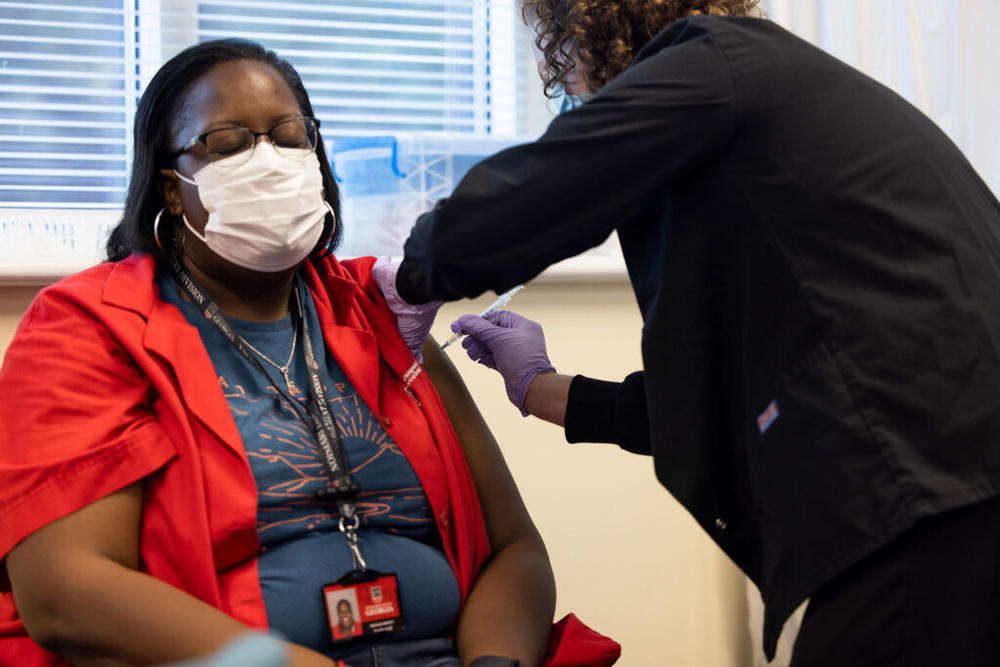 People vaccinated against COVID-19 have a more robust immune response than those who contracted the disease and recovered, according to a study from the University of Georgia.
The vaccines are still working very well, preventing hospitalization and severe disease, said Ted Ross with UGA's Center for Vaccines and Immunology. Even as antibodies begin to wane, the immune responses that protect us are still quite good.
Whether or not someone needs a booster shot depends on that individual's situation, Ross said.
"If you're offered a booster shot, there's no reason why you shouldn't take it," he said. "Your immune response will go up dramatically after the booster shot."
Additionally, eligible individuals may choose which vaccine they receive as a booster dose. Some people may have a preference for the vaccine type that they originally received and others may prefer to get a different booster. The Centers for Disease Control and Prevention's recommendations now allow for this type of mix-and-match dosing for booster shots.
MORE: Here's how to get a booster shot in Georgia — and who should get one
Emory University infectious disease expert Dr. Jay Varkey said in a news conference last month that these boosters are the minimum number of vaccines needed to protect the most vulnerable.
"If you're over 50 and if you have chronic medical conditions, you should get a booster," he said. "And some of these chronic medical conditions are actually quite common, so this includes being overweight, having diabetes, having high blood pressure or having chronic heart disease, kidney disease or lung disease."
Booster shots might also reduce transmission of the SARS-CoV-2 virus that causes COVID-19, UGA's study, published in Frontiers in Immunology's Vaccines and Molecular Therapeutics, shows. 
"Some people may have gotten all three vaccinations and they still have a weak immune response to the vaccine, so having other people vaccinated is still helpful, said Ross, who led the study.
Ross added that after about six months, most people over age 65 have had a four-fold drop in concentration of antibodies from their peak when they got vaccinated. For younger people, it can range from two- to four-fold.
"On average, older people wane more quickly," Ross said. "Therefore the booster shot is definitely taking them not only back to the level they were, but actually exceeding that original peak."
Every year, a certain number of people die from influenza. Most of them are quite elderly, Ross said, and they generally have underlying health conditions.
Though both influenza and COVID-19 may not be lethal to most of the population, sickness definitely takes a huge toll on the economy, with people taking their kids out of school, having to miss work and such, he said.
"I mean, that's where the economic toll is, in the millions to billions range, annually in the U.S., just for flu," Ross said.
Because COVID-19 is new, researchers are still evaluating immunity. After another six to nine months, Ross said, we'll know more about whether folks will benefit from future boosters.
For information about COVID vaccines or to schedule a vaccination appointment visit dph.ga.gov/covid-vaccine or vaccines.org.
Secondary Content
Bottom Content