Section Branding
Header Content
Local Georgia officials eye clean energy climate solutions in Build Back Better Act
Primary Content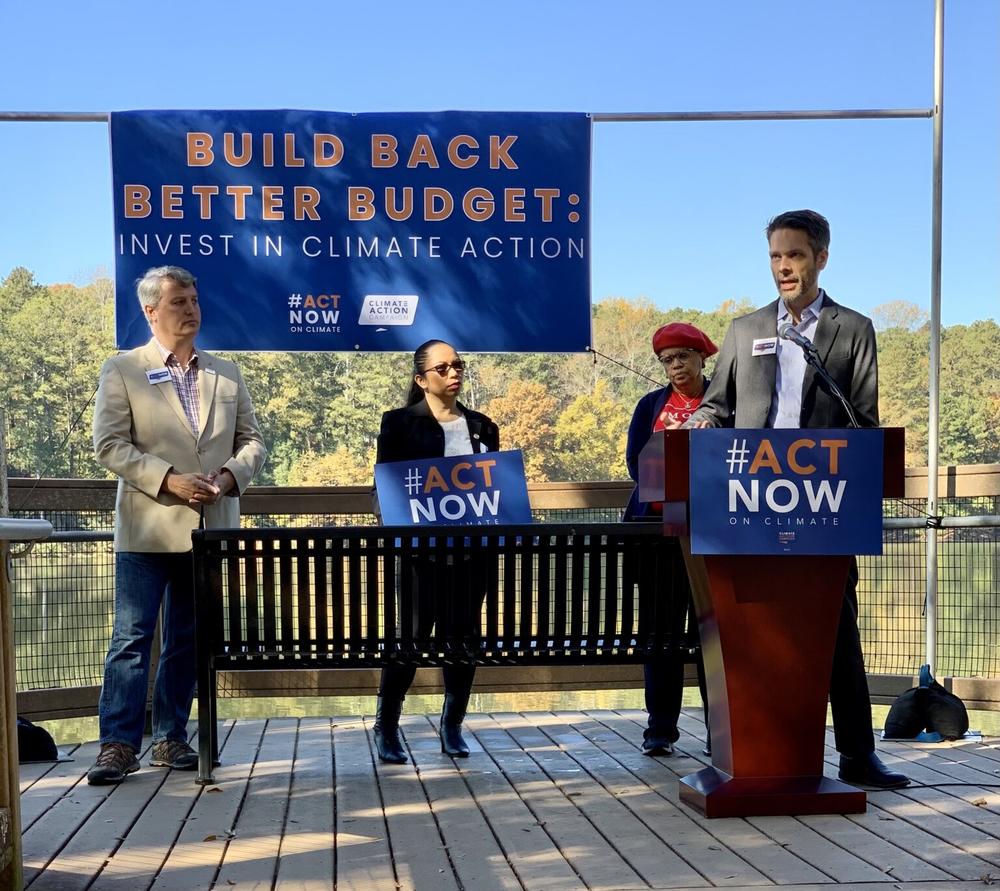 Brookhaven and Doraville mayors joined conservationists Wednesday to call on Congress to support milestone legislation they say will reduce pollution, create high-paying jobs, and address systemic environmental injustice.  
As early as next week, the House of Representatives could take up a vote on President Joe Biden's $1.75 trillion Build Back Better Act that provides a $555 billion investment in clean energy and attacking climate change.
The Build Back Better Act edged closer to a vote following last week's historic approval of a $1.2 trillion bipartisan infrastructure bill that is winning praise for its ability to address climate change and increase equity for disadvantaged communities. Biden plans to sign the infrastructure bill in a ceremony Monday, setting up a showdown next week for his other plan that is downsized from a package that sat at $3.5 trillion in September.
On Wednesday, environmentalists and the two metro Atlanta mayors gathered at a suburban park north of Atlanta to applaud the infrastructure bill as a major step to attack the looming climate crisis. However, they said even more progress can come through Build Back Better. 
The legislation sets policies and allocates billions to cut carbon pollution in half by 2030. 
Legislation also aims to prepare Georgians to work in new clean energy jobs while lowering pollution that creates health burdens that disproportionately fall on minorities and the poor.
"The city of Doraville is one of the most diverse communities in metro Atlanta," Doraville Mayor Joseph Geierman said at Murphey Candler Park in Brookhaven. "We have the highest percentage of people of Latino or Hispanic origin in the state. We also have many people who are at the bottom of the income scale and who need access to good-paying jobs and equitable opportunities. Communities of color and their vulnerable groups are often hit first and worst by the impacts of climate change."
Among the top priorities of the environmental group Moms Clean Air Force is replacing 470,000 diesel school buses across the country with zero emission buses. Almeta Cooper, Georgia field coordinator for Moms Clean Air Force, says that will protect the health of about 800,000 students and bus drivers while helping the country reach the 2030 carbon emissions goal.
"This is a goal that scientists say is necessary to prevent the impacts of climate change," Cooper said. "Time is running out. Going big on climate action and investing in our communities is crucial both to Georgia and to our nation."
To prepare to make the most of the sweeping green energy initiative, an organization in Cobb County is sharing ideas with local government officials about how to best use of the federal funds and changing policies.
"Commissioner Jerica Richardson has an environmental justice agreement that looks at how are these national policies making sense at the local level," said Arjho Turner with Cobb County Sustainability in Richardson's district. "How are people getting engaged so that they know they're part of it?" 
According to Brookhaven Mayor John Ernst, money in the infrastructure bill will help increase the number of the city's electric car stations, while a tax credit tucked into the Build Back Better Act is intended to entice more people to purchase electric vehicles.
During a time when Congress is considering major clean energy legislation, an annual renewables report from Environmental Georgia praises the state's efforts with solar energy and electric vehicles.
According to Environment Georgia, the state's officials have backed investments in electric battery manufacturing, which could have long term effects, while new technologies have also helped drive progress in clean energy. 
From 2011 to 2020, Georgia ranked seventh in the nation for electric vehicle sales, electric charging stations, and solar capacity. Georgia's electric vehicle popularity was fueled by a state tax credit that expired six years ago.
Federal legislation investing in transit and emission-free school buses to help reduce pollution as well as promoting solar and renewable energy is needed to help reverse the damage to the planet, according to the organization.
"Clean Energy has exploded because of decades of research and public policies that have successfully incentivized the adoption and deployment of renewable technologies," renewable energy associate Jessica Wahl said. "And so while this report describes the dramatic growth of renewables, it also highlights that we still have a lot of work to do in terms of adopting the public policies that will bring us into a completely clean, renewable energy future."
Congresswoman Lucy McBath, a Marietta Democrat, is spending the week working to build on the momentum of passing the infrastructure bill that will provide Georgia with $1.4 billion in sustainable transportation investments and offer $135 million to accelerate electric vehicle capabilities.
"Every resident of metro Atlanta has a right to high-quality, regular, and dependable transportation options, and we must continue to make it easier, safer, and more sustainable to travel across our state," McBath said in a statement. "This bipartisan legislation helps us improve critical transportation for underserved residential areas, getting Americans back to work, connecting employees with employers, and ensuring our small businesses have access to the customers they need to grow and thrive."
Across the U.S., a portion of the $90 billion for public transit would allow operators to swap out 10,000 fossil fuel-powered buses for those that run on batteries or other low-emission energy. 
Meanwhile, a range of clean energy and energy-efficient projects will be spread across the country primarily through $62 billion to be distributed by the U.S. Department of Energy.
The legislation dedicates $7.5 billion to create a nationwide network of 500,000 electric vehicle charging stations. Clean energy initiatives include $5 billion to replace thousands of diesel-powered school buses with electric buses. And $3.5 billion is set aside to reduce energy costs for low-income households.
This story comes to GPB through a reporting partnership with Georgia Recorder.
Secondary Content
Bottom Content