Section Branding
Header Content
'Prehistoric' fish doubles in size since last capture in 2005
Primary Content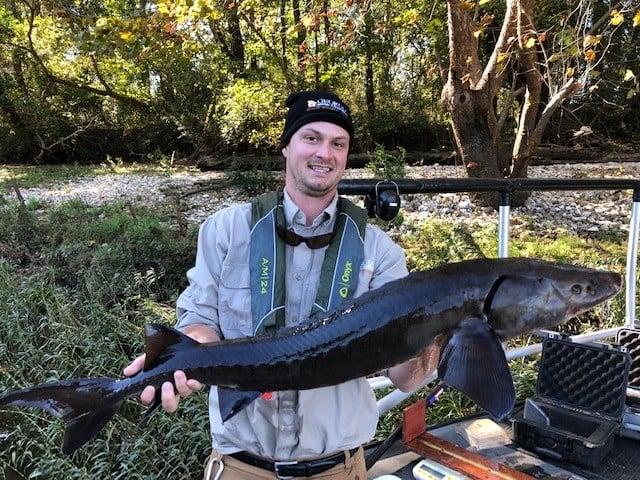 Lake sturgeon have the intimidating looks to back up their reputation as a "prehistoric" fish, so it's almost intimidating to report their protected status in Georgia is contributing to growth spurts.
A sturgeon tagged and released 16 years ago was recaptured last week in northwestern Georgia, and state officials say it more than doubled in size in that time.
"Fisheries biologists collected two lake sturgeon from the Etowah River," the Georgia Department of Natural Resources reported Nov. 7.
"One of the sturgeons was 41 inches long and had previously been captured and tagged by University of Georgia personnel back in 2005 when the fish was only 17 inches long."
That's good news from a conservation standpoint for a species known for being "hard-fighting dinosaurs."
They can get as big as an young alligator if left alone long enough, and they will eat almost anything they can fit in their mouth. (They are not a threat to humans.)
As for their looks, lake sturgeon are "nearly boneless ... with sucker-like mouths, shark-like tails, sensitive barbels (whiskers) under the snout, and bony scutes (plates) along the sides and top of their bodies," the state reports.
 "Sturgeons are a unique group of fish that coexisted with dinosaurs and have changed very little since that time," state wildlife officials said.
 "One lake sturgeon on record lived to be 154 years of age and another tipped the scales at 310 pounds. Both of these records were from northern states in the early 20th century and few, if any, such fish exist today."
Georgia officials hope to restore the species back to its glory days in the state.
Sturgeon are native to northwestern Georgia but largely vanished after being "wastefully slaughtered in much the same way as the American Buffalo," officials say. The sturgeon population is now "less than 1% of its original abundance" in the state.
Georgia began reintroducing the species in 2002, by releasing "more than 300,000 fingerling lake sturgeon," officials said. Fingerlings are fish "about the size of a finger," according to Fishionary.fisheries.org.
State officials have been getting sporadic updates on the former fingerlings in recent years, but they appear to be thriving.
In January 2020, Armuchee Fisheries staff caught one of the released sturgeon in the Etowah River and it weighed 19 pounds, the state says. (It was released unharmed.)
This story comes to GPB through a reporting partnership with The Telegraph.
Secondary Content
Bottom Content