Section Branding
Header Content
Georgia Republicans release state House and Senate redistricting maps
Primary Content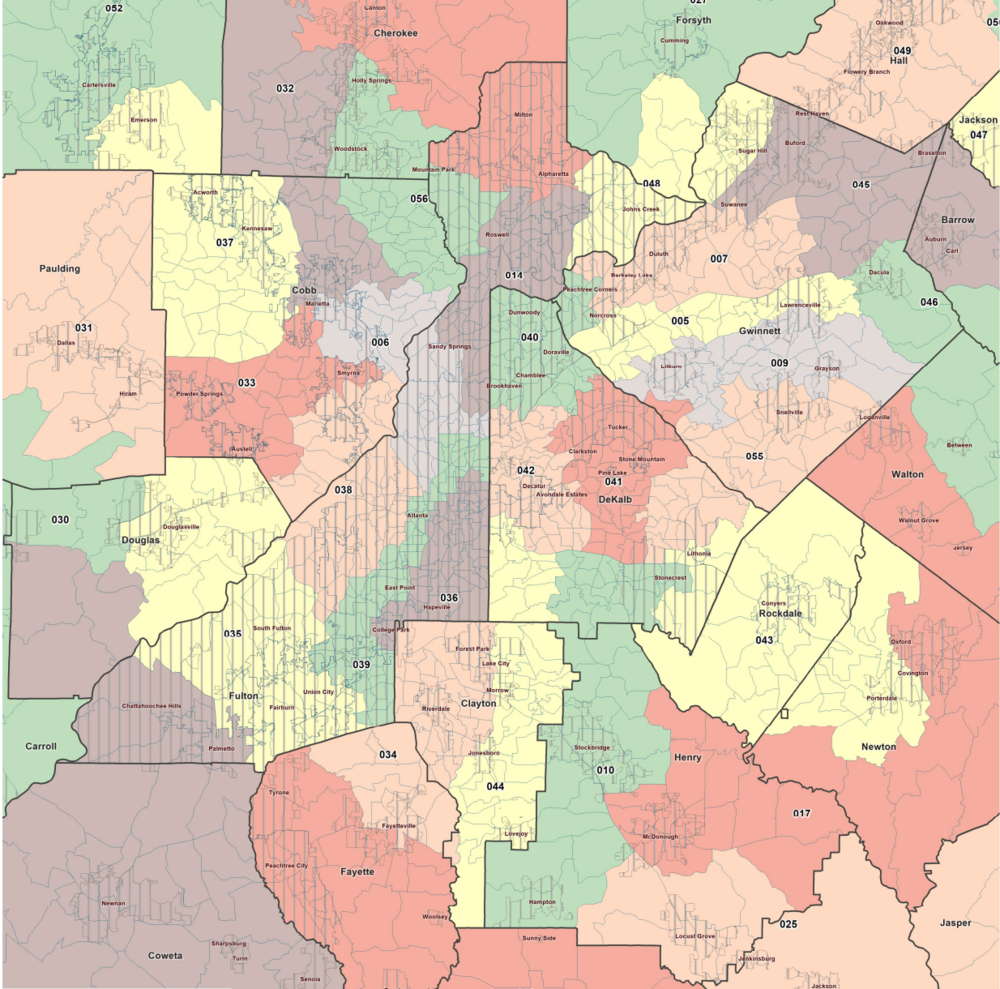 Republican lawmakers in the state House and Senate unveiled their redistricting proposals for their chambers hours before the start of a special session to address redistricting.
Both maps primarily add seats in Democratic-leaning areas of metro Atlanta while removing districts from southern Georgia after the latest U.S. Census numbers show the state has grown by more than 1 million people.
RELATED: Here are all of the proposed redistricting maps for Georgia
In the state House map, Republicans would go from likely holding 103 seats to 97 seats according to an analysis of the map boundaries, election data and lawmakers' home addresses. To shift the balance, the map would group together six pairs of incumbent Republicans, two pairs of Democrats and draw two GOP lawmakers into two Democratic-leaning districts.
There would also be seven newly created vacant seats: one in conservative-leaning Forsyth County, one each in Democratic-leaning parts of Fulton County and Rockdale County and two each in left-leaning portions of Cobb County and Gwinnett County.
"Through an inclusive, exhaustive and transparent process, we have produced a fair and equitable map representative of Georgia's changing demographics and shifting population centers that is in full compliance with the spirit and letter of the law," House Speaker David Ralston (R-Blue Ridge) said in a statement. "We have a proven track record of integrity when it comes to redistricting. In 2011, our House Majority drew maps which were the first in Georgia history to be approved without changes by Obama-Holder Justice Department under Section 5 pre-clearance requirements. We are confident we will once again adopt a map which fulfills our Constitutional duty and strengthens our democracy."
Some of the pairings appear to come in places where lawmakers are leaving office. Redistricting Chairman Bonnie Rich (R-Suwanee) is in the same district as Rep. David Clark (R-Buford), but Clark is not running for reelection, just like Rep. Susan Holmes (R-Monticello), who would be in the same district as Rep. Clint Crowe (R-Jackson). Rep. William Boddie (D-East Point) appears to be drawn in with Rep. David Dreyer (D-Atlanta), but Boddie is running for Labor Commissioner.
Other pairings that could force lawmakers into early retirement or suggest a decision is soon on the way: House Health & Human Services Chair Sharon Cooper (R-Marietta) is pitted against Rep. Matt Dollar (R-Marietta), Southwest Georgia Rep. Gerald Greene (R-Cuthbert) now sits in Rep. Winfred Dukes' (D-Albany) district and Rep. Philip Singleton (R-Sharpsburg) is now in a South Fulton-based, Democrat-heavy district under this proposal.
 
On the Senate side, fewer lawmakers means fewer changes to be made. Sen. Tyler Harper (R-Ocilla) is running for Agriculture Commissioner, so his underpopulated district was disbanded and a new one created in Gwinnett County that would favor Democrats. Sen. Bruce Thompson (R-White) is running for Labor Commissioner, and his district would be deconstructed and moved to Democrat-heavy north Fulton County. 
The Senate GOP proposal also takes the Johns Creek-based seat of Sen. Michelle Au (D-Johns Creek) and adds more Republican voters, potentially making it harder for her to win reelection if the map passes. The Republican majority would go from 34 seats to 33, and Democrats would likely go from 22 to 23 seats.
Democrats have released their own proposals for all the legislative maps, but do not have any power in the current legislative process. 
The special legislative session begins Wednesday, Nov. 3 and will likely run through Thanksgiving. Lawmakers must also agree on how to redraw the state's 14 congressional districts before sending them to Gov. Brian Kemp's desk.
Secondary Content
Bottom Content