Section Branding
Header Content
'It's been a lot of fun': Braves blogger calls Atlanta's World Series run surreal
Primary Content
It took more than two decades, but the Atlanta Braves are back in the World Series. This season has been a roller coaster for the Braves, and fans have come along for the ride.
The national spotlight has also brought some national scrutiny about whether the Braves name and its "Tomahawk Chop" chant is considered racist. The Braves and Houston Astros are getting ready to play Games 3, 4, and 5 in Atlanta. Here to talk more is Eric Cole, the deputy site manager of the blog, Talking Chop. It's a blog all about the Braves.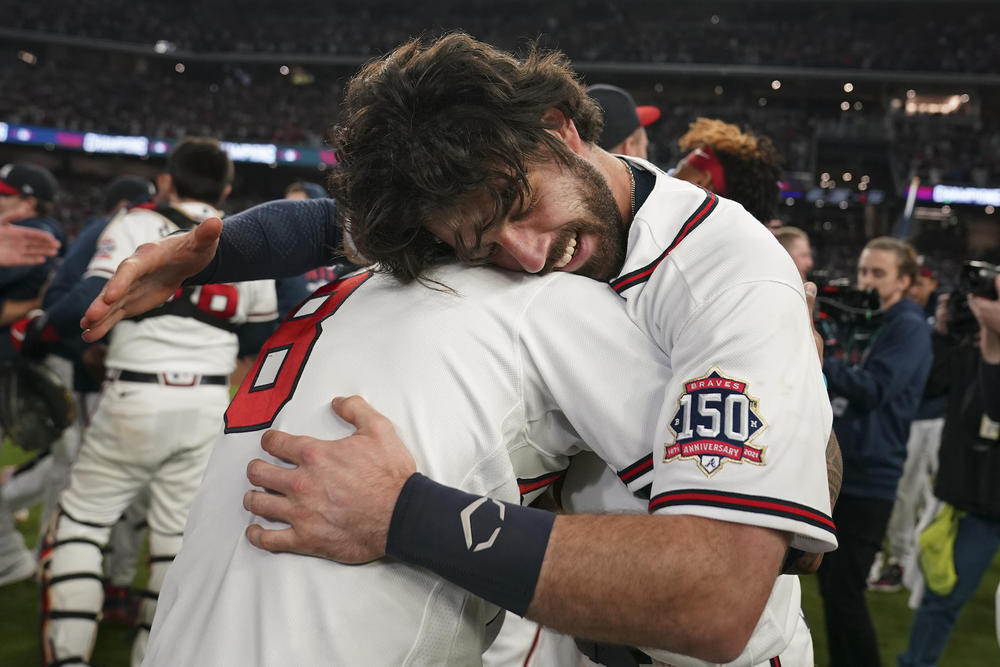 Leah Fleming: So, how would you sum up this moment right now, what it means to you, the team and Braves fans?
Eric Cole: It's pretty surreal. If you'd asked me back in July, and a lot of people did ask me back in July, what the Braves playoff chances – period – were, we put them around 10%, and that's kind of where all the projection models had them, too. Yeah, they'd already lost Marcell Ozuna – first, to a pretty severe hand finger injury, followed by his indictment for domestic violence. And they'd already lost Mike Soroka. He was returning from an Achilles tear. And when he's trying to come back, he tears it again, just walking into the clubhouse.
And then you lose Ronald Acuña Jr., who is probably – if he's not the best baseball player on planet Earth, he's really close. And you lose him to an ACL tear. And at that point, you lose all those guys. You have other guys out, like some of their pitching staff, was hurt and they're below .500 already. There's just no conception of like looking forward to the playoffs when you're in, you know, second, third place. You're looking up against a Mets team that, had up until that point, played pretty well. But back then, it was just, do they even have any chance of making the playoffs? And what [Braves General Manager] Alex Anthopoulos did with making trades at the trade deadline and just the way these guys have played their brains out – in the second half, after the trade deadline, there were two teams in baseball, better than the Braves. It was the L.A. Dodgers and the San Francisco Giants. They were playing at a 106-win pace, missing all of those guys, and that's exactly what they had to do to win the division and do what they've done so far.
So, it's been a lot of fun, especially covering the team for as long as I have. To actually kind of see them finally get back to the World Series, it's been great for the fans. Obviously, it's been great for us and I think it's been great for the city of Atlanta.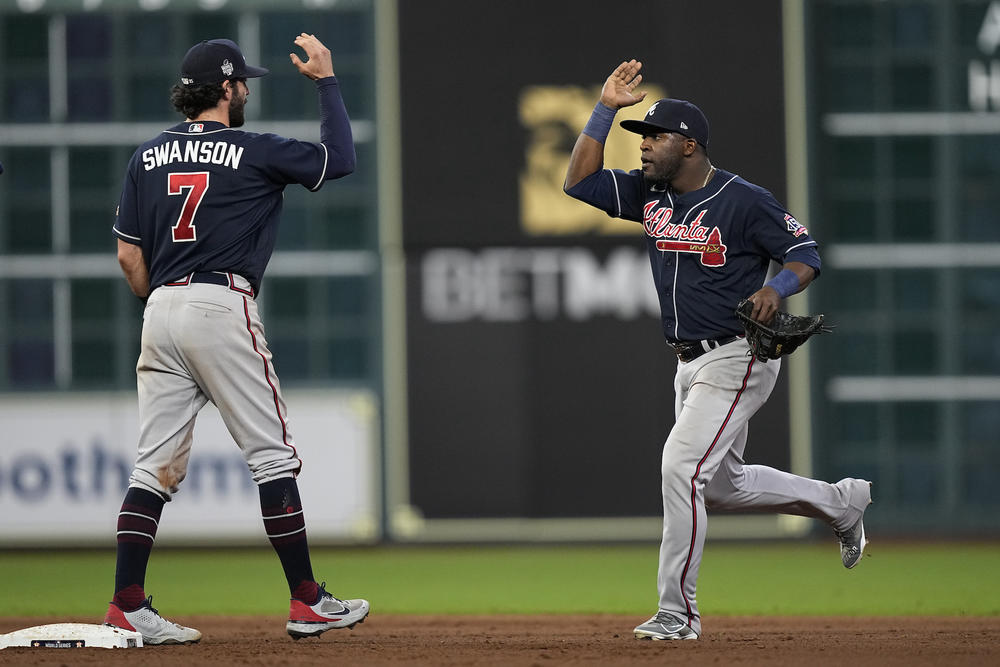 Leah Fleming: Yeah. So, what's the deal with Joc Pederson and his pearl necklace?
Eric Cole: I think that Joc is just kind of a guy that goes to the beat of his own drum, and has a bit of swagger to him, which has been great for the clubhouse. Now, in terms of the actual pearls, the story I've heard is that it's something that his jeweler recommended as something that can be kind of neat and unique. Well, we certainly haven't seen it in baseball. And, you know, he just kind of has this attitude that he can do what he wants and just be himself. And when it comes postseason time, he is a bad, bad dude.
He uses far harsher language than I do to describe himself. But at the same time, like that has been really helpful for this team. Like, they've needed a little bit of cockiness and a little bit of swagger to remind themselves of just how good this team can be. It's kind of snowballed to the point now where we're seeing grown men and grown fans in stadiums wearing pearl necklaces. I wish I could have said I could have predicted that at the start of the season, but there's not a chance. 
Leah Fleming: Not at all. Not at all. So, this series is tied up at one apiece. What is your outlook for the rest of the World Series? Do you think that their chances are good to go on and actually win? Or what about that curse? That Georgia sports teams curse?
Eric Cole: I'm not a big believer in curses, per se, and I understand that's hard to say for the city of Atlanta, given the things that they've had to endure.
You know, not just like the Falcons losses in the Super Bowl or just the lengthy droughts or, you know, even like some of those World Series that the Braves lost in the latter part of the '90s. I mean, before Game 1 of this series, they had not won a World Series game – period – since 1996 — and that was Game 2, and they lost four straight after that. So, I understand where people come from, but I still like the Braves' chances.
Before the Series started, I picked the Braves in seven. I have a lot of respect for this Astros lineup, as everyone should. And they're just going to get you sometimes. They just are. They're too good, from top to bottom. The Braves are gonna have to play well here. No question. But if they can win two out of three here, they're going to be in a really good position just to be able to split again in Houston to bring home the first World Series title for the Braves since 1995. I haven't changed my projection. I still think this is going to come down to the wire, but I do think the Braves are gonna win in seven games.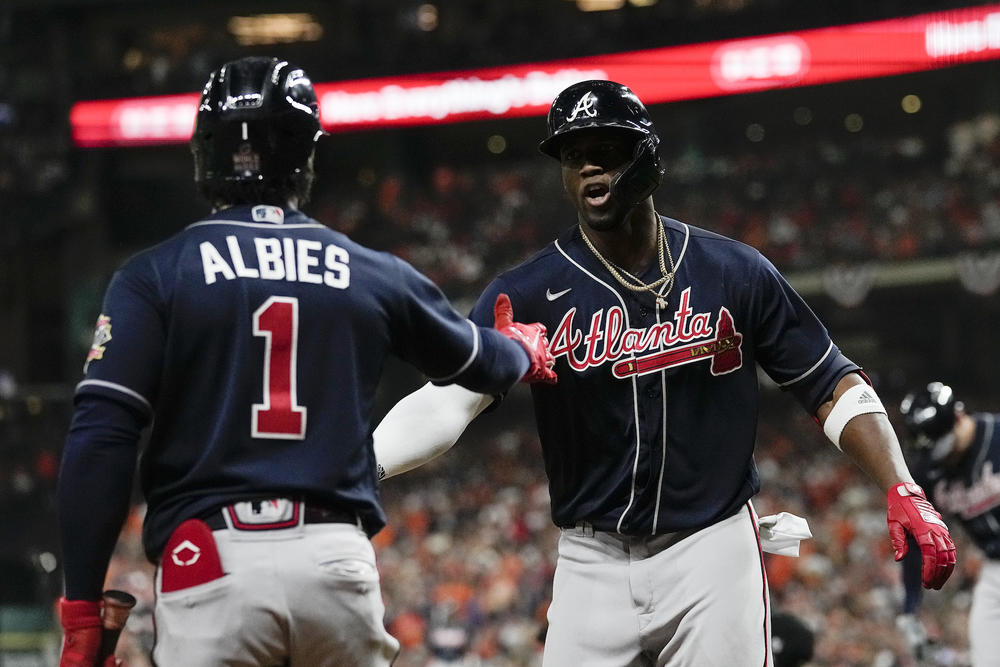 Leah Fleming: All right. All right. So, you know, this has been big – this conversation on social media: team names have come under fire for using Native Americans as their identity. The Cleveland Indians and the Washington Redskins, those teams come to mind. They opted to change their names after years of pressure. The Braves are receiving that same kind of scrutiny over their name and that famous "Tomahawk Chop" that fans do. MLB Commissioner Rob Manfred said that they've consulted with the Cherokee Nation and they're fine with it. But according to an article that was on Deadline.com, the National Congress of American Indians says that that's not true. They were not consulted and they're not cool with it. So, do you think that this could actually grow into a larger issue and then actually push the Braves to maybe change their name?
Eric Cole: I don't think that we're going to see a name change with the Atlanta Braves anytime soon. I think that part of it is kind of what Manfred mentioned, is kind of like the regional – how do I put it? There's a regional question regarding the Braves fan base and, like, the resistance of being told what to do by any authority figure – period. And that's going to be kind of part of this whole discussion.
But also, you know, I do think that the Braves have made some attempts to ... reach out to like local Native American tribes. How substantive those discussions are is an open question. I will say that I don't necessarily think that the name is going to change. I do think that we could see the Tomahawk Chop phased out in the coming years. ,,, When you're looking at kind of the marginalization and coopting of Native American culture, there's celebration of a team's success and then there's a kind of going a little bit over the line. And I think in this particular case, like the Braves play the Tomahawk Chop [music] every time a guy draws a walk at the plate. And it's a lot. And like for me, I'm not a big fan of the Tomahawk Chop, personally. I think especially it's overused. I mean, again, like, you know, if it breaks out, you know, spontaneously across the stadium, that's one thing, but it's constantly prompted in situations, which frankly I think it's a little bit silly.
Leah Fleming: Right. Are you actually an Atlanta Braves fan? Is that like your home team? Or do you have another team that you like?
Eric Cole: I grew up a Braves fan. When I first got into baseball, the first game I remember watching was John Smoltz versus Jack Morris in Game 7 of the 1991 World Series. Now, that didn't end well for the Braves, and I still have a little bit of a soft spot for the [ Minnesota ] Twins because, again, that's kind of like that first baseball memory I have.
My mom was a big Red Sox fan growing up, and I was born in upstate New York. But just kind of because of where we lived, there was just so little baseball we could actually watch. And, you know, that World Series kind of always stuck out in my mind. It just so happens that my family moved to Georgia when I was very young. And, you know, it just it kind of grew from there. So, the Braves have been my team. I just, you know, my work at Talking Shop started as a little bit of a hobby and something of a lark.
It was a site that I had followed for a while. You know, it's kind of grown into a much bigger thing like I never planned for, but it's been a lot of fun.
Secondary Content
Bottom Content