Section Branding
Header Content
The film industry union has reached a tentative agreement with producers. Will it stop a strike?
Primary Content
Negotiators for the International Alliance of Theatrical Stage Employees — the country's largest film worker union — have reached a tentative agreement with production companies averting a strike. But whether it holds remains to be seen.
Earlier this month, nearly 90% of the IATSE's membership moved ahead with authorizing a work strike following complaints of long work hours and poor working conditions across the country.
They also took exception to unequal wages on productions for streaming services like Netflix and AppleTV+, which haven't been adjusted in years, even as streaming has become a predominant source of media in the last decade.
A document shared on Instagram by the IATSE detailed some of the resolutions that have tentatively been agreed upon — including longer weekend rest periods, expanded sick leave benefits, 10-hour daily rest periods and increased penalties for not providing a meal break.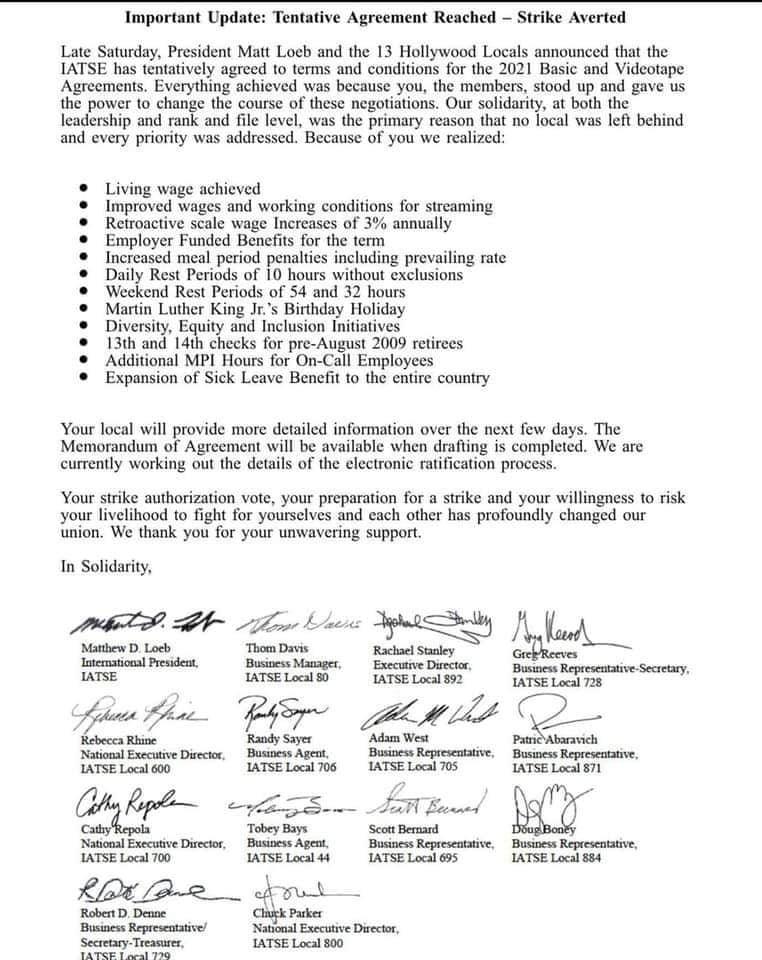 In an interesting move, IATSE members themselves will be given the opportunity to vote on any contract agreement reached between union management and producers.
Glenn Peison, a propmaster for Netflix productions around the state, said the weekend negotiations were a step in the right direction. However, he said he was still cautious.
"I'm waiting for the full contract to be in front of me so I can read through it and see if it's something that I want to support," he said. "There are consequences either way for voting this thing up or voting it down."
However, lighting technician Jordan Daniels felt like the weekend negotiations left much to be desired for workers.
"I think a lot of people are very dissatisfied, and I am one of those people," she said. "There were other things that people were hoping for a lot better for."
University of Georgia journalism and communications professor Kate Fortmueller said the stories of exhaustive work conditions began to be increasingly common and passed around on social media between set workers, which led to initial calls for the strike.
"One of the big complaints — and this is a long-term complaint — is that hours on set are very long," she said. "It's not uncommon for — for shoot days to go 14 hours or close to 20 hours. Overnights, skipped meals, no breaks, short turnaround time. So really, really grueling and exhausting hours."
Daniels said the 10-hour daily rest time proposed in the agreement still doesn't address the concerns of many workers.
"Let's say that you work a 14-to-16-hour day and your location is 45 minutes to an hour away from your house," she said. "You still have to drive back, try to get some sort of sleep, shower. Then, you have to be back the next day, 10 hours from then. So with that 45 to an hour drive on the other end as well, it's just not really enough time for rest."
Peison also cited the issue of work hours in a previous conversation with GPB News prior to the weekend agreement.
"The rest periods is particularly egregious," he said. "We routinely work 14-plus-hour days, many times well over 15 to 16. We routinely work well into Saturday mornings, wrapping at 8 a.m. and then have to come back to work 8 a.m. on Monday. It's a serious problem."
Daniels continues to believe that a strike is still a possibility.
"I realize that a strike is extremely daunting, but I don't really know that huge gains are going to be made without it at this point," she said. "I thought we were really going to make some moves and I feel like this — what has been offered — is disappointing."
Peison, however, believes that his peers should be cautious.
"I get that it would have been somewhat of a cathartic release to be out on that picket line, especially if you're on a show that has been really abusive with the hours — I get it," he said. "But ultimately, everything we were doing was about avoiding it."
Union members are expected to review and vote on the proposed contract in the coming weeks.
Secondary Content
Bottom Content