Section Branding
Header Content
Atlanta mayoral candidates rake in millions ahead of election
Primary Content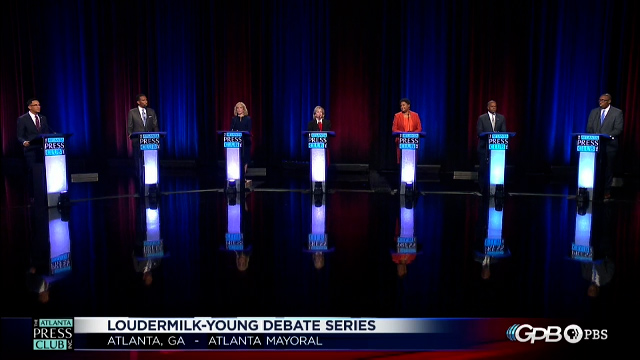 The Atlanta mayoral race is awash in cash, as the top four contenders have brought in more than $1 million each.
Former mayor Kasim Reed has a vast fundraising lead heading into the final weeks of the Atlanta mayor's race, according to the most recent campaign finance reports filed last week.
Reed's 648-page disclosure report shows he brought in more than $1.7 million in the last quarter, for a total of $2.8 million raised since his return to the political arena in June.
Reed's war chest is also full for the final weeks of the general election campaign, with more than $900,000 in cash on hand.
According to the campaign, more than 2,000 donors have donated to Reed's election effort since its start. Nearly 250 people and businesses donated the maximum $2,800 donation for the general election during the most recent quarter, including an Alabama chicken-and-ice cream restaurant, rapper and entrepreneur 2 Chainz and Real Housewives of Atlanta cast member Kandi Burruss.
Reed also received maximum contributions from players in the construction, airport concessions and parking industries, all important sectors that could overlap with the next mayor's administration.
While many contributions are from Atlanta residents eager to reelect Reed, the former mayor also held high-profile fundraisers in California and Washington, D.C., last month, netting dozens of contributions from the surrounding areas.
Reed had loaned his campaign $28,000 in June but repaid himself during this reporting cycle.
Dentons attorney Sharon Gay reported taking in more than $1.7 million for her campaign this cycle, including loans of $1,160,000 of her own money, more than two-thirds of her total contributions. Without those loans, Gay would be a distant fourth in fundraising.
The bulk of Gay's expenditures over the last three months were for media buys to promote her campaign. 
When asked for a breakdown of the number of donations Gay's campaign received, a spokesperson replied in an email, "We have not taken time from the more productive activities of the campaign to tally the figures."
Atlanta City Council President Felicia Moore, jockeying for top position with Reed in several polls, raised nearly $387,000 since June and more than $1.1 million since entering the race in January. She has more than $460,000 in the bank.
In the last three months, Moore received 27 maximum donations for the general election, including from a Las Vegas-based real estate investment company, former Gov. Roy Barnes' law firm and the Atlanta Checker Cab company.
Atlanta City Council member Andre Dickens has just under $200,000 cash on hand after crossing the $1 million mark in contributions. Dickens' campaign said that 74% of his donations were "grassroots contributions" and that, overall, more than 1,800 donors back his campaign.
Dickens received 30 $2,800 donations in the last quarter, including the executive director of Atlanta culture outlet Butter.ATL, the regional community empowerment director for Univision and a Buckhead seafood restaurant.
Dickens also loaned his campaign $25,000.
Antonio Brown, an Atlanta City Council member currently under federal indictment on multiple counts of fraud since July 2020 for allegedly lying about income on credit card and loan applications, told the Atlanta Journal-Constitution and the Georgia News Lab his campaign finance report had been filed on time, but the city said it had not been filed as of Tuesday afternoon.
By law, candidates are required to file disclosure reports within five business days of the end of the reporting period, Oct. 7 in this case. The other leading candidates submitted their reports on time, although the disclosures for Reed and Dickens did not initially appear online because the size of their filings crashed the city's system.
Brown told the AJC his filing was submitted on time, and told Georgia News Lab on Tuesday that the municipal clerk's office was "going to let us know why it hasn't shown up yet." 
"They said that they should have it and that it should be uploaded into their system," Brown told the News Lab.
However, Municipal Clerk Foris Webb said in an email to the News Lab that, as of Tuesday afternoon, Brown had neither contacted his office nor submitted his required campaign finance report.
The News Lab asked Brown's campaign for a copy of its contributions report but did not receive a response.
The News Lab reported last week that Brown also failed to file a required personal financial disclosure report. On Tuesday, Brown said his campaign still had not submitted it because "we've been so consumed with this race we haven't had a chance to do it." Brown also suggested nothing changed from the last filing for his City Council seat. He did not explain why submitting a report that requires no updates would present a burden.
The one filing Brown did submit for the period covering April to June suggests he raised more than $200,000 in donations of $100 or less, seemingly giving him more donors than nearly every other candidate and a sum of unitemized donations nearly 20 times greater than fundraising juggernauts like Reed, Moore and Dickens.
Campaigns are not required to disclose details such as donor name, address, occupation or employer for contributions of $100 or less.
Early voting is underway for the mayoral race, which could head to a runoff if no candidate clears 50% on  Nov. 2.
Secondary Content
Bottom Content