Section Branding
Header Content
Atlanta mayoral candidates who tout transparency have disclosure problems of their own
Primary Content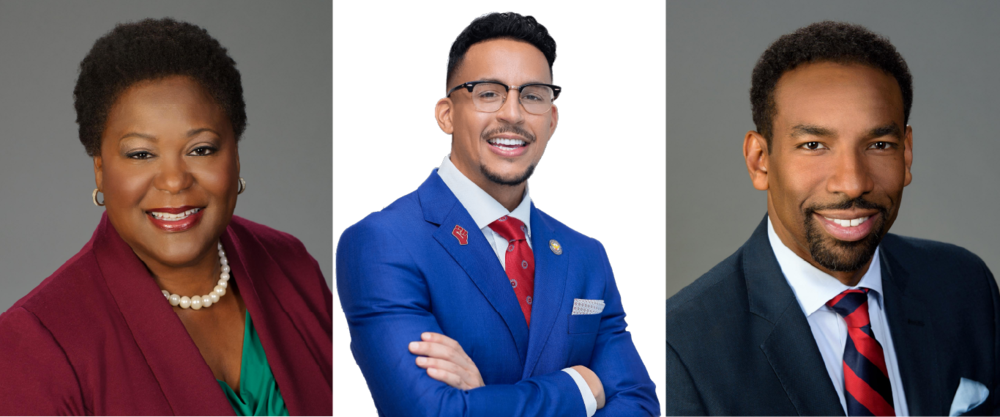 Three of the five top candidates in the Atlanta mayor's race have failed to provide complete and timely accounts of their personal financial interests, as required by law.  The two others do not currently hold office and are not required to file disclosure statements, leaving voters unable to assess their interests.
In a year in which ethics and transparency are key campaign issues, a review by the Georgia News Lab found a variety of apparent shortcomings in the disclosures of the three current city officeholders in the race: Atlanta City Council President Felicia Moore and City Council members Andre Dickens and Antonio Brown.  Moore filed her disclosure late, Dickens did not list some companies of which he is an officer or trustee and Brown did not file a report at all.
The two other leading candidates, former Mayor Kasim Reed and attorney Sharon Gay, are exempt from the personal financial disclosure requirement as non-office holders.  Neither filed a report. 
Two other non-office holders in the race, nonprofit founder Kenny Hill and businesswoman Rebecca King, filed disclosure statements despite being exempt but both left off some enterprises with which they are involved.
Public officials in Georgia are annually required to publicly report information about their employment, income, assets and investments. 
"It is essential that candidates file financial disclosures, so the public is aware of the potential of conflict of interest and potential that they have been inappropriately managing money in the past," said Richard Griffiths, president emeritus of the Georgia First Amendment Foundation.
When officials don't file their disclosures, or leave out information, the public is left in the dark, Griffiths said. 
"The failure to file the financial disclosure is the ultimate disrespect of the electorate," he said. "If you don't give everything that the forms request, that is essentially the same as not giving information."
All of the candidates who failed to properly comply with the disclosure requirement have expressed a commitment to government transparency as part of their campaigns. 
The News Lab review found a wide range of issues within their disclosures, from relatively minor to a complete failure to file a report. 
At the less severe end of the spectrum, Felicia Moore filed a Personal Financial Disclosure Statement (PFDS) for her position as City Council President more than two and a half months after it was due and did not list a family home in Indiana of which she is the apparent owner. 
Local elected officials are required to file the statements by July 1 each year. Moore, a longtime advocate for government transparency, filed hers on Sept. 21, more than a month after she'd qualified for the mayor's race. She also filed it under the account for her mayoral campaign, rather than the account for her Council presidency.  
Moore said the failure to file the report on time was "an oversight." 
"As soon as I found out, we filed it," she said.
As a member of the City Council, Moore regularly filed her reports on time. 
The report itself discloses Moore's ownership of her home in Fulton County.  Property records in Marion County, Indiana, also list Moore as the owner of a modest ranch house in Indianapolis as part of a life estate in the name of her mother.  A LexisNexis report lists Moore's mother as a resident of the house with an assessed value around $90,000. 
Moore said she does not have an interest in the property at this point.  
"I have a life estate with that property with my mother," Moore said. "It doesn't convert to my name unless she's dead."
Atlanta Attorney Vincent Russo, an election law expert and real estate litigator who formerly served as the chief legal counsel to then-Secretary of State Brian Kemp, reviewed the life estate at the request of the News Lab. 
"Felicia Moore is currently the owner of the property," Russo said. "Her mother conveyed the property to Felicia, subject to a life estate.  So she gets to possess the property and use it for her life. And then possession goes back to Felicia after that, unless there's something quirky about Indiana law."
A platform of transparency
Moore and other mayoral candidates have repeatedly vowed to improve transparency in city government.
In response to a survey of the candidates this year by the Committee for a Better Atlanta, Antonio Brown said that if elected, he would mandate that his administration operate "with the highest level of ethics and transparency." 
But City of Atlanta records do not show that Brown has filed a PFDS this year, either in connection with his City Council seat or the mayor's race. 
"​​I didn't even know we hadn't filed one yet," Brown said. "That was just probably overlooked."
Brown, who has been under federal indictment on multiple counts of fraud since July 2020, for allegedly lying about income on credit card and loan applications, has served on the City Council since winning a special election for Atlanta's Westside District 3 seat in 2019. He has proclaimed his innocence on the federal charges. 
In the mayoral race, Brown casts himself as "a successful CEO and humanitarian." 
Brown's main business has been a high-end fashion line he founded in 2012, known as LVL XIII (pronounced Level 13). The company's corporate registration was revoked in Georgia in 2019 for failure to comply with filing requirements. The registration of its New York parent company remains active despite the company not filing paperwork since 2018.   
Spinoffs of the LVL XIII brand have also had their corporate registrations dissolved or revoked in Georgia. And the company's former web domain is now for sale.
Brown said that after joining the City Council, he was too busy to continue running the business.
"I just kind of phased it out and put it on hold," he said.
Brown's most prominent humanitarian enterprise has been Dream of Humanity, a nonprofit entrepreneurship training program for students he founded in 2017. The organization was administratively dissolved in 2020. The IRS lists the organization's nonprofit status as revoked.
As with LVX XIII, Brown said that the demands of the City Council kept him too busy to continue the nonprofit.
Brown is also the organizer of a pair of active Georgia companies that go by the name of Stir House, but they do not seem to have any physical or online presence. Stir House Atlanta applied for trademark registration for a logo for a restaurant but no such establishment of that name seems to exist. 
Brown said Stir House is a vegan restaurant brand that he had started to develop before the pandemic.  "I didn't have the opportunity to get it up yet," he said.
There is a $60,000 federal tax lien against Brown on file in Fulton County. 
Brown said it is related to the indictment against him and the he couldn't discuss it because of "federal ethics rules." Brown did not explain what rules he was referring to.
Brown's City Council colleague, Andre Dickens, filed a PFDS in March of this year as required for his At-Large Post-3 seat.  
Dickens, who has made public safety and affordable housing centerpieces of his campaign, has also highlighted his calls as a member of the City Council for ethics and transparency reforms. 
In his March PFDS, Dickens disclosed his employment and fiduciary responsibilities as vice president of development at TechBridge, Inc., a nonprofit organization that provides technology assistance to other nonprofits. 
But Dickens did not list his role as chairman of the board of Passport Atlanta, a nonprofit that partners with TechBridge and other groups to help students from disadvantaged backgrounds explore historical sites in Atlanta through "curated journeys." 
Dickens also did not list his position as chief financial officer of Atlanta's New Horizon Baptist Church, or his membership on the board of trustees of the Georgia Tech Alumni Association. 
Dickens said he did not include the positions on his disclosure because they are "volunteer roles." 
"I don't receive any compensation," he said. 
The Georgia Government Transparency And Campaign Finance Act requires that candidates for public office disclose all fiduciary positions they hold. The Georgia Government Transparency & Campaign Finance Commission, which regulates election law in the state, defines a fiduciary role as "a position imposing a duty to act primarily for the benefit of a business entity as an officer, director, manager, partner, guardian, or other designation of general responsibility." The disclosure form itself states that, "A fiduciary position may be a paid or unpaid position."
"If you're making decisions on behalf of the company in any way, shape or form, that's a fiduciary position," said Rick Thompson, a member of the Commission.
"Whether it's in a paid or unpaid position, if you have a fiduciary position, you have to list it," Thompson said. 
Regarding Dickens' role as a trustee of the alumni association, Attorney Vincent Russo, reviewed the organization's bylaws. 
"Based on the unambiguous language in the [Georgia Government Transparency And Campaign Finance] Act and the duties of a Trustee on the Board of Trustees of the Georgia Tech Alumni Association set forth in the Alumni Association's Bylaws, it appears that the Trustee position is a fiduciary position that would need to be disclosed on the Personal Financial Disclosure Statement," Russo wrote in an email. 
Candidate Kenny Hill, a former Home Depot manager and founder of a nonprofit that provides housing and services to homeless people, is running as a political outsider focused on restoring trust and laying "a foundation of transparent government service," according to his campaign website. 
Despite being exempt from the disclosure requirement as a non-officeholder, Hill, who ran an unsuccessful campaign for City Council in 2017, filed a PFDS in September, after qualifying for the mayor's race.  
Hill said he filed the report as a demonstration of his commitment to transparency. 
"I think disclosure is important given the situation of city government," Hill said. "I think we need transparency and we need to have a leadership change in that respect."
In his report, Hill disclosed his role as president of the nonprofit Launch Pad Foundation, and his ownership stake in PUSHCH, LLC, a real estate company.  
But Hill did not list his involvement in several other companies. They include: his role as organizer of two real estate corporations, Kenry LLC and D B & H Braemar LLC, in which Hill said PUSHCH is a partner, a communications services company, Parables Media LLC, that Hill said does promotions for Launch Pad, and Giving in America LLC.
Hill said that PUSHCH is a partner in Kenry and D B & Braemar and that he has an ownership interest in Parables Media and Giving in America and directs their activities.
Hill said the companies probably had not been listed as business interests on his PFDS because they are worth less than the $5,000 net fair market value minimum required for disclosure.
"Those basically have been companies that were formed that have not transpired or hold any financial worth," Hill said.
Hill said he believes that is also the reason they were not listed as fiduciary positions.
"I have to go back and look to see if that's why they were left off but that's my understanding," he said.
Hill also did not list his role as CEO of the Pinnacle Heights of Harwell Condominium Association, a development where PUSHCH and Lauch Pad own properties. 
Russo said the value of a company is not the deciding factor in determining whether an individual holds a fiduciary position.  
"The question is whether the individual's acting … on behalf of the corporation," Russo said.  "If it's an LLC, acting on behalf of the LLC. It really just depends on the structure of the business entity."
Candidate Rebecca King filed a PFDS in July, before qualifying for the mayor's race. In it, King, who made an unsuccessful bid for City Council in 2017, disclosed ownership interests in her insurance business and a property documentation company, as well as fiduciary positions with Livable Buckhead Inc., the Atlanta Alumnae Panhellenic Association Foundation, and the Chi Omega Atlanta Alumnae Association. 
Corporate records on file with the Georgia Secretary of State's office list King as an officer of the Buckhead Condo Alliance. The position is not disclosed on King's PFDS but her campaign website refers to her as a "member" of the Alliance.  
"I probably overlooked that," King said. "I should have, honestly, put that down [on her PFDS]."
Corporate records also list King as a current officer of Epilepsy Foundation Of Georgia. Her campaign website states that she was a "member" of the foundation from 2010 to February 2019. The foundation's website does not list King as a current board member, but an archived version of the site lists her as a member of board as late as March 2019.
A spokesperson for the foundation said the group had not updated its filings with the state and confirmed that King had not been an officer since about 2019.  
An Atlanta Journal-Constitution poll in mid-September found the mayor's race is a statistical dead heat. Kasim Reed (23.5%) had a narrow lead over Felicia Moore (20.4%) that fell within the poll's 3.4-percentage-point margin of error.  Nearly 41% of likely voters were undecided.
Others were far behind, including Sharon Gay (6%), Andre Dickens (5%) and Antonio Brown (4%). 
Richard Griffiths said that it is particularly important for candidates in Atlanta to provide full disclosure of their financial interests.
"Given the continuing disclosure issues with the city of Atlanta," Griffiths said, "it's clear that in order to have good leadership, whoever is running the city needs to be disclosing what financial history they have and their potential conflicts, but also reinforcing the idea that the city is going to be transparent and open and its processes."
Georgia News Lab intern Arielle Robinson contributed research to this story.
Secondary Content
Bottom Content