Section Branding
Header Content
Atlanta Falcons To Show LGBTQ+ Support With Their First Pride Night
Primary Content
Leah Fleming: As the NFL season gets underway, there's a conversation going on about Pride in football. In June, Las Vegas Raiders defensive end Carl Nassib became the first active NFL player to come out as gay. Following his announcement, the NFL issued a statement in support of Nassib and LGBTQ rights. There's been support among fans, too, but not all. Joining me to discuss is Justin Spears. Spears is commissioner of the NFFLA [National Flag Football League of Atlanta], which is an organization that welcomes adults, queer and straight, to play flag football in Atlanta. Good morning, Justin.
Justin Spears: Hey, good morning.
Leah Fleming: Good morning. So, your organization is working with the Atlanta Falcons to host a Pride Night at the Oct. 31 game. And this is not the first time Pride Nights have been held by NFL teams, but it is the first time that the Falcons are doing it. So, tell us more about how did this all come about?
Justin Spears: Yeah, it's really exciting. So working with the National Gay Flag Football Organization, they've partnered with several other NFL teams. I believe the Cardinals and Seahawks. Recently, the Vikings have gotten involved. And so, we were contacted by a member of the Falcons, and they said, "Hey, we're thinking about having this private event out in the Terrapin Tailgate and we want to make this an event for you. Would you be interested?" And of course, you know, I've been wanting us to pair with the local brands, specifically the Falcons, for a long time. And I jumped on it. And so we immediately started having conversations about what it would look like, and they offered us the opportunity to make it a fundraiser. So, we'll be getting a portion of all the tickets that we sell. That just shows that they're willing to work with local LGBTQ organizations. And I'm really excited about that.
Leah Fleming: Yeah. Now, while many fans have been celebrating this, the NFL support for LGBTQ community, there have also been others who have been vocal on social media. There have been some that have threatened to boycott the NFL. Some argue that sports teams should keep their support of Pride out of the game because, quote, "politics don't belong in sports." I'm not sure what being LGBTQ has to do with politics, but what do you have to say about all of that?
Justin Spears: It's disheartening, but I think we will continue for understanding. I think people need to understand that, as you mentioned, LGBTQ status is not anything that should be political. This is who we are and this is how we live our lives. And, you know, it's a bit frustrating when that comes up because, you know, this isn't sports teams playing into politics. This is them supporting their fans. And the reality is, whether it's football, baseball or basketball or soccer, LGBTQ+ fans are fans of the sports. And we play these sports on our own, similar to what we do here in our local league. So, it's disappointing, but I will never stop trying to have the conversation and gain the understanding and share whatever knowledge we can with those people that feel like this is something that shouldn't be happening. And I can give them 100 reasons why it should. There's a 10-year-old boy, girl or nonbinary kid out there right now that's wondering how they can kind of play sports if they're maybe a bit feminine or if they're a bit too masculine and they don't want to come out to their parents or something like that. They need to feel comfortable with themselves and know that nothing's wrong with them for feeling different. I think that's extremely important.
Leah Fleming: Do you play football, Justin?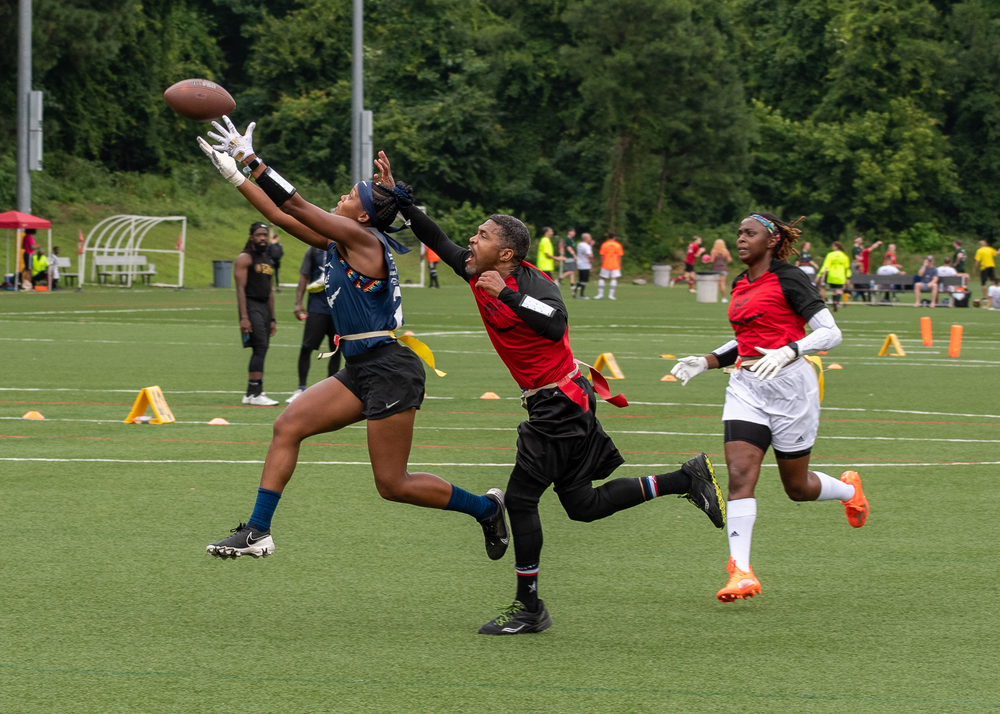 Justin Spears: So, yes, I am the commissioner of the local flag football league and I'm also a player, so I've played for about eight years now.
Leah Fleming: Now, what about in school? Did you play sports in school?
Justin Spears: I did. I played football for three years in high school. I played tennis. I was too short to play basketball. You're supposed to be like, "oh you're not too short." I was definitely too short. But I played baseball, you know, when I was a kid. So, I've always been a part of sports. And so, when someone reached out to me about the local gay flag football league, I was a bit apprehensive because I was like, you know, gay football. I was one of those people that was very hardheaded, I guess you could say. But I went out there and they were so welcoming and the competition was so great that I was like, "I need this. This is something that a 25-year-old me needs."
Leah Fleming: Because when you were a young person playing in school, what was that experience like?
Justin Spears: You know, it was tough because none of my teammates knew. And you always hear things about, you know, when players and people find out that an athlete's gay, they're like, "Oh, I don't want them looking at me" or, you know, "I don't want them to come on to me." But it's not about that. I mean, I played sports because I love sports. I didn't play sports so I could see people in the locker room — that had nothing to do with it. That's what I want more people to understand. Like we played sports because we love sports, we love competition, and we love the camaraderie and fellowship that we get from this. And, you know, so it was tough in high school. But, you know, once some of my teammates did find out, I mean, they were extremely supportive. They appreciated me for who I was. But, I feel like I was a lucky one, because that doesn't happen in every locker room across the United States or across the world, to be honest.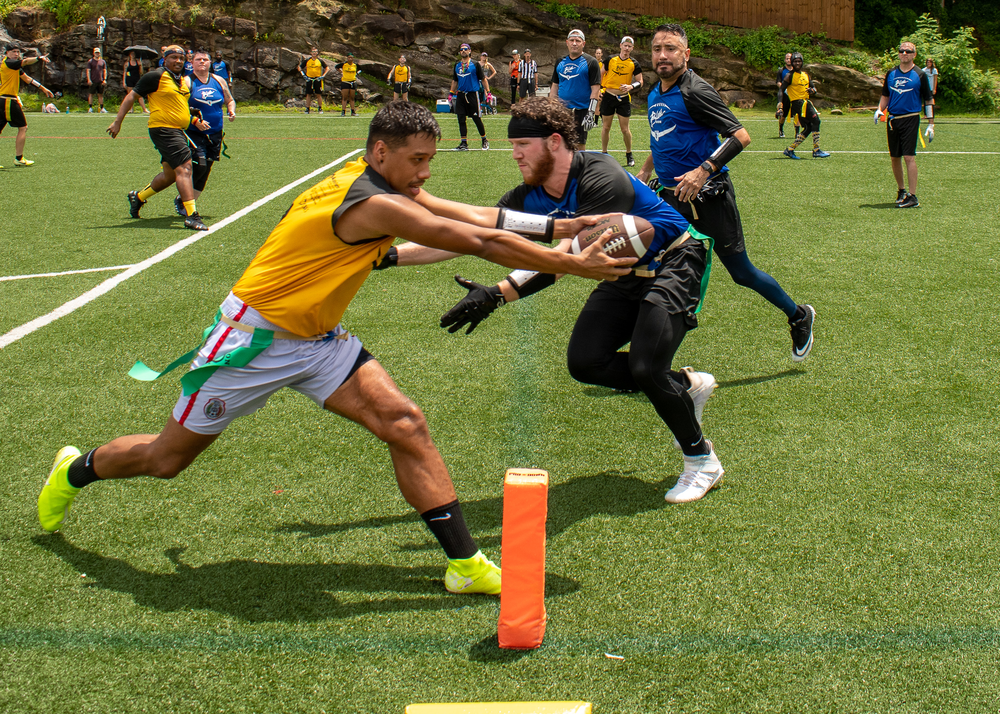 Leah Fleming: Who do you hope comes out to the Pride Night in Atlanta at the Falcons game? I would imagine, you know, not just people that identify as LGBTQ, but hopefully everyone, right?
Justin Spears: Yeah, I'm hoping that it doesn't change anything for the people that would intend to go. You know, we've joined the Braves for Pride Night. And, you know, you see a little bit of everyone out there. And I would expect the same from the Falcons. I think Atlanta is an extremely diverse city. And I think the communities that I've been involved with have been extremely welcoming. And I don't think that'll change. I think people that love the Falcons will still love the Falcons and they're going to come out and support. And I personally feel if anyone's going to not go to a game because the Falcons are supporting Pride, they're not a fan you want to begin with, at least in my opinion.
Leah Fleming: So, Carl Nassib became the first active openly gay player in the NFL. Your reaction to that?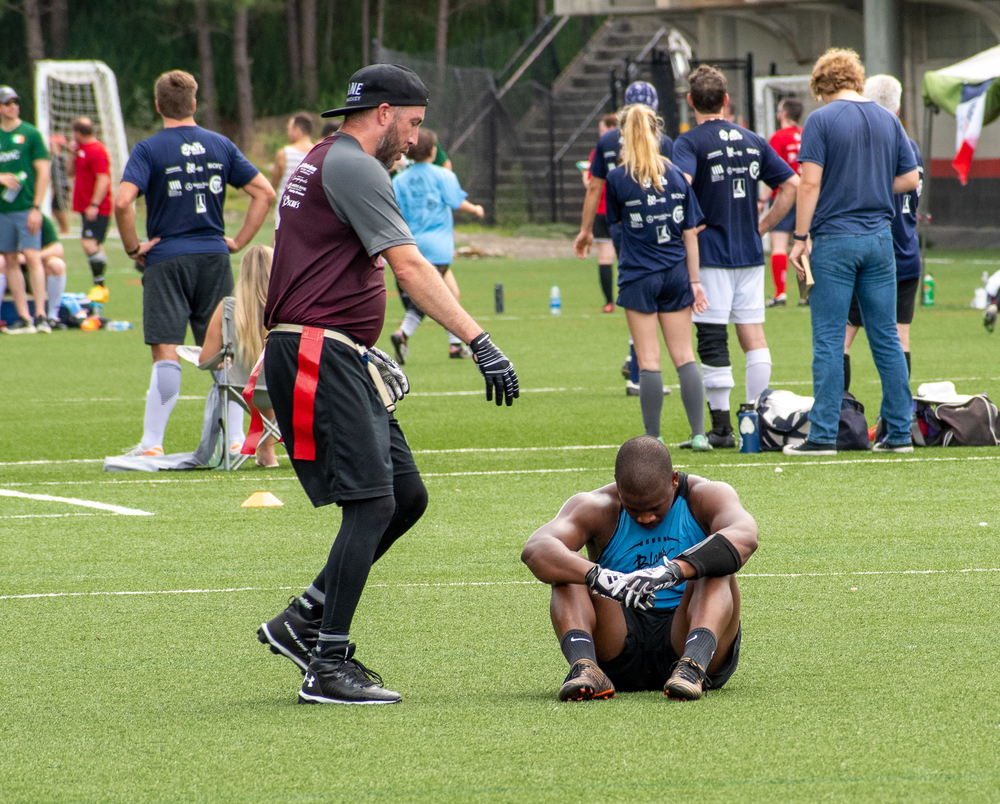 Justin Spears: I think it's extremely powerful. My hope and I think the best thing that came from that was how comfortable he said he felt with his teammates and his coaches and the discussions that they had. And I think that's more important than anything. The way the world is now, sure, there are times where you feel like it's more accepting, but it's still a scary thing to come out and to have these conversations. And for Carl to have those conversations with his teammates and his coaches and for his teammates to support him, I think is extremely powerful as we move forward and continue to get support from larger organizations and things like that. So, it's big for the NFL. I think it's big for hopefully Major League Baseball and for the NBA. You know, I still remember what Jason Collins did. And I thought what he did was extremely brave. And, you know, I look forward to more players feeling like they can come out and be themselves. And I would just say to anyone that's like, "Oh, why does he have to come out?" And again, I go back to the 10-year-old kids that are watching this. And I know that, Carl Nassib probably struggled with that for years and for him to come out now, I support him and I look forward to what he does in the community.
Secondary Content
Bottom Content