Section Branding
Header Content
Approaches To COVID Safety In Georgia Schools Vary Widely As New Year Begins
Primary Content
A message looped on 87.9 FM, a Bibb County School District station, as a traffic jam of hundreds of cars inched into Westside High School on the Friday before the start of school for what was billed as "The Big School Bash."
Through the low-powered static, a woman's voice told students what to expect: bookbags, notebooks, boxes of food and, if they and their caregivers wanted them, COVID-19 vaccines.  
Sade Veal got in line early for the event. Like a lot of kids making the jump to middle school, she said she was a little nervous. 
"I'm a little bit excited because I just got my hair done," Veal said with a laugh, her locked hair pulled back into a pair of puffs. "I'm kinda ready, but at the same time I feel like I'm not ready."
Shadar Veal is Sade's father. He said both his mother and a cousin who teaches in the district convinced him vaccination was an important part of being ready for school. 
"I'm going to take their advice and go ahead and get mine and get my daughter's also," Veal said. 
Only about 5% of school-aged children in Bibb County have been vaccinated against COVID so far.  Universal masking on campuses, contact tracing, quarantining and a continued push to vaccinate students are among the Bibb School District strategies for coping with COVID-19 this year. 
Georgia is in the middle of a rise in cases of the highly transmissible delta variant of the coronavirus. But absent any guidance or mandates from the state, districts and charter schools are left to figure out how they are going to cope. The solutions vary wildly from district to district.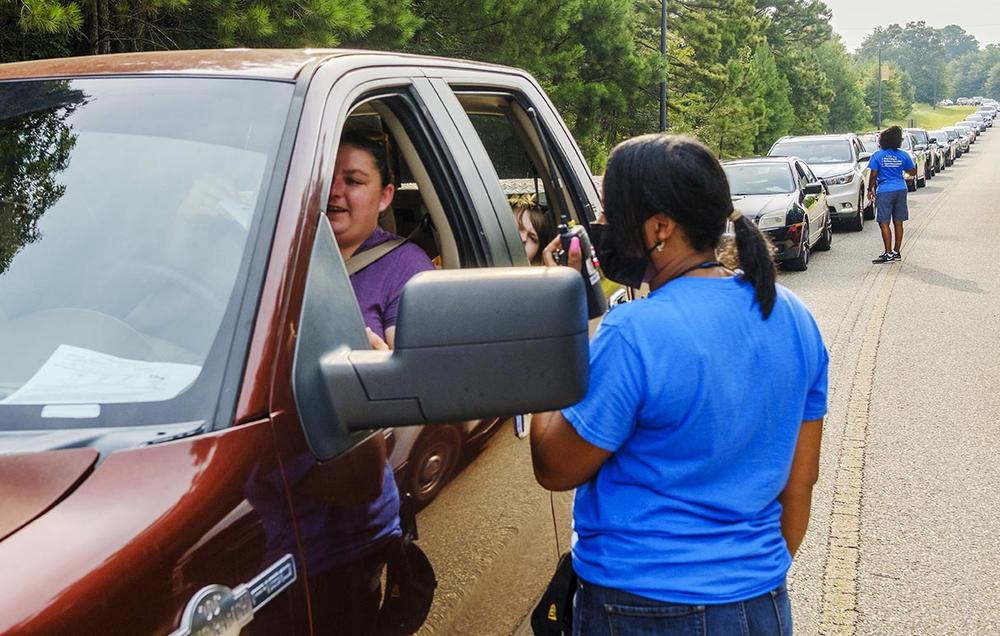 At the Bibb schools drive-through event,  most parents were like Dee Johnson, who drove right past the vaccine pop-up.
"I don't trust vaccines," Johnson said, "until they can show me some proof things are going to be OK."
Other parents said their kids were afraid of needles or that they trusted God to keep them safe.
Meanwhile, recorded coronavirus cases among school-aged children in Bibb County have been increasing for about a month.
The Veals were in the car for about an hour and a half at the event before they made it to the vaccine pop-up in the visitors' fieldhouse next to the football field. When her turn came, Sade closed her eyes tight, and got the shot. 
"You a champ, girl!" the nurse said as she stuck a bandage on Sade's shoulder. "You did it!"
The school district would send its first message about a possible campus COVID exposure on the Monday after Sade got her first dose, on the first day of school. 
Choosing politics 'over public health guidelines'
Youth infections are lower In Oconee County, the bedroom community for Athens and the University of Georgia about 90 miles to the northeast of Macon. The youth vaccination rate is well over twice that in Bibb County, too, although that's still only 12% of school-aged children.
Oconee schools are returning with no mask mandate, and no mandatory quarantine when students are exposed to a positive case. As the first days of school are underway, that worries Oconee parent Andrea Wellnitz.
"I was wondering why the liability alone is not motivating them to enact a mask mandate at the elementary level, since none of the kids there are eligible for a vaccine," Wellnitz said. 
Wellnitz can only guess why the county doesn't have a mask mandate. 
"It feels like politics are being chosen over public health guidelines and recommendations," Wellnitz said.
Both of Wellnitz's children are fully vaccinated, but Akela Reason has a child who is 11 years old and is ineligible to receive the vaccine. As the delta variant proves to be more contagious, she's concerned about Oconee's policy.
"We're on our own, more or less," Reason said with a sigh. "There's no real policy. We have a responsibility to protect the vulnerable, and as you know, kids under 12 can't be vaccinated. So it's not even my choice."
Reason said she's confident her child will mask up in school. Andrea Wellnitz says she's giving her vaccinated children the choice. 
Quarantines on Day 1 at Atlanta school
Drew Charter School in Atlanta started the year a week before even the earliest Georgia districts. What Drew student Jillian Loux saw on just the first day of school might be a preview of what other schools could see this year. 
Loux was set on attending in person this year after spending her sophomore year of high school at home, in virtual attendance. But a handful of COVID-19 infections were spotted not long after she started her junior year. Immediately, the quarantines began. 
"They quarantined all of seventh grade, all of eighth grade, ninth grade already," Loux said.  "And so it's, like, it's really scary. People are getting taken, like, left and right. If you've been exposed to COVID, they take you out. They're like, 'Hey, can we take you out of the classroom?' And then, they're gone."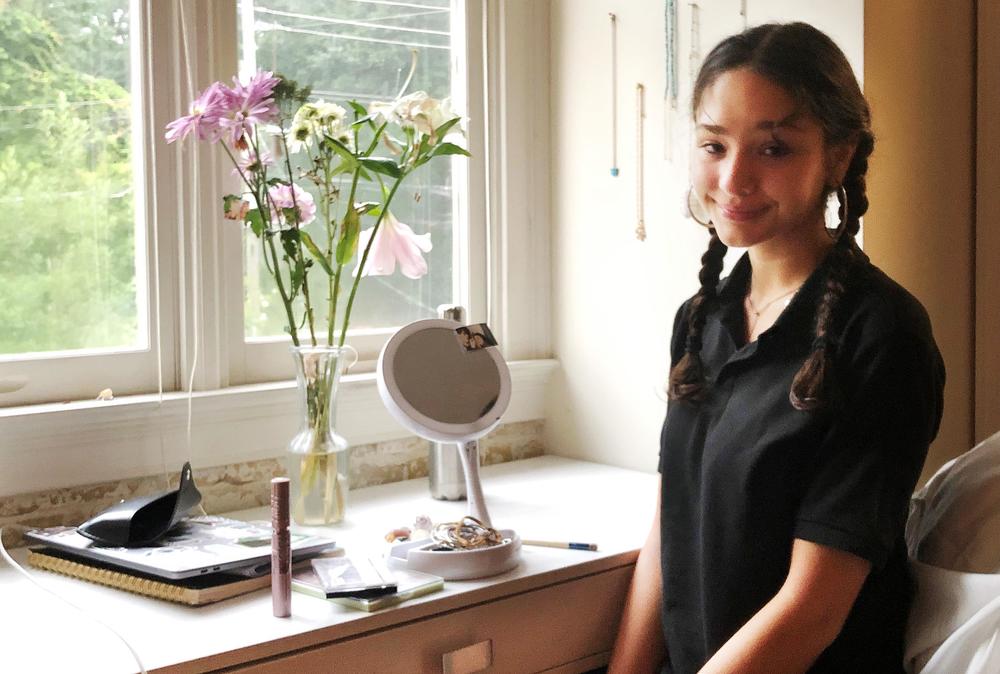 About a tenth of the student body was asked to stay home and quarantine.
At Drew Charter School, everyone is required to wear a face mask, and students and staff members alike are tested weekly for COVID-19. That's how the on-campus cases were found so quickly. 
Jillian's dad, Doug Loux, is thankful for the school's approach.
"I know our school's doing the best they can, and they are probably one of the more aggressive schools as far as testing and contact tracing," he said.
Even so, the Louxes said the quarantines came faster than they expected. Jillian Loux wasn't caught up in this one. 
Jillian said the first days of school were chaotic, and no one wants to go back to virtual learning. She has advice for other students who might be anxious about their second pandemic school year.
"Don't panic," she said. "I mean, be patient, you know?" 
And be ready for a tough couple of months.
Secondary Content
Bottom Content