Section Branding
Header Content
HHS Secretary Becerra Visit Spotlights State's Health Care Woes
Primary Content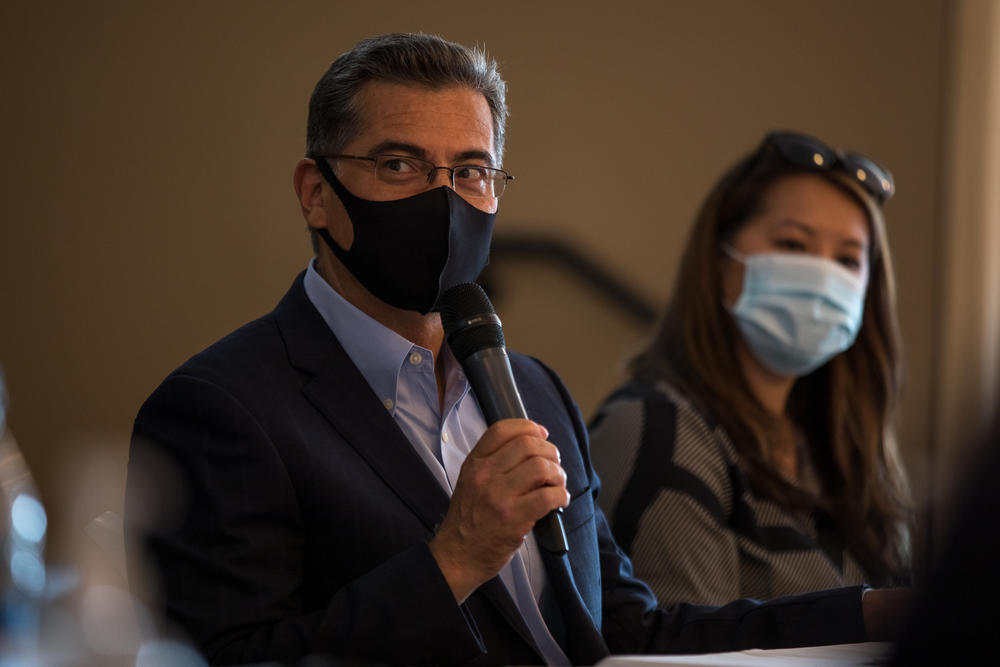 U.S. Department of Health and Human Services Secretary Xavier Becerra visited Georgia on Monday amid a battle between state officials and federal Democrats over expanding Medicaid.
Becerra was joined by high-profile Democratic politicians including Atlanta Mayor Keisha Lance Bottoms and U.S. Reps. Carolyn Bourdeaux, Lucy McBath and Nikema Williams.
During his trip, Becerra hosted roundtables with community leaders to hear firsthand the health care issues plaguing Georgians. From Atlanta to Norcross, advocates described racial disparities in medical services, told stories of poor maternal health and voiced support of expanding Medicaid to cover more people.
But Medicaid expansion in Georgia is unlikely, as Republican state officials and lawmakers have refused to take the option to expand insurance for poor adults under the Affordable Care Act.
Gov. Brian Kemp has instead offered his own partial expansion plan to the federal government, which is under review by Becerra's agency. But the Biden administration has already rejected aspects of the proposal, suggesting that the plan will not get federal approval.
Georgia had the third highest uninsured population prior to the pandemic. The Peach State is one of 12 states that have chosen not to expand the federal health care program.
While at a meeting in Atlanta, Becerra said he is open to working with the state on its proposal but didn't offer optimism about the outcome.
"We're reviewing it, we'd like to work with them, we'd like to make it work," he said. "Bottom line is Medicaid is about getting people access to quality care at an affordable price. If you want a waiver from having to fall under those laws, you got to prove to us that you're going to expand access to more people, with better care, at a better price."
The secretary noted that if a compromise with the state couldn't be struck, both Bourdeaux and U.S. Sen. Rev. Raphael Warnock have introduced pieces of legislation in Congress to create a look-alike program to bypass the state's inaction.
In Norcross, Becerra met with health care leaders from the community concerned about racial disparities in services — especially while COVID-19 has devastated communities of color.
Nathaniel Smith, with the Partnership for Southern Equity, said that while the conversation focused on health care inequity, federal leaders, too, must recognize structural racism built into the system.
"We have to embrace the fact that structural racism is a social determinant," he said. "And that social determinant affects various communities of color which are in position, unfortunately, to be affected by COVID-19 in a disproportional fashion."
Becerra, on a mission to promote Biden's health care agenda, urged that the federal agency would take steps to lessen the coverage gap in Georgia.
"We are looking forward to working with the people of Georgia," he said. "Because we know there is a lot of real enthusiasm to continue to build toward better health care, that's more affordable, for more of your folks."
Secondary Content
Bottom Content