Section Branding
Header Content
Georgia Republicans Launch Lengthy, Longshot Probe Into Fulton Elections Board
Primary Content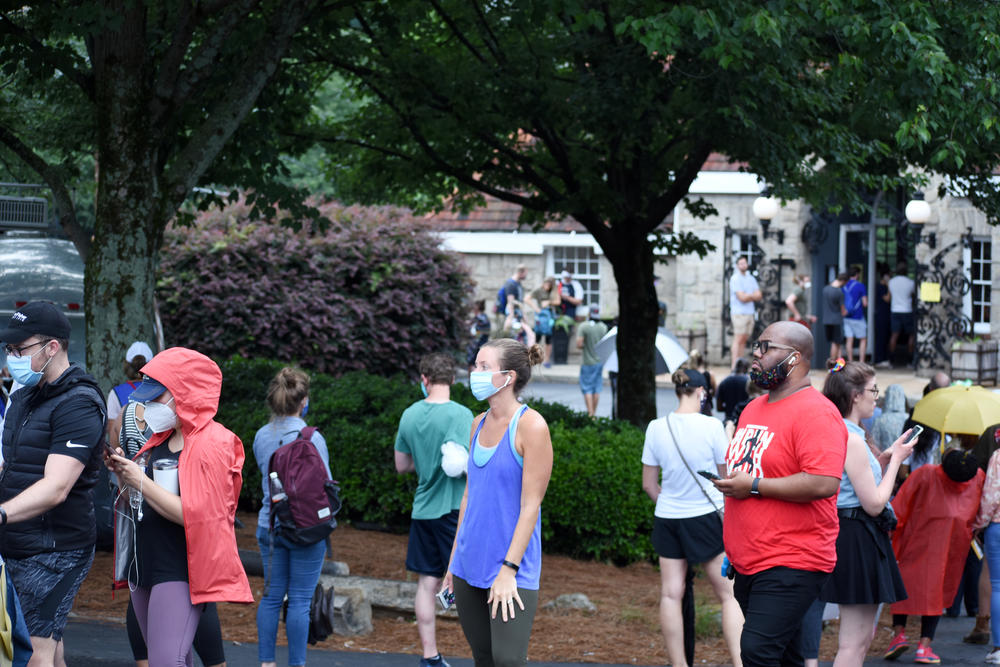 Republican members of Fulton County's House and Senate delegation have initiated a new performance review process into the county's appointed elections board, kicking off a lengthy process that could see the board temporarily suspended.
One part of the massive 98-page voting law signed by Gov. Brian Kemp earlier this year allows for local governments, lawmakers or the State Election Board to initiate a review of elections boards that are found to have violated election laws or demonstrated "nonfeasance, malfeasance, or gross negligence" in running elections.
Fulton County, home to 10% of the state's voters and a sizable Democratic voting population, has been the target of many false claims of fraud with the 2020 presidential election from GOP officials, compounded by actual historic shortcomings with running elections at a large scale that has borne cause for change.
In this case, Republican lawmakers are sending mixed signals over the intent to investigate Fulton and seek corrective action and continue to push misleading claims about votes that were counted three separate times, including once by hand.
MORE: How Does Georgia's Election Board Takeover Law Work? Not Quickly
This week, Senate President Pro Tem Butch Miller (R-Gainesville) sent a letter to the State Election Board signed by 27 GOP senators asking for the SEB to initiate a performance review of Fulton County elections director Rick Barron to determine if he should be fired.
But the law does not investigate hired elections directors, but rather "local elections officials" defined as superintendents, which by law are either appointed elections boards (which includes two Republicans in Fulton), probate judges who also have election duties and municipal-level superintendents.
The Senate delegation letter includes three lawmakers from Fulton's delegation, and SB 202 requires at least two senators and two House representatives from Fulton to advance the process forward.
Friday, five GOP House members from the Fulton delegation sent a letter to the SEB also asking for a performance review of Fulton's elections board, mentioning allegations including "unanswered questions regarding sufficient chain of custody protections" for ballots cast.
A pro-Trump media outlet claimed last month that Fulton was missing hundreds of absentee drop box forms and could not account for thousands of ballots based on an incomplete open records request. GPB News obtained nearly all the forms from the county and found sloppiness with Fulton's internal record keeping but verified the documents' existence.
Now that the request has been made by lawmakers, the SEB has 30 days to appoint an independent review panel consisting of one member of the Secretary of State's office and two other local election board members from across the state.
That panel will have an undefined amount of time to investigate the claims before submitting a report and recommendation to the SEB, which can then choose to continue the process or dismiss the request.
The SEB is currently composed of three Republicans, one Democrat and a vacancy after lawmakers failed to appoint a new chair after stripping Secretary of State Brad Raffensperger from the role.
The final decision to temporarily suspend the Fulton County elections board would see the SEB appoint a temporary replacement for nine months that has the power and authority to hire and fire elections employees, set polling places and hear voter challenges, among other things. Even that is not final, because the law allows the ousted board to appeal for reinstatement 30 to 60 days after the decision, and appeal to the courts if that is unsuccessful.
Also, if the SEB decides to move forward, the overall takeover process will likely take closer to a year to complete between all of the hearings, investigations, due process provisions and inevitable continuances while the county has to administer local elections this November and the 2022 election cycle starting next spring.
Fulton Commission Chairman Robb Pitts sent a letter to the chairs of the Fulton House and Senate delegation — both Democrats — asking them to hold a hearing to determine if the request is valid and shed light on the takeover process.
Between the length of the process and the general unwillingness Republican members of the SEB have expressed in recent meetings about supporting claims of fraud or taking over elections, it appears that this move could be more a political ploy to appeal to the Republican base than an actual attempt to remove a bipartisan board.
Georgia's votes have been counted three times, including once by hand, to confirm that President Joe Biden won the state's electoral votes, a state-appointed monitor observing Fulton County found process problems but no evidence of fraud and SB 202 is facing eight federal lawsuits challenging nearly every provision.
Secondary Content
Bottom Content