Section Branding
Header Content
Political Rewind: A Year After Pledges And Promises, Have Companies Delivered On Workplace Equity?
Primary Content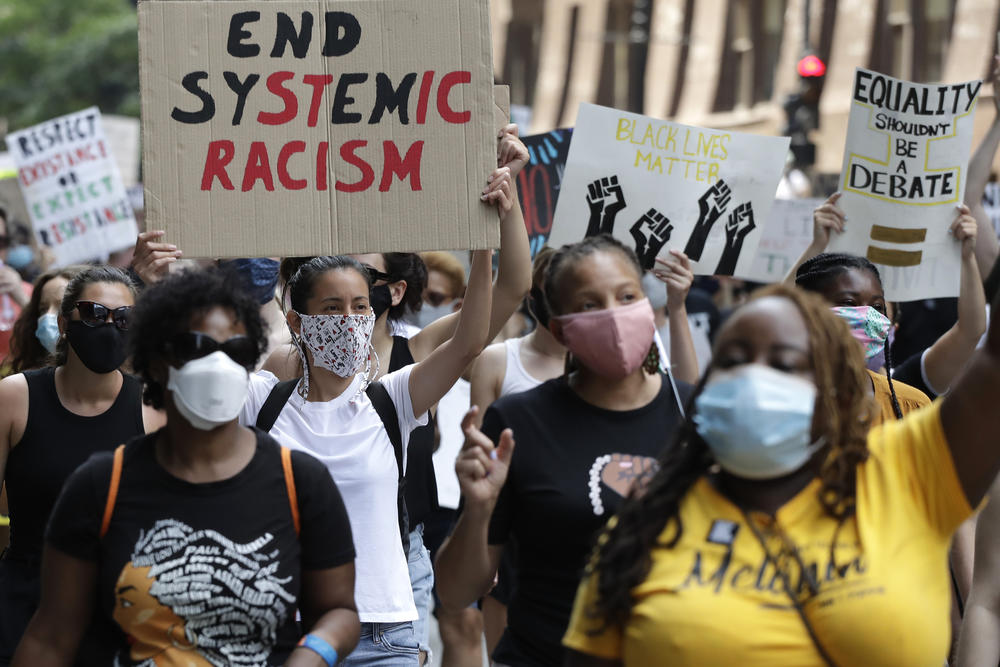 Tuesday on Political Rewind: It has been more than a year since many Americans were shaken into action by the police shootings of George Floyd, Breonna Taylor, Rayshard Brooks and other Black Americans. In response, millions took to the streets to demand an end to systemic racism, police brutality and injustice in American society.
Meanwhile, corporations, universities and other institutions began evaluating internal practices that perpetuate discrimination against people of color in hiring and promotion.
But as the summer of 2021 begins, it is time to ask whether there has been real progress in achieving the promises made by big businesses and other institutions.
Subha Barry, CEO of Seramount, joined us to discuss her organization's recent report tracking employee perception and corporate action on social justice issues. She said a new generation of white-collar workers are looking for a reflection of their values in their workplace.
"Young people are doing something that the generation before them did not do, and they are voting with their feet," Barry said. "They walk out of companies and they go seek other organizations whose values are aligned with theirs."
Kyle Stapleton is a co-founder and board member of The A Pledge, a commitment by Atlanta marketing and advertising agencies to match the makeup of their teams to the diversity of Atlanta by 2030. He said the leaders of corporate America, in Atlanta and elsewhere, have an obligation to address workplace inequity.
"Frankly, any good leader worth their stripes should see a moment, meet the moment and and do the right thing to be a leader in the moment," Stapleton said.
How has the country progressed in the search for equality and justice in the workplace? What role does moral leadership play in creating a more just society?
Panelists:
Subha Barry — CEO, Seramount
Dr. Robert Franklin — Professor of Social Ethics, Candler School of Theology, Emory University and Former President, Interdenominational Theological Center
Kyle Stapleton — Co-Founder of The A Pledge and Senior Manager of Culture & Experience, WarnerMedia Studios
Matt Kempner —  Senior Reporter, The Atlanta Journal-Constitution
Secondary Content
Bottom Content