Section Branding
Header Content
Macon-Bibb County Demolishes 31 Houses In Under 30 Days
Primary Content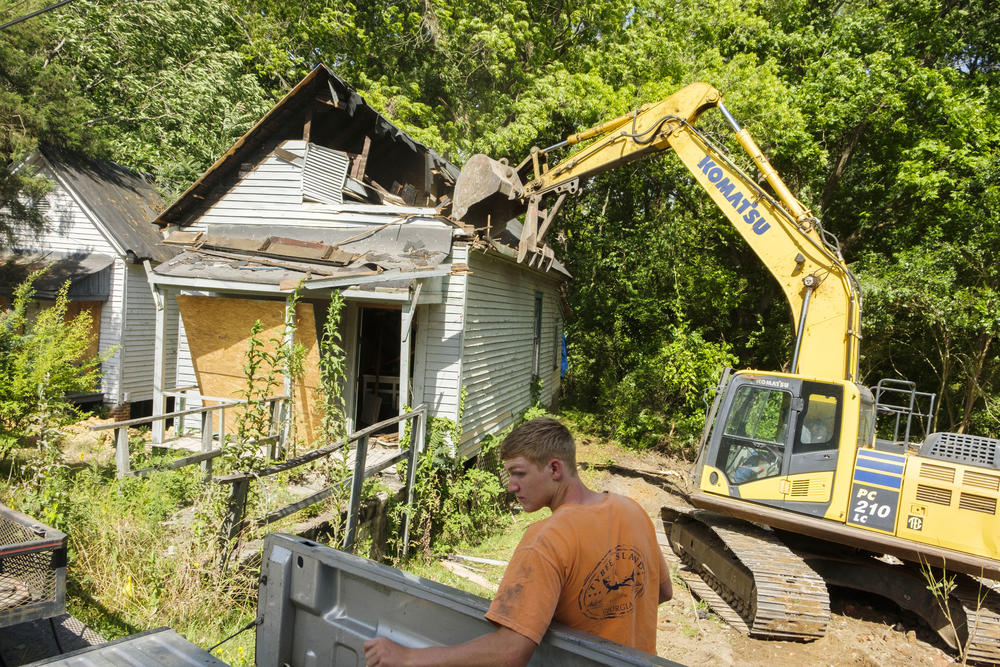 This week officials in Macon-Bibb County met a goal in an effort to eliminate blighted housing in the city. 
"Blight" is a hot-button political issue in Macon-Bibb County, so the plan was to demolish 30 unsafe houses in 30 days. Tearing down a 31st home this week surpassed the goal.
That was on Pursley Street in the historically Black neighborhood of Pleasant HIll and within eyesight of Linwood Cemetery, where people such as William Jefferson Long, the second Black man elected to the U.S. Congress, are interred. 
Yolanda Latimore heads the cemetery board. She said the blight demolition helps her goal of preserving the cemetery, but she'd like a plan to revitalize the neighborhood, too. 
"I think there needs to be a plan, like to rebuild," Latimore said.  "You know, if you start tearing down all the houses, then you lower the population if you're not going to rebuild."
Macon-Bibb County Mayor Lester Miller says creating new affordable housing is also a part of his blight remediation plan. 
"That's why we're taking these houses down," Miller said. "That's why I intend on building them back up and also making sure that we have some revolving loan fund so people can actually borrow money to purchase homes or to repair homes."
Miller has asked for $500,000 for that effort in his just-proposed budget. 
Back in Pleasant Hill, the blight remediation is also part of the expansion of the Ocmulgee Heritage Trail, the greenway that is hoped to one day connect the county's Amerson River Park to the Ocmulgee Mounds National Historic Park.
Secondary Content
Bottom Content