Section Branding
Header Content
CDC, Local Docs Say Don't Put Off Routine Childhood Vaccinations Against Measles, Whooping Cough
Primary Content
GPB's Ellen Eldridge reports on public health officials' efforts to remind families not to let routine childhood vaccinations lapse after a year of staying home during the spread of coronavirus.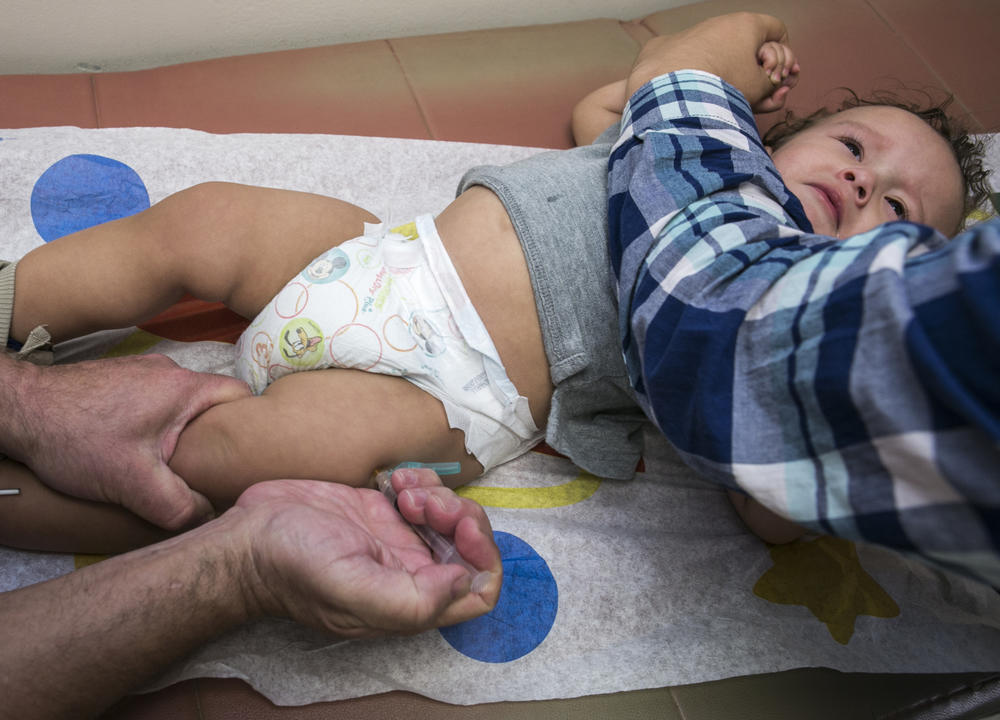 Last year, the Centers for Disease Control and Prevention reported a drop in routine childhood vaccinations as families stayed home to slow the spread of coronavirus. Now, they're being reminded to not let those vaccines lapse.
If young people do not receive their immunizations on time, we could see cases of measles and even whooping cough reemerge, said Dr. Christy Peterson with Atrium Health Navicent in Macon.
The time to vaccinate children is before we see them get sick, she said.
"We don't see these devastating, terrible diseases anymore because the vaccines are so effective," she said. "And so people get relaxed and they forget. They just think, 'It's fine; I'll let everybody else get vaccinated.'"
People forget how important immunization is, Peterson said, but, if cases of measles reemerge, the virus is even more contagious than the virus that causes COVID-19.
"Measles is very contagious through the air," Peterson said. "We talk about coronavirus being contagious and people needing to wear masks to prevent them from breathing it out into the air. Measles is even more contagious that way."
Health Officials: Unvaccinated Family Caused Largest Measles Outbreak In Georgia Since 2000
Eleven people in Cobb County became sick from the measles in 2019, according to the Georgia Department of Public Health. This was the largest outbreak of measles in the state since the disease had been declared eradicated in 2000.
Georgia Department of Public Health epidemiologist Dr. Cherie Drenzek said at the time that the cause of the outbreak was an unvaccinated family whose measles cases were not reported to the state.
Health officials identified 50 people who were possibly exposed during the outbreak and susceptible to infection. Many were infants too young to vaccinate, but others were older.
"They may have been adults who were unvaccinated or kids that were unvaccinated, that weren't infants or they were immunocompromised individuals," Drenzek said.
Statewide, about 90.7% of children receive an MMR vaccination before 35 months of age, according to the American Academy of Pediatrics.
Georgia saw 18 cases of measles in 2019, which was more than double the number the state has seen over the last decade.
"There is nothing in this world that has done more for the health of children than vaccines," Peterson said. "We have prevented so many deaths over the years that we don't know about."
In the United States, two measles-containing vaccines are licensed for routine use in children: measles-mumps-rubella (MMR) vaccine and a combination MMR and varicella vaccine (MMRV).
The first dose is given between 12 months and 15 months of age. The second dose is recommended between 4 years and 6 years of age.
Secondary Content
Bottom Content