Section Branding
Header Content
Political Rewind: A New Election Law, An Arrest And The Troubling Optics That Recall Georgia's Past
Primary Content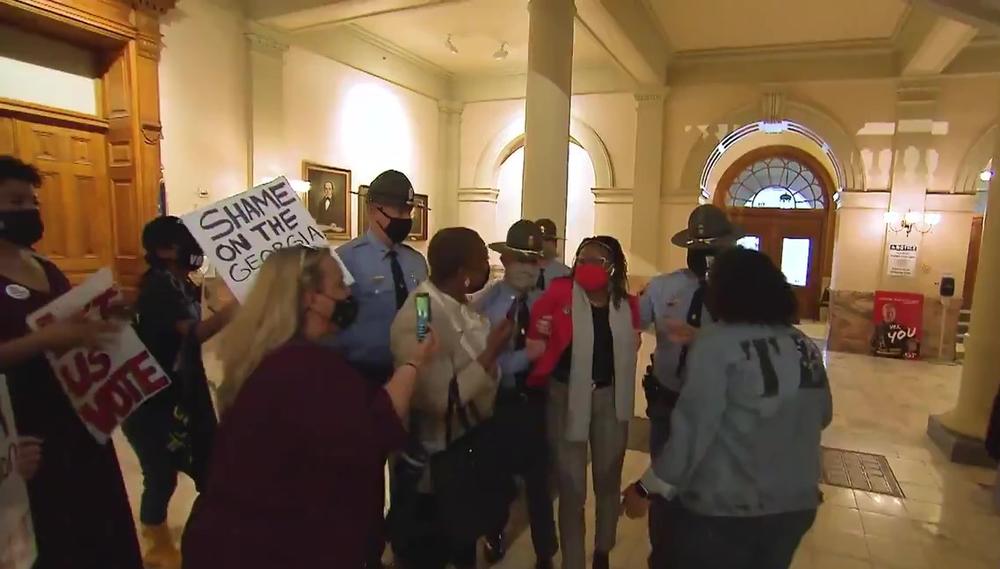 Friday on Political Rewind: A contentious GOP election law passed along partisan lines in the General Assembly yesterday. The omnibus bill changes many aspect of Georgia elections, and includes stricter identification requirements for absentee voting and a narrower window to request an absentee ballot.
The State House approved SB 202 early Thursday with a 100-75 party-line vote, and the Senate voted to agree with the House changes 34-20 on a party-line vote as well.
Hours later, Gov. Brian Kemp signed the bill into law from the state Capitol. During the ceremony, Democratic House member Park Cannon, a representative from Atlanta, was arrested and led from the Capitol building in handcuffs after attempting to attend the signing.
Video and images of the arrest spread quickly online. Rep. Cannon was released from Fulton County Jail later that night. Chuck Williams, reporter for WRBL in Columbus, said the events surrounding the bill's signing became a fiasco for the governor.
"Optics matter, images matter," Williams said. "This was a visual debacle."
Kemp said he signed the bill because of "many alarming issues" in the 2020 election, though state investigators found no widespread irregularities or fraud despite record-breaking turnout across the state.
In other news, Speaker of the House David Ralston says crime in Atlanta is out of control. His new committee considers whether state resources need to be deployed to make the city safer.
Panelists:
Donna Lowry — Host, GPB's Lawmakers
Patricia Murphy — Political Reporter and Columnist, The Atlanta Journal-Constitution
Rana Cash — Executive Editor, Savannah Morning News
Chuck Williams — Reporter, WRBL-TV
Secondary Content
Bottom Content