Section Branding
Header Content
'Go Get It': Vaccines Hit Road To Rural Georgia To Bridge Access Gap
Primary Content
On a recent Thursday, a van that looked like it ought to be delivering bread was parked next to the grocery store in Preston, Ga., seat of Webster County, population about 3,000.
The bread truck was carrying precious cargo: COVID-19 vaccines. As logging trucks rolled by, a nurse from Phoebe Putney Memorial Hospital in Albany did the paperwork needed to dose out that vaccine inside what was, in fact, a new, mobile medical clinic   
"We're going to get you scheduled up for today and then we're going to get you a shot 28 days from today," the nurse told a peanut farmer who said he'd jumped in his truck when he heard the clinic was in town.
COVID-19 vaccinations are open in Georgia to all adults, which is good news. But just because those people are allowed to get vaccinated now doesn't mean it's easy to do.
Preston is about 40 miles away from either Columbus or Albany, both homes to major medical centers. And in this swath of southwest Georgia there are whole counties without any of the chain pharmacies the state is relying on as partners for COVID vaccinations.
The mobile clinic is one of two owned by Phoebe Putney Memorial Hospital aimed at bridging that gap.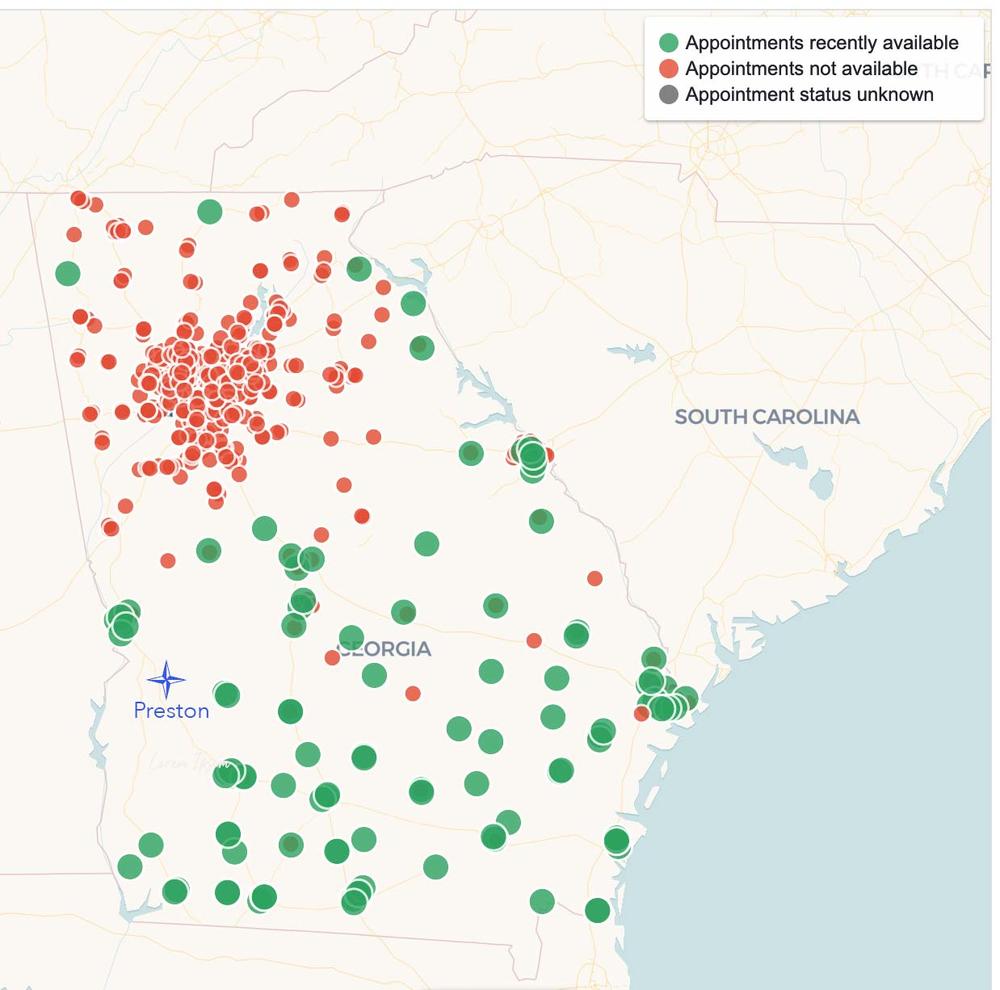 Among those waiting for vaccination were Robert Holt and his son Robert Holt Jr.  Holt said hunting for the vaccine hadn't been tough for him so far, but that was because he hadn't been looking at all. His wife had other ideas.  
"My wife called me and said, 'Hey, they have a mobile unit down by Adams'. Get Robert Jr. and you guys go get it,' and I was like, 'Yes, ma'am,'" Holt said. Adams' Grocery is the grocery store next to the parking lot.
No appointment was required at all to get vaccinated inside the mobile clinic van. There was no internet signup, either.
And unlike some mass vaccination sites, you don't even need a car. If the clinic is in your town or neighborhood, you can literally walk up. The clinics will roll through city neighborhoods where vaccination rates are low, too.
For Holt, the clinic stopping in Preston made getting vaccinated a spur-of-the-moment decision.
"If my wife hadn't prompted me, I don't know if I would have even came or not," he said.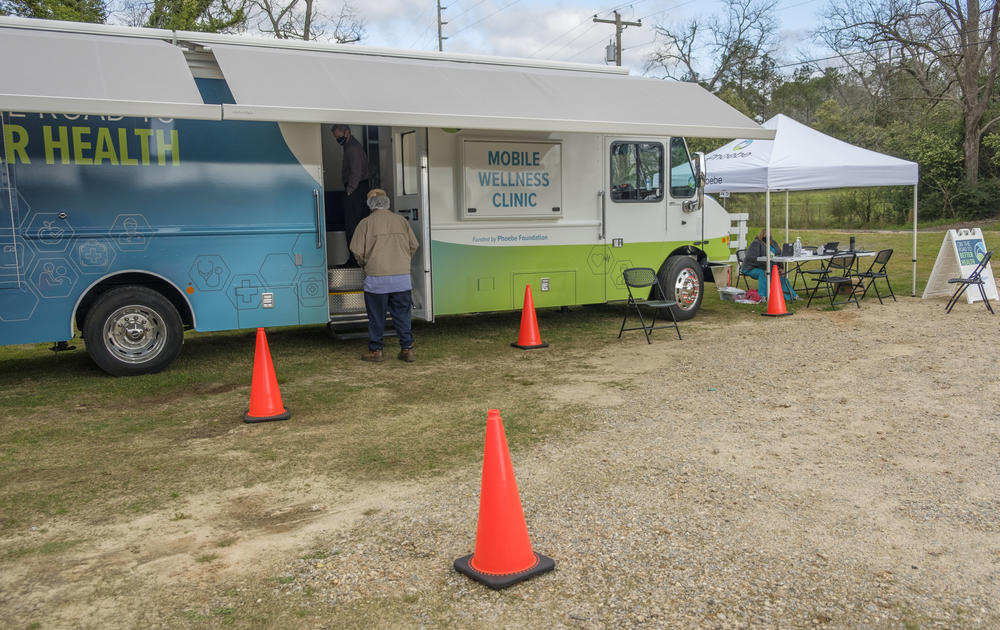 The same is true for James Nichols. He delivers groceries in a semi truck from Birmingham once a week to Adams' Grocery next door. Like Holt, he had been on the fence about the vaccine until today.
"I never get sick — and I was afraid of the shot for a while," Nichols said.
But like Robert Holt, Nichols' wife has been working on convincing him to get vaccinated.
"We talked the other day and decided, 'You know what? I will go and get it so we can get rid of this COVID,'" Nichols said.
But how? Nichols said he's heard lines in Birmingham to get vaccinated can stretch to six, even eight hours.
"And I just ain't got that time," Nichols said. "But when I was right there, she asked if I wanted it, I thought, 'You know what?'... I just now texted my wife. I said, 'I guess I'm going to go ahead and get the shot.'"
Plus, he's heading home with an appointment for shot No. 2.
"I'm getting the next one here on the 16th," Nichols said. "When I come back through again. Can't be no easier than that."
The mobile vaccine unit is here because Nikki Adams asked them to come. While Nichols and Holt were getting vaccinated, she was stocking the freezer aisle of the family business, Adams' Grocery, where James Nichols delivers food.
She was also the first pharmacist in town in 60 years when she came back home from Atlanta seven years ago. She opened Preston Family Medicine, the clinic next door staffed by nurse practitioners, in 2018.
Adams said even given all of that, she's not been able to lay hands on any COVID-19 vaccine herself.
"I thought that I did everything that I was supposed to do as far as filling out the paperwork and, you know, that sort of thing," Adams said.
She never got on the vaccine shipment list. So instead she encouraged her patients to try the health department in the county. That means navigating the online booking process, which for many can be a problem.
"If patients didn't have Internet access or if they're elderly and they don't know," Adams said, pausing. "I mean, we've helped them schedule their appointments. We've been supportive in that role."
So when Phoebe Putney, the big hospital chain in southwest Georgia, offered to roll vaccines to Adams' front door, she jumped at the chance.
"So we just kind of told our patients, you know, when and where and you don't have to make an appointment," Adams said. "You can just show up."
Eventually 46 people would just show up on this Thursday. They have their next doses scheduled for next month, same parking lot. Which, newly vaccinated Robert Holt said, just goes to show.
"If it's easy, we will do it," he said.
And Phoebe Putney, the hospital behind the mobile clinic, hopes making things easy will get more people vaccinated against COVID-19.
Secondary Content
Bottom Content