Section Branding
Header Content
Georgia House Committee Hears Newer, Bigger Voting Omnibus You Haven't Seen Yet
Primary Content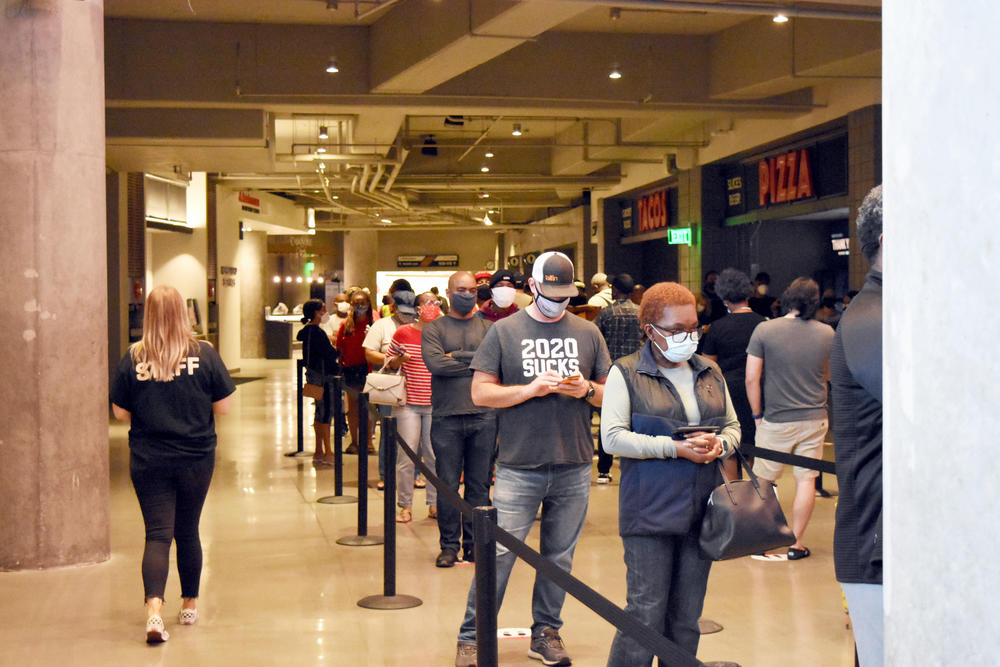 Georgia Republicans have introduced yet another omnibus bill that would drastically change the state's voting laws, this time transforming a two-page proposal about absentee applications into a 93-page omnibus released an hour before a committee meeting.
As it passed the Senate, SB 202 would prohibit third-party groups from mailing multiple absentee applications to Georgians that have already requested, received or returned a mail-in ballot. Violators would face a fine. But Rep. Barry Fleming (R-Harlem) introduced a substitute that adds 50 other sections to the bill, including banning people from giving food and water to voters waiting in line, limiting early voting days for larger counties, and adding ID requirements to absentee ballots.
In Wednesday's Special Committee on Election Integrity, Fleming walked through several additions to the bill but left some out.
The first section reads that the General Assembly "finds and declares" a number of things about the 2020 election cycle and proclaims that "the changes made in this legislation in 2021 are designed to address the lack of elector confidence in the election system on all sides of the political spectrum, to reduce the burden on election officials, and to streamline the process of conducting elections in Georgia by promoting uniformity in voting."
But most of the consternation around last year's elections come from Republican lawmakers who pushed false claims of voter fraud and their constituents, egged on by former President Donald Trump who made a series of calls to Georgia officials asking them to overturn his defeat and "find" votes.
Several Democrats and public commenters expressed concern about the lengthy nature of the bill and the short notice given, with the substitute being shared with some people only about 90 minutes before the hearing.
"I mean, we got the bill an hour before and whether we had known what was in HB 531 or not, it's also a combination of SB 241," Rep. Rhonda Burnough (D-Riverdale) said. "I just want to know, is this a different procedure than the other committees? ... because something's not right."
Cindy Battles with the Georgia Coalition for the People's Agenda said voting rights groups and elections officials were given a proposed substitute to SB 241 over the weekend and were surprised to hear about a new, different bill.
"It does change things, it does add things," she said. "To really understand what it does is complicated: it's complicated for y'all, it's complicated for us, therefore it's got to be complicated for the voters and for the county elections officials who are going to have to make this work."
The most controversial language in the bill would standardize early voting days and hours, forcing most counties to be open longer and add a weekend day of early voting, while preventing larger, more Democratic-leaning counties from having a full slate of weekend voting. Some of the eliminated days include the highest proportion of Black voters during early voting, and county officials large and small have expressed concerns with the changes.
A recent analysis by GPB News and the Center for Public Integrity found many proposed voting changes would disproportionately impact nonwhite voters and prevent local officials from taking steps to cut down on lines.
While the newest iteration of a voting omnibus is not yet posted on the legislature's website, many of the provisions in this substitute were passed by the House in HB 531. Fleming's 66-page omnibus limits the location and number of drop boxes, requires a driver's license number or state ID number to request an absentee ballot, and would remove the Secretary of State as chair of the State Election Board, among other changes.
HB 531 passed the House and is currently in the Senate Ethics Committee, where lawmakers have heard several days of testimony about Fleming's bill and could hear a new substitute version on Thursday.
The Senate's omnibus bill, SB 241, passed with the bare minimum number of votes after Lt. Gov. Geoff Duncan boycotted the debate and forced Pro Tem Butch Miller to preside. Four other Republicans opted not to vote on the measure. It is not clear why the House opted to use SB 202 instead of SB 241 as a vehicle to make their changes, but SB 241 contained language that would end no-excuse absentee voting — something top Republicans have opposed. 
The House and the Senate must agree on one version of the bill, most likely through a conference committee, before anything could get to Gov. Brian Kemp's desk.
New language in SB 202 would limit provisional ballots for out-of-precinct voters to those who show up after 5 p.m. and sign a statement that they could not make it to their original precinct, plus add a proposal to make digital scans of ballots available through open records requests. The bill would also allow Georgians to initiate an unlimited number of challenges to voter registrations or eligibilities, and the challenge must be heard within ten business days of being filed. After the 2020 election, groups such as True The Vote unsuccessfully tried to challenge tens of thousands of voters across the state.
Many sections of the bill deal with limiting the powers of the Secretary of State and State Election Board, while also outlining ways that county election supervisors or appointed boards could be removed.
Other language that has been in previous bills would shorten Georgia's runoff period to four weeks, in part by sending military and overseas voters instant-runoff ranked-choice ballots, which ask voters to rank their choices in order of preference for each race and would only be opened if a runoff occurs. A code section proposed by the secretary of state's office last year would require large precincts with lines longer than an hour at certain points in the day to add more machines, more staff or split up the polling place.
Secondary Content
Bottom Content