Section Branding
Header Content
State Rep. Ousted As Hancock County Attorney After Sponsoring Voting Changes
Primary Content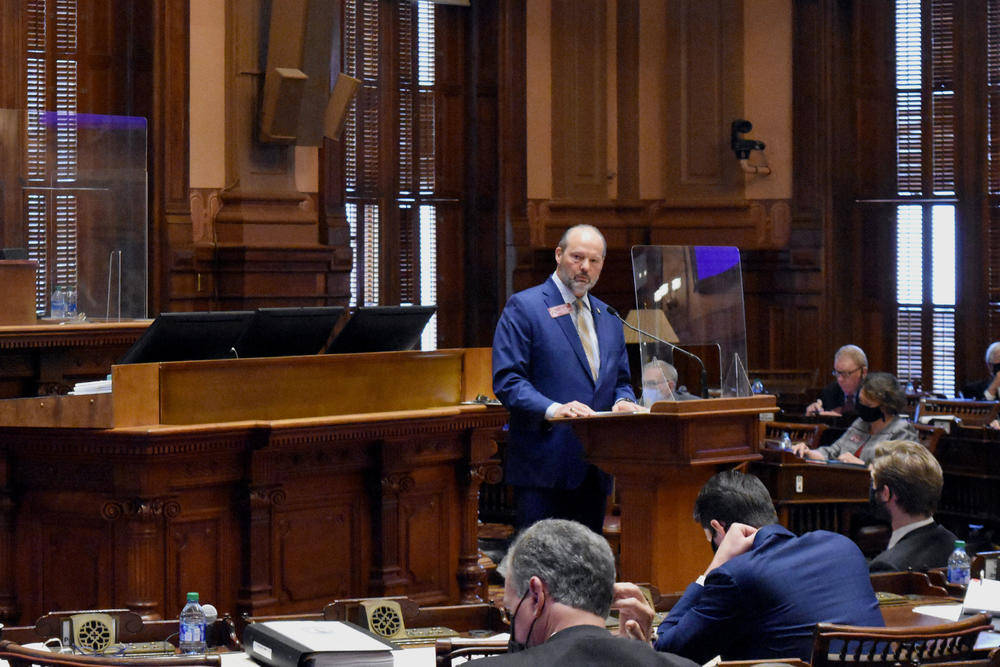 The Hancock County Board of Commissioners voted 4-0 Wednesday to ask Rep. Barry Fleming (R-Harlem) to resign as county attorney after pressure from citizens opposed to his work on proposed voting law changes.
Fleming is currently the House Special Committee on Election Integrity Chairman and primary sponsor of HB 531, a 66-page voting omnibus that would make sweeping changes to voting in Georgia, including limiting access to drop boxes and curbing larger counties' ability to offer a full slate of weekend voting.
Hancock has one of the highest proportions of Black voters in the country and has been the center of several voting controversies in recent years, including an episode in 2015 when a fifth of the voters in Sparta — all Black — had their voter registrations challenged.
One of those was Johnny Thornton, a retired DEA agent who lives and works on a catfish farm.
Thornton was among several people protesting in Sparta before the commission's vote, and said that the pushback came after years of Fleming, who represents a multi-county stretch of east Georgia near Hancock County, being a "suppressor" instead of an advocate.
"He's been part of strategic voter suppression, but this year he went all the way over the top with this House bill that he introduced," Thornton said. "Your attorney is supposed to be an advocate, not an adversary. You can't advocate for me and vote to suppress me at the same time."
Thornton said Fleming hasn't done enough in his time in office to help Hancock County, and his support of several voting bills was the last straw. 
HB 531, which passed the House along party lines, is the likely vehicle to make a number of overhauls to Georgia's election law after the 2020 election cycle saw record turnout and heavy Republican skepticism about voting by mail.
Fleming said his proposal is about restoring "confidence" to elections after both 2018 and 2020 saw claims of malfeasance, and wrote in an op-ed that absentee ballots were like the "shady" part of town down by the docks where you could get "shanghaied."
HB 531 would add ID requirements to vote by mail, move up the deadline to request an absentee ballot and create a uniform set of early voting dates and times. The vast majority of Georgia's 159 counties would be required to add an extra weekend day and extend voting hours, while the largest and most diverse would be barred from offering a full slate of weekend voting.
Thornton said opposition to Fleming's involvement as county attorney has been building for weeks, and he hopes other lawmakers take note of the national conversation about voting rights.
"We might not be taking a lot of money out of his pocket, but it's sure going to embarrass the hell out of him to say your a** has been fired," he said. "That type of leverage will make some of these other state representatives in some of these rural towns say, 'Wait a minute.'"
Fleming did not respond to a request for comment by the time of publication. 
This story will be updated as more information becomes available.
Secondary Content
Bottom Content