Section Branding
Header Content
COVID-19 Pandemic Exposes Racism, Health Inequities In Georgia
Primary Content
As the COVID-19 vaccine rolls out across Georgia, early data suggest a troubling trend that those most vulnerable to the virus are having the hardest time getting vaccinated. GPB's Ellen Eldridge reports.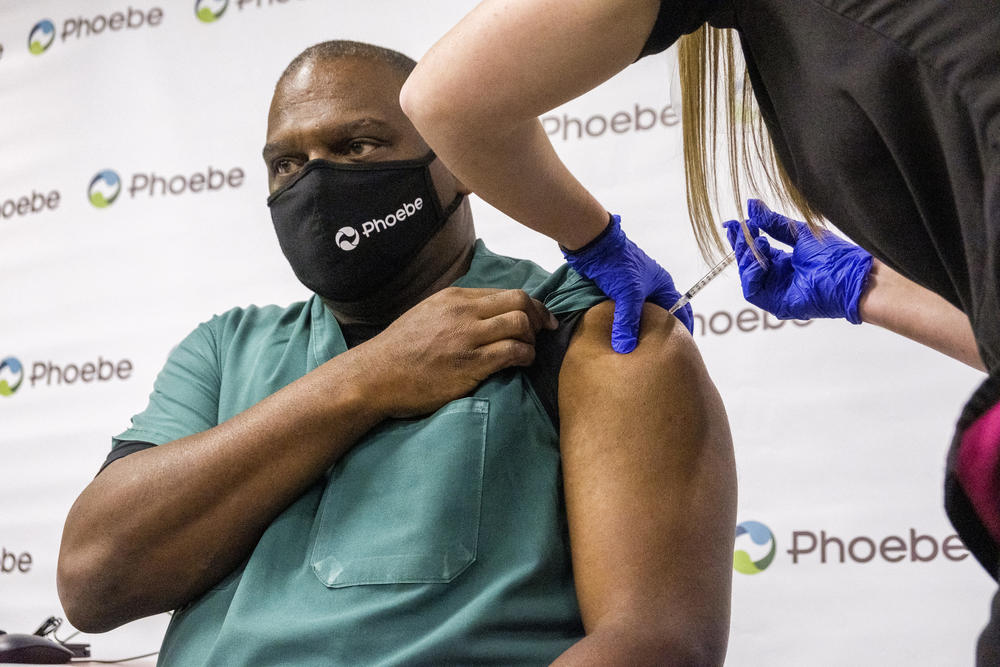 While there is no silver lining to COVID-19, the pandemic has exposed underlying problems with discrimination, marginality and racism in the public health system, Dr. Alonzo Plough said. 
Plough, the chief science officer with the Robert Wood Johnson Foundation, told GPB News that people in communities of color will continue to suffer disproportionately, with higher rates of sickness and death if they are not prioritized for COVID-19 vaccination. 
"Black and brown populations are marginalized populations," Plough said. "We are seeing COVID-19 case rates two or three times higher than the white population."
RELATED: How To Start Talking With The 'Vaccine Hesitant'
Death rates are even higher, he said, and now that vaccine is becoming more available, half as many people in communities of color are gaining access.
"So, these kind of statistics come together to show what the real problem is, which is this pandemic is superimposed on some historical marginality discrimination," Plough said.
Early data from the Centers for Disease Control and Prevention point to a troubling trend: America has race and ethnicity data for only about half of the vaccinated population. Where we do have that data, Black and Latino Americans account for a smaller share of vaccinations compared with COVID-19 cases and deaths.
"This isn't just a COVID blip," Plough said. "This is a manifestation of a long-standing problem of marginality and the impact of structural racism as it affects health outcomes."
New Survey: Many Do Not See Racism As A Barrier To Health Care Access
Many people — even those who may have been hit hardest by the pandemic and longstanding inequities — still do not see systemic racism as a barrier to good health, according to a recent survey.
Those surveyed were asked whether they believe it is harder for lower income people to get access to health care than higher income people.
"And most people had no problem saying that it was harder to get access to health care when you have lower income," said Katherine Carman, an economist with Rand Corporation. "But they were less likely to say that it was harder for Black Americans to get access to health care than white Americans."
Secondary Content
Bottom Content