Section Branding
Header Content
Georgians' Reaction to Capitol Siege: Some Expected 'Civil War'; Others Shocked, Horrified
Primary Content
Wednesday's insurrection at the U.S. Capitol by pro-Trump extremists shocked some Georgians, while others say it came as no surprise.
Taryn Evans, a retired law enforcement officer who served for 16 years and now lives in Canton, said she believes what President Donald Trump has said about election fraud and supports Republicans' right to protest.
Three of her friends from Cherokee County went to the protest in Washington, D.C., Evans said. 
"I don't think there's an endgame right now," she said as she watched live video Wednesday afternoon of the crowd storming the Capitol. "I think this is the beginning of a true civil war."
Her comments came as the mob forced its way inside the building, before much of the property was damaged.
"It scares me as a mother of five, having to be raised in the United States," she said.
MORE: Georgia Officials, Organizations React to Insurrection At U.S. Capitol
But self-described libertarian John Ross said conservatives have gone off the rails, and the images of people climbing the walls to storm the Capitol shocked him.
"I did not see it coming in any way," Ross said of the mob action. "I really overestimated the good sense of my fellow citizens."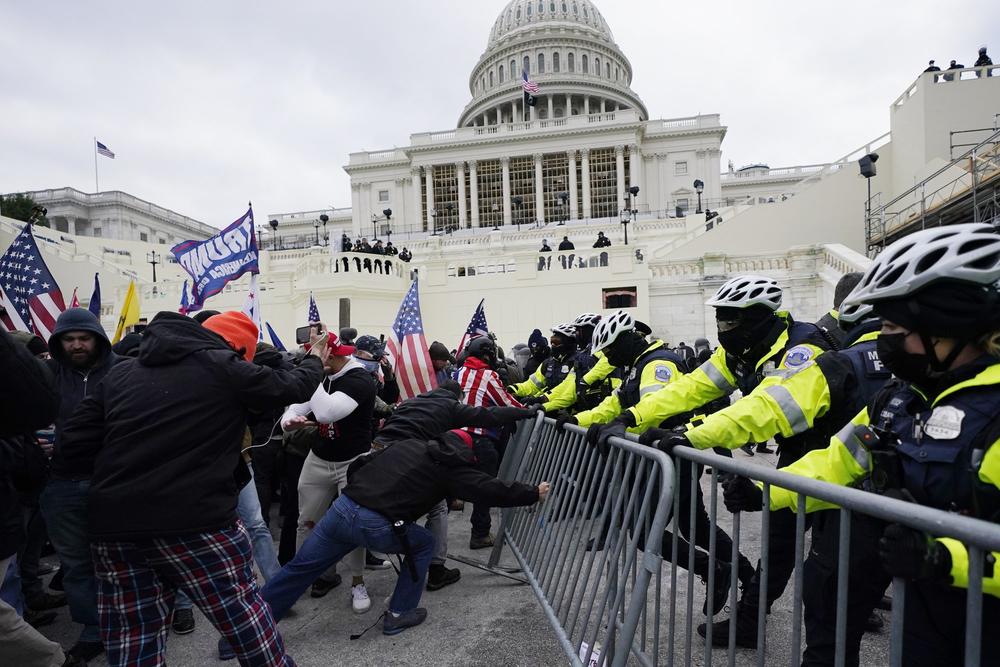 Ross said he is having an existential crisis with respect to his political philosophy.
"I believe in individual liberty, individual freedom and equality and equity under the law," he said. "I am horrified by what's going on in D.C. I never thought I would see this sort of thing in my lifetime."
The violent protests that interrupted the process of certifying President-elect Joe Biden's electoral victory erupted the same day Georgians were coming to terms with the election of two Democratic senators.
That the strongly Republican state flipped "blue" came as no surprise to Deputy Secretary of State Jordan Fuchs.
The Fulton County resident is a Republican and said she knows her party has been losing support as households move out of state and older residents die. She figures the ground that Republicans have been losing equates to roughly half a percentage point every two years, culminating in the most recent runoff going to the Democratic challengers.
"These two U.S. senators lost, and they lost because they did not have a clear message," Fuchs said. "They were focused on all of the wrong things and not on their opponent. And you can't run around the state cannibalizing Republicans against each other and then expect them to come out and vote for you."
The president's perpetuation of disinformation catalyzed the electoral loss by Sens. David Perdue and Kelly Loeffler to Jon Ossoff and the Rev. Raphael Warnock, Fuchs said.
MORE: Trump to Georgia Election Officials: 'I Just Want To Find 11,780 Votes'
Trump even called Secretary of State Brad Raffensperger and tried to influence the election.
"We are trying to get our message out as quick as we possibly can," Fuchs said. "But at the end of the day, the president of the United States will tweet out something that is just flat wrong. It's a flat lie, and we're having to combat that."
By the time the four-hour insurgence ended, four people had died, including 34-year-old Kennesaw resident Rosanne Boyland, whose death was attributed to a medical emergency.
Army Secretary Ryan McCarthy said Thursday that a "7-foot non-scalable fence" is being erected around the entirety of the U.S. Capitol, and it will be in place for at least the next 30 days.
Secondary Content
Bottom Content