Section Branding
Header Content
'A Bright Light, Extinguished': A Civil Rights Attorney Fights For Secoriea Turner's Justice
Primary Content
Attorney Mawuli Davis has been practicing law for nearly 20 years as a civil rights attorney for the Davis Bozeman Law Firm in metro Atlanta. He's taken on civil rights violations, such as false imprisonment or use of excessive force by law enforcement, and personal injuries. After George Floyd's murder and subsequent Black Lives Matter protests earlier this summer, his work completely shifted to helping clients seek justice from institutions and governmental powers. 
But when Secoriea Turner, an 8-year-old Black girl from west Atlanta, was killed in the aftermath of Rayshard Brooks' death, Davis knew something had to be done.
"We believe Secoriea should be lifted up as a martyr of this movement," he said. 
Secoriea died July 4 when an armed person fired the shot that killed the girl in her mother's car after her mother's boyfriend tried to drive around a barricade across the street from the site Brooks was fatally shot.
"That has to be acknowledged as devastating, something that happened in a space that some community members were attempting to control as a part of an ongoing protest to lift up Rayshard Brooks," Davis said. "So there are obviously a number of contradictions there."
RELATED: 'A Special Angel In Heaven': Parents of Secoriea Turner Continue to Grieve, Seek Justice
Although the law firm has been practicing civil rights law for more than 10 years, Davis said the energy and circumstances of cases he's handled have experienced a huge shift after George Floyd's death. Some of his clients now include Messiah Young, a Morehouse student who was assaulted by Atlanta police officers, and Amber Jackson, a woman who suffered injuries after being body-slammed by Atlanta police.
Now, he represents Secoriea's family.
Following Brooks' death, the now-demolished Wendy's served as a site for protests and demonstrations for criminal justice reform and racial equality. While several protests were peaceful and nonviolent, others involved violence and property damage. Davis believes both energies coexisted the night Secoriea was fatally shot.
"We believe that there were well-intentioned people who were out there the night that she was killed who wanted change [and] who wanted a peaceful space," he said, "but there also were people out there who were armed, who were, in my humble opinion, at times exhibiting the same kind of aggressive behavior as the very police that we're protesting against."
The person who shot and killed Secoriea has yet to be identified and charged, but 19-year-old Julian Conley turned himself in as witness to the crime. He said he didn't shoot Secoriea, but he's been arrested and charged with murder and two counts of aggravated assault.
Davis said there's more work to be done for Secoriea's family, including holding accountable those involved in her killing. He urges people who were at the site to come forward with answers so Secoriea could receive justice.
"This is not snitching," he said. "You're trying to hold accountable someone who took the life of an 8-year-old."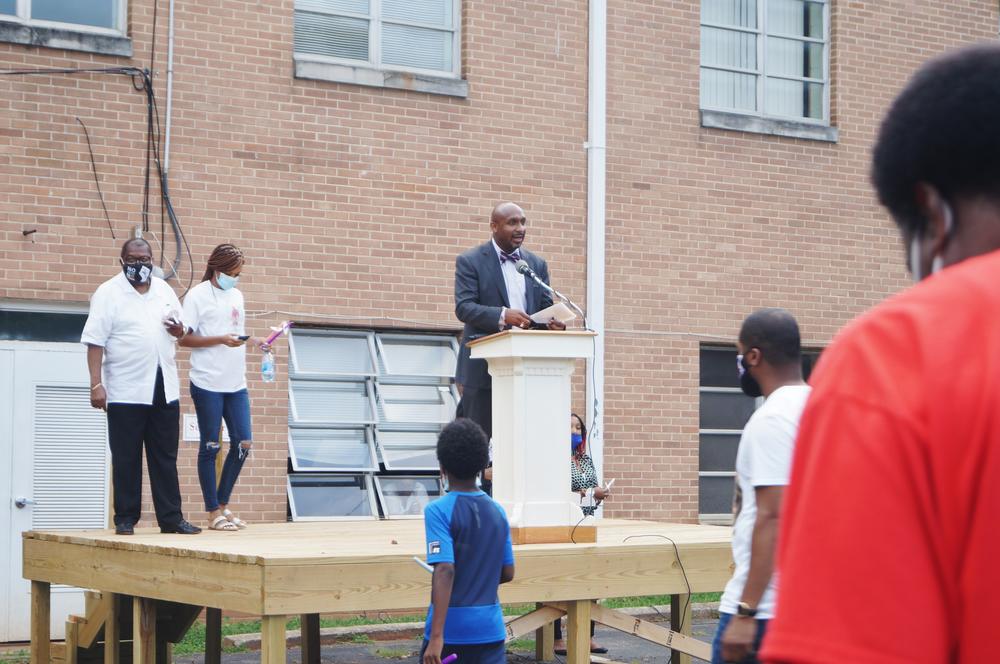 He and other attorneys representing Secoriea's family also delivered a notice of intent to sue the city of Atlanta for its "numerous failings," including alleged negligence to remove armed protestors who occupied the Wendy's site where Brooks was killed. The city has yet to respond to the notice.
Family attorney Harold Spence said the city should have removed the armed protestors, which could have prevented Secoriea's death.
"The true test of character of any city is reflected in not how a city responds when everything is going right, but how that city responds when things go wrong," he said.
Davis sees his work and strides for seeking reform in institutions as part of the Black Lives Matter movement, but he said that its objective and mission doesn't excuse or justify Secoriea's death amid protests for racial equality. As a civil rights organizer who's lived and observed Atlanta for over 20 years, he wondered if he and other community leaders could have done more to prevent violence that played a part in the child's death.
"We have to do our best to not be violent against one another," he said. "That doesn't let the system off the hook because the system has to be held accountable, but we have to (be held accountable) within our own organizations, our own formations."
Murder offenses in Atlanta increased 140% this summer compared to the same timeframe in the previous year, according to crime data released by the Atlanta Police Department. Following Brooks' death at the Wendy's on University Avenue, some protestors burned down the establishment and armed people threatened and assaulted passers-by. 
Davis acknowledged the push for justice but doesn't condone the violence. Instead, he wants people to unify as a community because Secoriea and her family are an important part of the community. He found West African agricultural engineer and civil rights leader Amílcar Cabral's quote fitting for a call to action: "Tell no lies, claim no easy victories."
The Atlanta attorney wants open dialogue about what happened to Secoriea and how it should never happen again. He wants a local council composed of residents native to the city to make tangible strides in advocacy. 
"That's self-government, and that's self-determination, and that's the work we have to do," Davis said. 
Although Secoriea was killed during the peak of this summer's Black Lives Matter movement, he said her life can still be honored and recognized as another tragic result of Atlanta's gun violence. He doesn't want her death to detract from the organization's mission. Instead, he wants to highlight the need for protecting youth, in Georgia and beyond.
"At the end of the day, we have to protect our children," Davis said. "All of what we're doing, all of the cases that we're taking in and the organizing we're doing, it has to be for a better future for our children."
Davis wants people to know what Secoriea brought to the world: kindness, joy and love. She was energetic, outgoing, and loved by her family and peers. 
"She was a bright light," he said. "She was a bright and beautiful light, extinguished."
Secondary Content
Bottom Content