Section Branding
Header Content
'WHO DO WE BLAME FOR THIS?': A Stranger's Quest To Honor Slain Secoriea Turner
Primary Content
Nov. 24 is a bittersweet day.
While several families prepare for socially distanced Thanksgiving festivities and children relish in the holiday break from virtual learning, some loved ones are preparing to recognize Secoriea Turner's ninth birthday. 
She will not be here to celebrate. 
Georgetta Morton is among those mourning the girl's death, and she's doing so by creating a memorial in Decatur. 
It was near the beginning of the summer when George Floyd was killed by a Minnesota police officer who kneeled on his neck for nearly nine minutes — a killing that sparked a slew of protests, riots and demonstrations across the world. Adding to the outcry against police brutality and racial inequality, Rayshard Brooks was fatally shot by an Atlanta police officer in a Wendy's parking lot the night of June 12. 
In south DeKalb County, Georgetta Morton and her 7-year-old daughter Malia mourned Floyd, Brooks, Breonna Taylor, Ahmaud Arbery with handmade posters, hand-drawn chalk art on barricades and a bullhorn to draw attention.
But it was the killing of 8-year-old Secoriea Turner that transformed their mission. Secoriea was gunned down July 4 in the back seat of her mother's SUV adjacent to one of the protests.
A throng of protesters had amassed around the Wendy's in the days after Brooks was killed. Someone opened fire; police said the vehicle was struck by eight bullets, with one shot fatally striking the 8-year-old.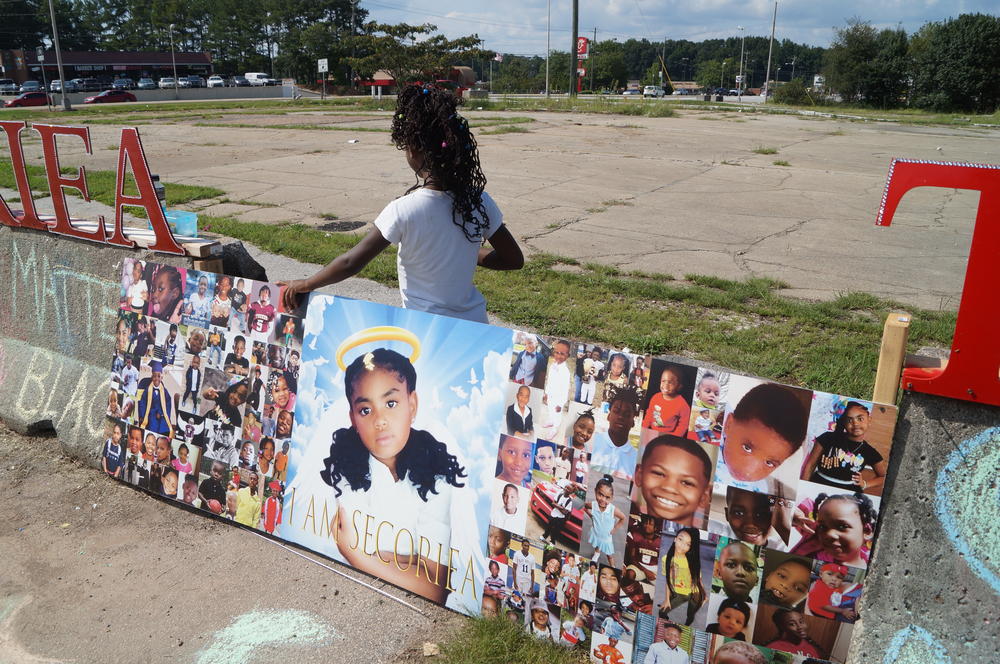 So far, only one arrest has been made — Julian Conley, who said he was at the scene of the crime, but not the one who pulled the trigger.
What once was a memorial for Black lives mostly killed by police turned into a memorial garden for Black child victims of gun violence.
Morton sought to immortalize Secoriea's name in wooden red letters at an abandoned street corner in Decatur. Morton has been saying the girl's name ever since. 
Morton condemns police brutality against Black people and protested the racial injustices, but as a Black mother of two, she felt the urge to mourn the loss of Black children when she heard about Secoriea's death.
"When I first heard about it, I started coming out here, and I did the same thing I did for the other African Americans that got killed, and then I heard there were six children in total that weekend that got killed," she said. "The outrage and the outcry was not like the others that had got killed."
She rattled off the names of these other Black children lost to gun violence:  Natalia Wallace was 7 years old when she was killed in Texas. Royta De'Marco Giles was 8 when she was shot in Alabama. Davon McNeal, 11, was shot in Washington, D.C. Jace Young was 6 years old and shot in California. Vernado Jones, Jr. was 14 in Chicago.
Secoriea was among the six children killed over the holiday weekend.
The birth of the Secoriea Turner Memorial Garden
Morton, her daughter and her son, Tyler, 23, overhauled the vacant corner of Snapfinger Woods Drive and Wesley Chapel Road in Decatur into the Secoriea Turner Memorial Garden. Tyler would sell water, Gatorade and soda at the intersection to make money that would be used to buy art supplies for the memorial. Malia would sit on the concrete and draw flowers on the sidewalk or shout out to passersby.
Rain or shine, Morton maintains the space from early morning to mid-afternoon, and she travels back and forth from Home Depot and Dollar Tree to make more art. It started with neon posters staked in the grass and evocative questions like "WHO DO WE BLAME FOR THIS?" and "SAY OUR BABIES NAME" written in chalk that would wash away in the summer rain.
Now, several paperboards with pictures of Black children line concrete barricades.
Many are smiling in their photos. Some are in graduation attire. A few children have angel wings or halos edited into their pictures.
"I've always grieved when people just get killed, period, whether it's being killed by a police officer, white or Black," Morton said. "But in the manner that [these children] were killed, it's like we didn't matter." 
Morton remembered the police beating of Rodney King in 1991 and the 1992 Los Angeles race riots that ensued when the officers were acquitted. She also spoke of 15-year-old Latasha Harlins, a girl killed by a Los Angeles store owner after being accused of stealing a $1.79 bottle of orange juice the same month as the King beating.
Morton said the killing of Trayvon Martin in 2012 by George Zimmerman, a member of a neighborhood watch group in Sanford, Fla., reignited outrage over the senseless killings of unarmed Black teens.
"It was almost like nonstop since then, like it's nonstop," Morton said. "Freddie Gray in Baltimore — it just kept going on and on and on."
Over several months, Morton transformed the dilapidated space into an emotional spectacle. Cars would stop at the traffic light and read freshly written chalk messages. Pedestrians often paused and snapped photos. Several people have brought stuffed animals or helped assemble parts of the memorial garden.
Michael McCoy was one of the pedestrians captivated by Morton's mission to bring awareness to the child victims of gun violence. He said he's glad that Black people are standing up for injustice, but he would like to see more inclusive racial advocacy. 
"[Secoriea] didn't get a rally," McCoy said. "[She] didn't get anything." 
Although the Black Lives Matter movement denounces police brutality, he said he believes the movement doesn't explicitly address other issues that affect Black people.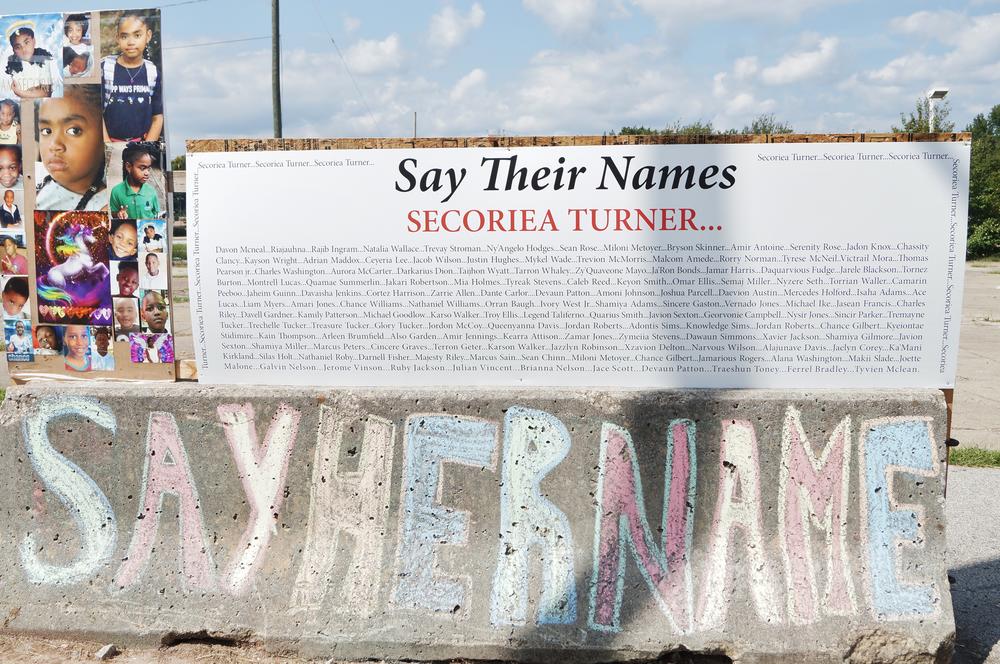 The global Black Lives Matter movement was founded in 2013 after Zimmerman was acquitted for Martin's death. Its goals are to eradicate white supremacy, dismantle systemic racism and provide spaces for Black liberation, according to the organization's website.
"I do admire the fact that they marched, but there's more that Black Lives Matter could be doing for our community besides marching about police brutality," McCoy said. 
McCoy hopes the organization sees Morton's work and is moved by it as much as he was. 
County Wants Memorial Gone
If DeKalb County has its way, the memorial will soon be gone. 
That message was recently delivered by Jerry Silver Jr., the DeKalb County Code Enforcement manager who pulled up to the site in a county pickup truck and parked it near the big red letters memorializing Secoriea.
Silver said he was notified about Morton's work in October, and he had to address it. He said the county wants Morton to take the memorial down — not because the county necessarily disagrees with Morton's motivations and contributions, but because Morton is building upon private property owned by RaceTrac, one of the South's largest gas station chains.
It's never easy being the middleman to deliver bad news. Silver hopped from his truck and approached Morton.
She couldn't believe it. 
"Nobody said nothing about these babies," Morton said to Silver. Her voice was shaky and breathless. 
Silver couldn't calm her down, despite trying to tell her she couldn't build her memorial on private property without the owner's permission. Morton walked away from Silver mid-conversation.
"She doesn't realize I got a job," he said. "It ain't about me. I get what she's trying to do, but she's gonna have to find another way."
If Morton were to continue building upon the property, she could receive a citation or, at worst, be arrested.
The never-ending fight
After maintaining the memorial for hours on one summer day, Morton headed to New Calvary Baptist Church in Atlanta to pay respect to Secoriea's family on Aug. 4, marking the first month since Turner's death. Leaders in the community as well as Secoriea's parents spoke to the crowd, asking for the community to come together and seek justice for the girl.
Actor and Hosea Feeds the Hungry co-director Afemo Omilani said the city is at war.
"What kind of mentality is that we don't be in a rage about what happens to our kids?" he said. "Black Lives Matter? You should've been in the streets marching like your life depended on it, but I didn't see any of that."
Instead of marching, Morton patrols her corner in Decatur with craft supplies and her voice to amplify Secoriea's name, along with dozens of other children's names. She plays gospel music from her cellphone and prays over them as she glues pictures together. She thinks of their lost experiences — first days of school, graduations, proms, birthdays. Morton considers the children whose lives were lost as the community's babies.
"These mothers are hurting," Morton said. "These babies didn't do anything wrong. Beautiful babies."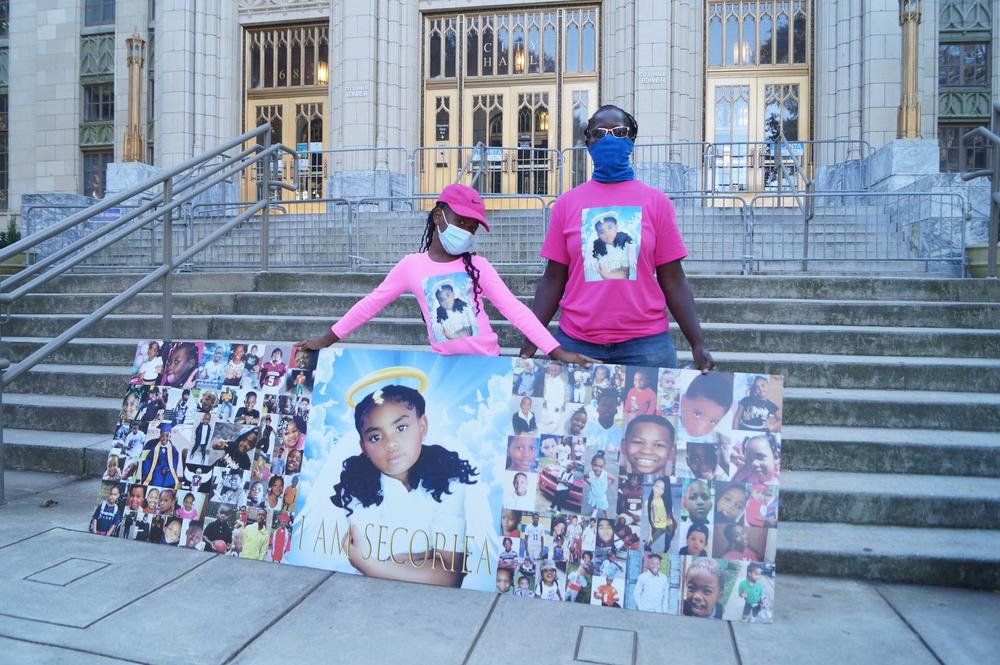 Her daughter Malia accompanies her almost everywhere. Morton heard there was a protest happening at Atlanta City Hall downtown on Oct. 17, and the mother and daughter arrived at the location in hot pink shirts emblazoned with Secoriea's face. They were also equipped with a large collage on one paperboard and names of Black youth victims of gun violence on the other.
In a heated entrance, Morton blared a siren from her megaphone. Her daughter tried her best to keep up with her mother's quickened pace. 
"Secoriea Turner was killed, too," Morton said through the megaphone. "Secoria Turner was killed, too, on that same site."
Organizers watched Morton approach the steps of City Hall in confusion. She stopped a few feet away from the small crowd. For a moment, Morton had all attention on her.
"My heart goes out to Rayshard Brooks and his family, it really did," Morton said. "But these same protesters killed this baby and nobody said nothing."
Malia stood beside her mom, quietly holding a picture of Secoriea with angel wings and a halo. 
Morton didn't realize she wasn't interrupting a protest. She was actually interrupting a demonstration led by the Rayshard Brooks Peace Center (RBPC). Brooks' sister and RBPC founder Lady A, his widowed wife Tomika Miller and Brooks' children were among the crowd. 
Brooks' family quickly approached her and asked for a peaceful solution. They suggested they band together and Morton to take her complaints up with the city.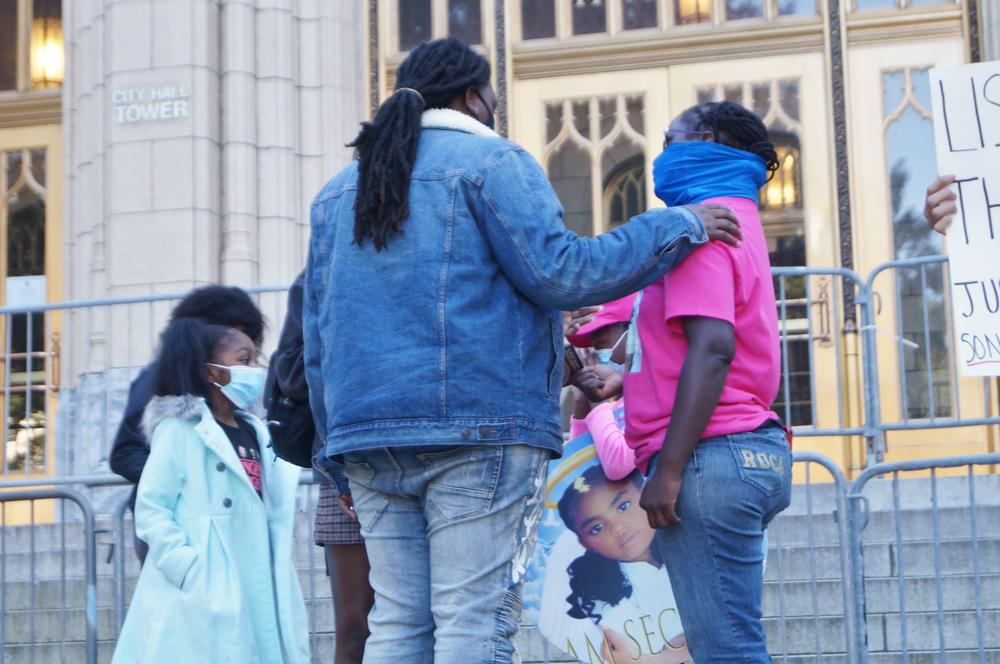 "I like your topic, but you're taking it to the wrong people," Lady A said.
Eventually, Morton stood beside Brooks' family and other community organizers in front of Atlanta City Hall. Brooks' youngest daughter helped to hold up the picture collage. Morton gave Miller her necklace and megaphone. By the end of the demonstration and press conference, Morton and the RBPC were allies fighting for justice.
Morton apologized for her actions to the family and told them she's also been protesting for Brooks ever since he was killed by police.
"My heart goes out to the family, and I'm happy to join this movement today," she said. "So I will be at the next meeting that you all have, and it starts there."
But Morton said she'll never stop keeping Secoriea's name alive because Secoriea and other victims remain an integral part of Atlanta's community and beyond. 
"I keep putting their pictures up; I keep putting their names up," she said. "I continue to do it over and over again, and I'm going to keep doing it over and over again until we talk more about what we do to our children in our community. Not just doing something to our children, but killing them."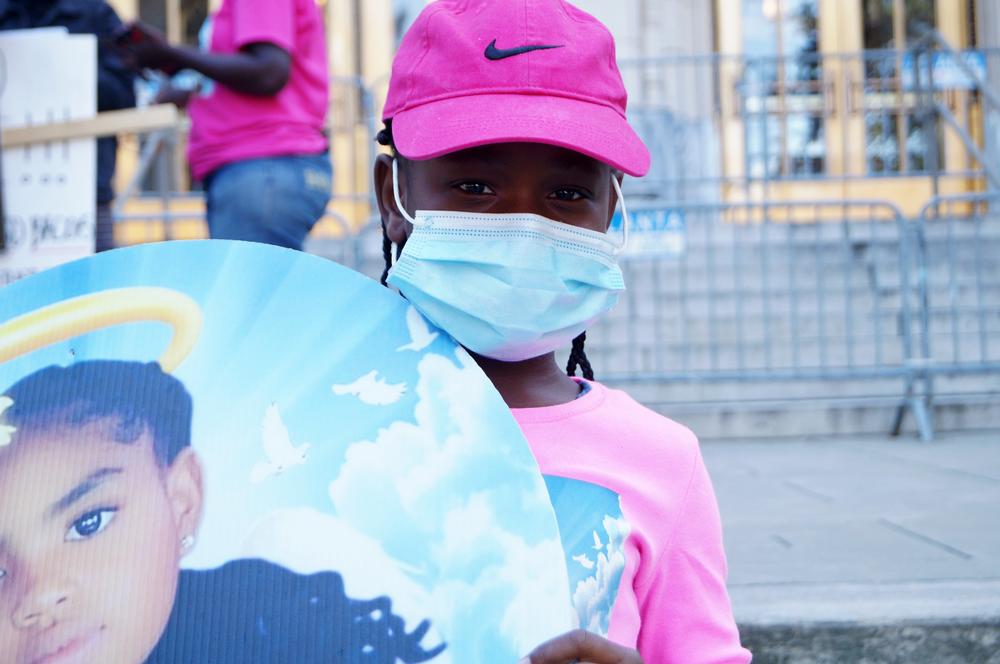 Secoriea would be turning 9 on Tuesday, Nov. 24. She won't be able to invite her friends over to her party, dance to music or blow out nine candles on her birthday cake. Instead, her family will mourn her tremendous loss.
Morton will continue to build upon the Secoriea Turner Memorial Garden in her honor. She plans on adding seasonal decorations for the family's first holiday season without Secoriea.
She has already ordered Christmas ornaments online so she could put pictures of the child victims on them. She has already spent thousands of dollars on supplies. She's already spent hundreds of hours standing on that corner in the blistering summer heat and moments before rainstorms. 
Morton has already made up her mind that she will do whatever she can to bring justice and awareness to Secoriea and her grieving family. She said she has no intention of taking down her memorial, even if it means going to jail. 
"I'll get arrested," she said. "I don't care about getting arrested."
Secondary Content
Bottom Content