Section Branding
Header Content
Facebook To Reject Ads Discouraging Flu Vaccination
Primary Content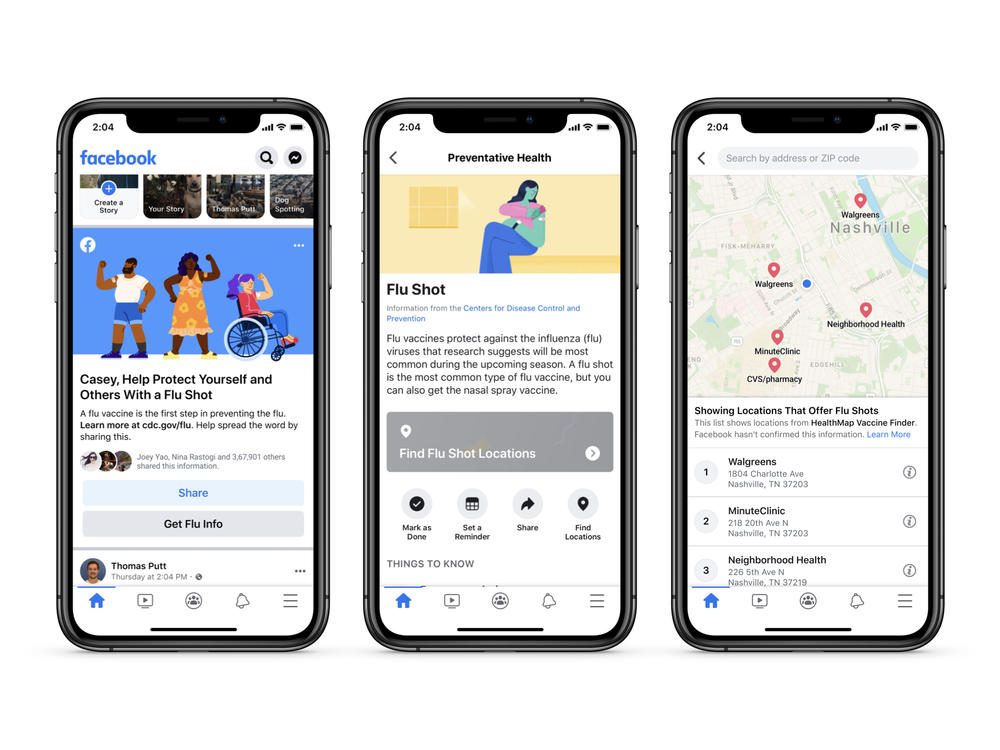 Social media giant Facebook announced Tuesday a new global policy that prohibits ads discouraging people from getting vaccinated.
"We don't want these ads on our platform," the company said in a news release.
According to the Centers for Disease Control and Prevention, only 48% of U.S. adults received the flu vaccination last year.
Flu Season: Get Vaccinated Early To Build Immunity, Officials Say
Flu sent more than 2,500 people to metro Atlanta area hospitals and left 94 Georgians dead during the 40 weeks of the 2019-20 influenza season. The Influenza Hospitalization Surveillance Network reports laboratory confirmed influenza hospitalizations in the eight-county metro Atlanta area (Fulton, DeKalb, Clayton, Cobb, Douglas, Gwinnett, Rockdale and Newton).
A significant flu and RSV (respiratory syncytial virus) season this year could put an added strain on the health care system, as people experience similar symptoms — fever, cough, and aches, for example — with COVID-19 and other respiratory viruses.
The Georgia Department of Public Health and the CDC recommend people get their flu shot by the end of October.
When To Get A Flu Shot: Emory Experts Say Before October Ends
It takes about two weeks after vaccination for antibodies that protect against flu to develop in the body.
Influenza vaccination is critical not only to protect people from getting sick, but to reduce the burden on Georgia's health care system, which is already caring for COVID-19 patients, DPH Commissioner Dr. Kathleen Toomey said.
"Even if the vaccine doesn't prevent illness from flu completely, it can help reduce the severity and risk of serious complications — and keep people out of the hospital during this COVID-19 pandemic," Toomey said.
Facebook's goal is to help messages about the safety and efficacy of vaccines reach a broad group of people, while prohibiting ads with misinformation that could harm public health efforts.
"We already don't allow ads with vaccine hoaxes that have been publicly identified by leading global health organizations, such as the World Health Organization (WHO) and the U.S. Centers for Disease Control and Prevention (CDC)," Facebook said. "Now, if an ad explicitly discourages someone from getting a vaccine, we'll reject it."
Enforcement will begin over the next few days.
While ads that advocate for or against legislation or government policies around vaccines — including a COVID-19 vaccine — are still allowed, Facebook says it will continue to require anyone running these ads to get authorized and include a 'Paid for by' label so people can see who is behind them.
Secondary Content
Bottom Content