Section Branding
Header Content
When To Get A Flu Shot: Emory Experts Say Before October Ends
Primary Content
The Centers for Disease Control and Prevention tells doctors it's safe to make flu shots available to all age groups once the vaccine becomes available, each year. GPB's Ellen Eldridge has more on what local doctors are saying is the best time to vaccinate.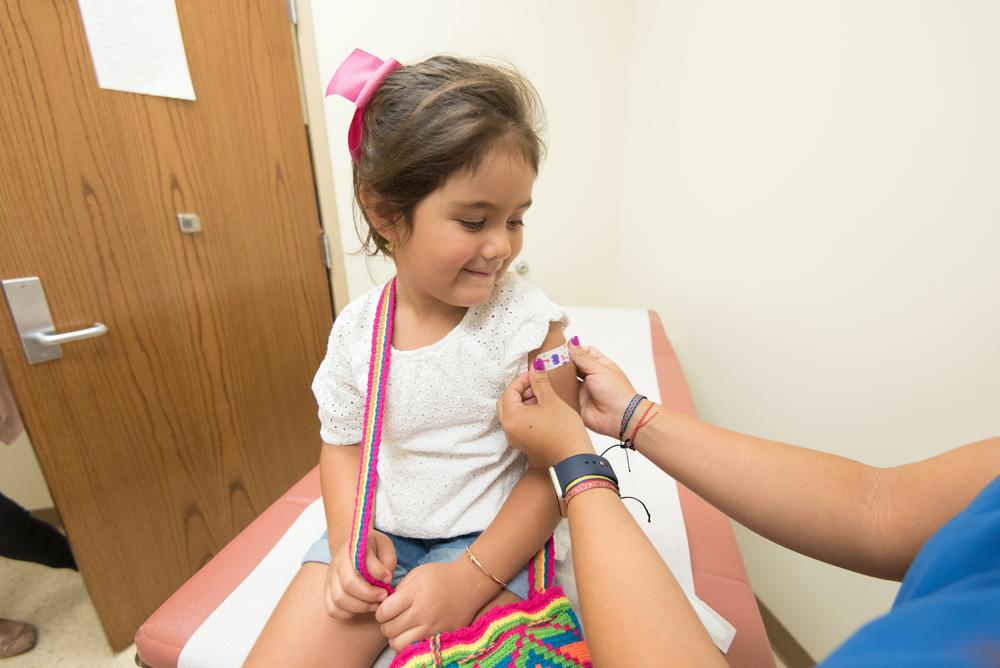 Influenza vaccines are available now but deciding when to get your shot is a matter of timing.  
Emory University School of Medicine Associate Dean Dr. Carlos del Rio said he told his grown daughter, who's expecting a baby, to go ahead and vaccinate now. But he plans to wait until mid-October to ensure immunity lasts through the end of February.  
"The timing of influenza vaccine depends on the circumstances," del Rio said. 
Pregnant women are particularly encouraged to get a flu shot to protect newborn babies because only people 6 months of age and older can be vaccinated, and the mother's vaccination provides passive immunity to the newborn. 
Dr. Walt Orenstein, associate director of the Emory Vaccine Center and professor of infectious diseases at Emory University School of Medicine, said it takes two to three weeks for the vaccine to build immunity in the body, and getting vaccinated early can help prevent transmission. 
"Once exposed to influenza, on average, one gets sick about two days later with a range of one to four days," Orenstein said. "People are most contagious in the first three to four days of illness. But some people can transmit the virus before they even get sick and can also transmit from five to seven days after becoming sick." 
A critical reason influenza returns every year is that the viruses can mutate, Orenstein said, adding there are four major strains of influenza viruses in most vaccines. 
The Centers for Disease Control and Prevention advises physicians that it's safe to make flu shots available to all age groups whenever the vaccine becomes available, each year. While "delaying vaccination might permit greater immunity later in the season," the CDC notes, citing evidence from a 2013 study, that "deferral could result in missed opportunities to vaccinate." 
Flu Season: Get Vaccinated Early To Build Immunity, Officials Say 
With the threat of COVID-19 as well as other illnesses that could lead to pneumonia, it's even more important to get a flu shot this year, said Dr. John Johnson, secretary of the board of directors of the Medical Association of Atlanta. 
"Not having a vaccine increases your risk of fatality associated with influenza," Johnson said. "I would say getting it early would be the key. Having both influenza and COVID-19 concomitantly could be potentially catastrophic." 
A football coach in South Georgia has already been diagnosed and hospitalized with both influenza and COVID-19, GPB News previously reported. 
Tift County's Head Coach Ashley Anders was released Tuesday from Tift Regional Medical Center, his wife, Sheri, posted on Facebook. 
She was thankful for the community's prayers. 
"After five days, oxygen is off, sustained 95 for 24 hours, so he is now home!" she wrote. "He is still very tired and weak but Nurse Sheri and Nurse Camden will take good care of him. Please pray that his oxygen level stays at 95!" 
In the overall population, the CDC says studies show a vaccine can reduce the risk of flu by about 50 to 60% when the vaccine is well-matched. 
Experts estimate the vaccine for the 2019-20 influenza season was about 38% effective, Orenstein said. 
"We'd like a more effective vaccine," Orenstein said, "but they are still a lot better than zero percent, which is the effectiveness of no vaccination." 
Flu sent more than 2,500 people to metro Atlanta area hospitals and left 94 Georgians dead during the 40 weeks of the 2019-20 influenza season. 
Having simultaneously or closely linked in time epidemics of influenza and a resurgence of COVID-19 would put tremendous stress on the health care delivery capacity, Orenstein said. 
Secondary Content
Bottom Content