Section Branding
Header Content
Georgia Tech Students Win Competition to Help Beat Climate Change
Primary Content
Georgia Tech students Michelle Babcock and Rachel Mohr knew that they'd be creating a carbon reduction proposal for a class assignment, but they had no clue they'd win a challenge to make a real impact in combating climate change.
Babock and Mohr were classmates in Georgia Tech's Energy, Environment and Society class, and they were tasked to deliver a proposal that could reduce an organization's carbon footprint while saving them money. 
The first step was contacting a stakeholder that could use their help.
Mohr said several groups in their class had trouble finding an organization, but Babcock had a connection with Catholic Relief Services (CRS), a Catholic nonprofit that provides emergency assistance worldwide. With two other classmates, the students proposed that the nonprofit could reduce carbon emissions from their fleet vehicles. 
"Fortunately for us, they were very excited [and] very eager to use our proposal because they had not had a coordinated fleet management strategy for their fleet vehicles before," Mohr said.
The classmates teamed up with CRS global fleet manager Michael Bieger and took a look at the nonprofit's fleet management data. Although Babcock and Mohr were used to making calculations and entering technical information, analyzing fleet vehicles with limited information was an unexpected obstacle for them.
It took Mohr a week to consolidate material.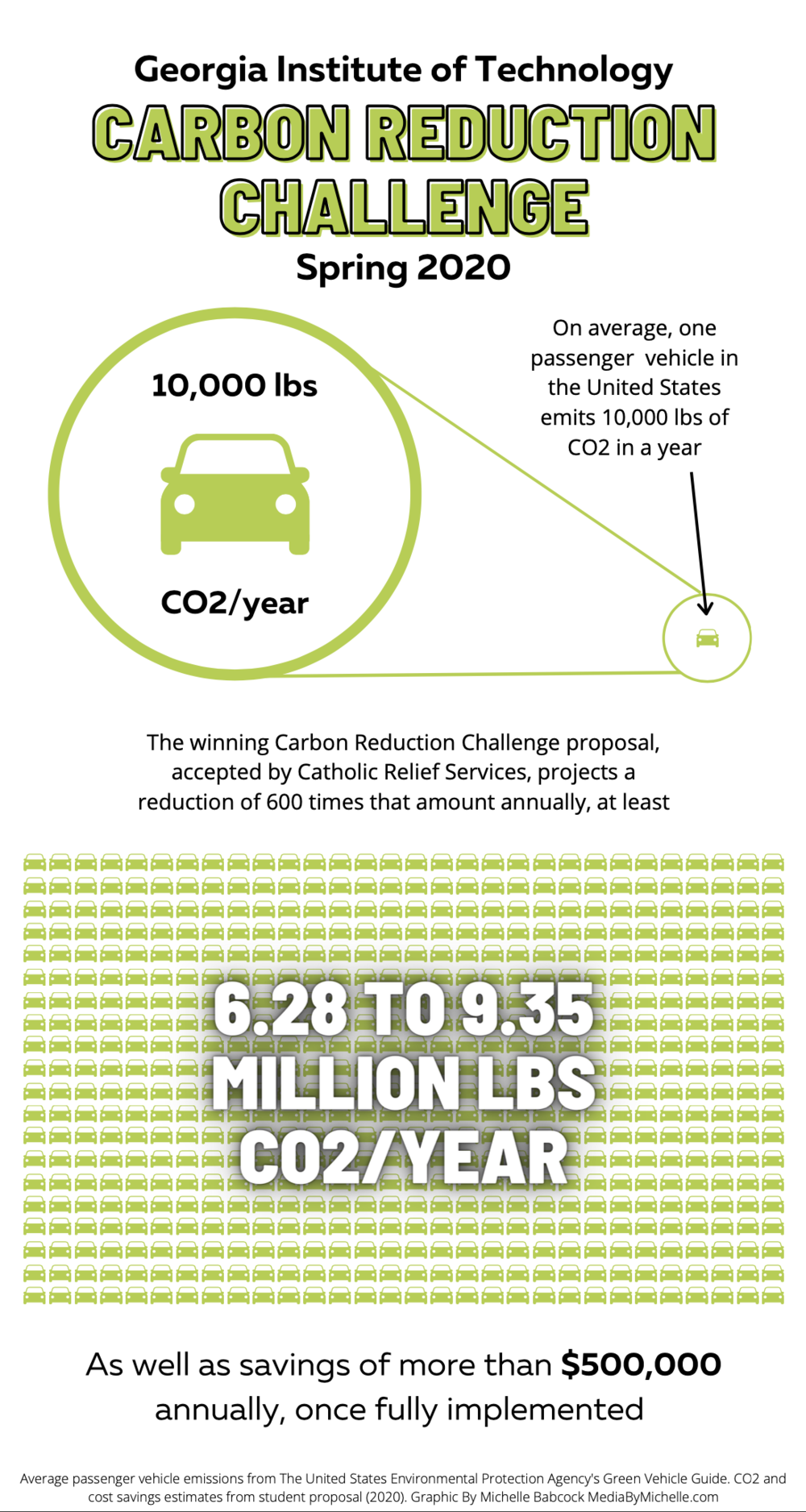 "This data that the fleet manager was able to give us from December was the first attempt to ever get data on every vehicle in the fleet, so it was very patchwork," Mohr said. 
CRS vehicles are also spread out across continents, and it was difficult to make the data understandable. 
"It ended up being like we started out with thousands and thousands and thousands of lines of data — like a different line for each vehicle in the fleet — and then we had to clean up those sections down to just the first 1,300 [vehicles] that we were going to look at," Babcock said.
From those 1,300 fleet vehicles, Babcock and Mohr were able to assess where CRS could save money and reduce their carbon footprint. They found out the vehicles' idling burned excess amounts of fuel into the air. Combined, heavy-duty and light-duty vehicles that idle for more than 10 seconds wastes about 6 billion gallons of fuel annually, according to the U.S. Department of Energy.
Babcock discovered that CRS vehicles were idling much longer than a few seconds.
"There were a lot of hours of periods of idling that were over 10 minutes, which means that it probably was not just somebody sitting in traffic for 10 minutes here and there," Babcock said. "It was more likely people sitting outside of a building idling for an hour or two, and that burns a lot of fuel."
Over a few months, the students came up with a proposal for CRS. By reducing excess idling, the nonprofit could save over 28,000 gallons of fuel, nearly 570,000 pounds of carbon dioxide and $247,000 annually. 
But Babcock and Mohr didn't end the class assignment there. Babcock entered their proposal into the Spring 2020 Carbon Reduction Challenge. A week after their class's final presentations, they presented the proposal to their stakeholders' team. Soon after, they received news that they had won the competition.
"It's very validating because we had put so much work into it," Mohr said. "It was blood, sweat and tears, and we had done a lot of work for free."
Babcock said the win felt incredible.
"I feel like I took action on something that I've always cared a lot about," she said. "This may sound a little bit intense, but as somebody who studies climate science, this is a pivotal point in history."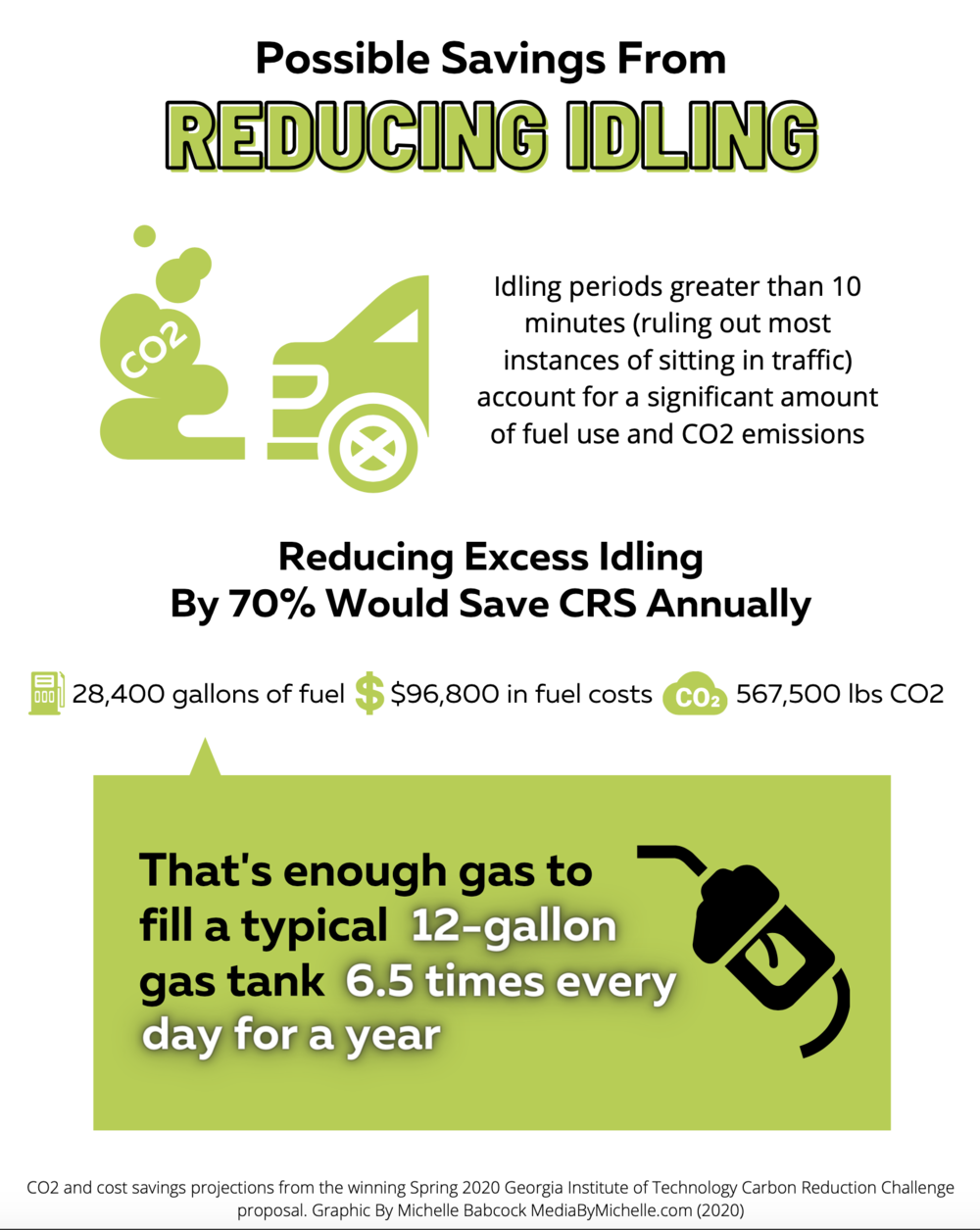 Now, CRS will begin implementing some of Babcock and Mohr's recommendations — such as replacing fleet vehicles every 4.5 years and replacing sedans with hybrid models — to save fuel and money. 
Mohr, who studies international affairs and environmental policy, said completing and winning this challenge expanded her professional reach.
"It definitely adds breadth and dimension to my resume because most of my resume focuses on international affairs and Russian [affairs,]" she said. "I'm hoping to be able to carry over this project to show my adaptability and flexibility and things that I can do in the world of environmental policy as well as my main focus."
Babcock, who has a bachelor's degree in journalism and is currently working toward a bachelor's degree in earth and atmospheric sciences, thinks this win would have meant everything to her younger self.
"Even if something feels impossible, if you don't try, you'll never know, so it's always worth trying."
Secondary Content
Bottom Content