Section Branding
Header Content
Mental Health Town Hall: The System's Failure To Protect And Serve Woman Shot By Police
Primary Content
In April 2018, a 36-year-old woman experiencing a mental health crisis was shot and killed by Johns Creek police officers outside her home.
The death of Shukri Said is something mental health advocates believe could have been avoided. The Awad Law Firm, which is representing the woman's family, and the Council on American-Islamic Relations hosted a virtual mental health forum Thursday night.
Attorney Ibrahim Awad said at the time of the shooting in Johns Creek, the police department had no policies and procedures in place on how to deal with those suffering from mental illness. Ironically, Awad said, the victim and her sister moved to the affluent city in Fulton County because of its rating as one of the safest cities in Georgia.
Panelists included Dr. Linda Harvey, a psychiatrist with the Emory University School of Medicine; Jennvine Wong, the lead attorney of the Cop Accountability Project with the Special Litigation Unit at the Legal Aid Society; and Tiffany Williams Roberts, an Atlanta-based civil rights and criminal defense attorney.
'I want to go home'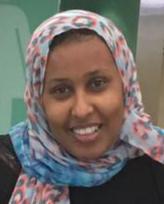 Shukri Said pulled a steak knife from her purse as the first officer pulled up April 28, 2018.
Three minutes passed between the time the police encountered her and the time she was lying dead on the street.
The 5-foot-7-inch woman wore a long, flowing dress and had on a head covering when she walked outside, hearing voices as she experienced an auditory hallucination. She weighed 127 pounds.
"Shukri was hearing voices. She was afraid for her life," Awad said. "She grabbed her passport and a steak knife and left her Johns Creek home wanting to go back to Somalia. She had a medical history of bipolar disorder and schizophrenia."
Said hadn't taken medication to manage her symptoms in four months, and her live-in sister, Aisha Hussein, called 911 expecting help, Hussein previously told GPB News.
PREVIOUS COVERAGE:
If this were a white woman not wearing a hijab the outcome and interaction with police likely would have been different, Murtaza Khwaja with the Awad Law Firm said during Thursday's virtual mental health forum.
The Somalia-born U.S. citizen tapped her passport and said she wanted to go home. It was a similar plea she made when she called 911 herself days earlier, according to an attorney for the family.
Hussein said the only reason she didn't run outside after her sister was that she was caring for small children in the house.
Officer Ken Kennebrew arrived and asked Said to drop the knife and talk with him.
'I didn't expect police to be sent'
The first time Said had a mental health breakdown in public, about 2010, the sisters lived in California, Hussein previously told GPB News. When police previously found Said, they called an EMT who sedated Said and took her to a hospital where she stayed under supervision for about 20 days as doctors got her back on medication.
"That's exactly what I was expecting when I called," Hussein said. "I didn't expect police to be sent."
Emory's Harvey said that, had Hussein known about it, she could have called an alternate number for help with her sister's mental health crisis.
Mobile crisis teams can be reached 24 hours a day and seven days a week by calling Georgia Crisis and Access Line at 1-800-715-4225.
Empathy helps de-escalate a crisis
Approaching public health problems with the police often exacerbates the problem rather than solve it, Harvey said.
To de-escalate situations where people are in crisis, especially when that crisis stems from psychosis, a calm approach with a focus on empathy is best, Harvey said.
"Approaching public health problems with the police often exacerbates the problem rather than solve it," Harvey said.
The second officer to arrive, Cpl. Richard Gray, blocked the road to prevent Said from escaping and retrieved a nonlethal weapon from his marked SUV's trunk.
Gray fired rubber bullets designed to incapacitate, but Said did not stop walking nor drop the steak knife.
Then, Gray fired his Taser, but Said's loose clothing prevented the prongs from digging into the 36-year-old woman's skin. So, Gray fired another foam round.
"You hit me right here!" Said called out while pointing at her hip.
Harvey said people with disorders of psychosis are easily confused.
"A lot of people may have auditory hallucinations, so they're persistently hearing someone degrade them, talk down to them or command them to do things," Harvey said.
That's why Said might have viewed the officers as people trying to harm her that she needed to flee.
As Said approached Gray, the officer dropped his Taser and grabbed his firearm. He fired three shots, all of which struck Said.
Two additional officers arrived on the scene: Sgt. Derrick Wilson and Officer Phillip Nguyen, the second officer to have fired live rounds into Said's body.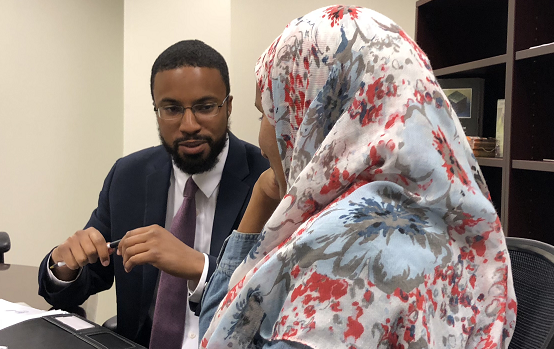 'They perceived her as dangerous'
Edward Ahmed Mitchell, the executive director with the Georgia chapter of the Council on American-Islamic Relations at the time of the shooting, described the police dash camera video.
"You can see that on camera what happens at that moment after she is shot the first time, she falls to her knees and falls on the ground in a position of Islamic prayer, literally," he said. "After that, she gets up with her hands over her chest and stumbles out of view of the camera. At least one officer follows her out of view of the camera. You then hear more gunshots."
Mitchell said, at that point, Said was either dead or dying. She was pronounced dead later at Emory Johns Creek Hospital.
Hussein believes the officers viewed Said as an "other" because she was a Black Muslim woman in hijab walking in a wealthy Johns Creek neighborhood.
Wong, the lead attorney of the Cop Accountability Project with the Special Litigation Unit at the Legal Aid Society, said during the panel recent studies have been inconclusive about the efficacy of implicit bias training.
The crisis intervention training officers attend for a maximum of one full week isn't enough, Wong added.
"I think that we're looking at training that is just insufficient on such a huge and such a huge topic," Wong said. "I don't know if we should be training police officers to do something that they are not really well equipped to do. We should be looking to mental health professionals."
The officers involved in the case — Derrick Wilson, Ken Kennebrew, Phillip Nguyen and Richard Gray — were eventually cleared of any wrongdoing by Internal Affairs and returned to full duty.
The city of Johns Creek and all four officers are named as defendants in a civil lawsuit filed earlier this year. Attorneys for the city and the officers filed a motion to dismiss on June 26.
Secondary Content
Bottom Content