Section Branding
Header Content
Senate Candidate Jon Ossoff Says Congress Should Do More For Schools, Coronavirus Recovery
Primary Content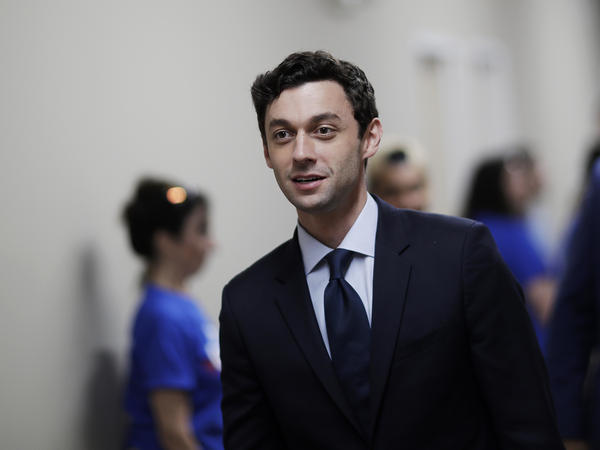 Democratic U.S. Senate nominee Jon Ossoff says Congress should return from recess to take immediate action on another round of coronavirus aid as the country continues to recover from a major economic slowdown caused by COVID-19.
Ossoff, who is facing incumbent Republican Sen. David Perdue and Libertarian Shane Hazel on the November ballot, said that lawmakers have been too focused on support for major corporations at the expense of continuing relief for everyday Americans.
"I don't know how they can look around in the state of the world right now and think that they've earned summer holidays," he said. "Support for small business and ordinary people has been sluggish and the Senate has gone on vacation while small business emergency lending is now paused and needs to be reauthorized."
In an interview with GPB News, Ossoff also said that local governments need more support as the economic slowdown has seen tax revenues plummet.
"What Congress needs to have done months ago is anticipate that this would be a problem and get working ahead of time to ensure that local governments and local school districts have the resources that they need to adapt to these circumstances," he said.
As Georgia schools have struggled with both in-person and virtual reopening plans, Ossoff and Perdue are somewhat in agreement that the federal government needs to provide more assistance with planning and execution. Ossoff said local school districts need three things the most right now.
"They need financial resources, they need expertise and training and they need technology equipment," he said. "It wasn't a mystery that schools would be reopening in August and September and it's obvious that local schools can't adapt to a crisis like this without help."
RELATED: Sen. David Perdue Talks COVID-19 Relief, School Reopening Plans
Perdue, who is using the August recess time to meet with recipients of the Paycheck Protection Program loans signed as part of the CARES Act earlier this year, also proposed the SCHOOL Act, which would give grants to systems for PPE, more testing and a better communication to update parents and students about the virus within local districts. The SCHOOL Act, like other COVID-19 proposals bandied about on Capitol Hill, have stalled while Congress is out of session.
Both of Georgia's senate seats are on the ballot this year, with current Republican Sen. Kelly Loeffler facing off against 20 candidates from multiple parties in a special election to fill the rest of Sen. Johnny Isakson's term through 2022. 
The coronavirus has kept most in-person campaign activities to a minimum, but Ossoff said his team has pivoted to the digital sphere to reach more voters through virtual town halls, and focusing on voter turnout by sharing election dates and information.
"We would love to be knocking on doors, canvassing and helping people get out the vote that way," he said. "But again, we don't want to put people at risk, so volunteers are remotely calling and texting voters to make sure that they have everything they need to request their absentee ballot, for example."
Election Day is November 3, but you can request your absentee ballot  now for it to be mailed around September 15, or take advantage of Georgia's three-week early voting period beginning October 12.
Secondary Content
Bottom Content