Section Branding
Header Content
Sen. David Perdue Talks COVID-19 Relief, School Reopening Plans
Primary Content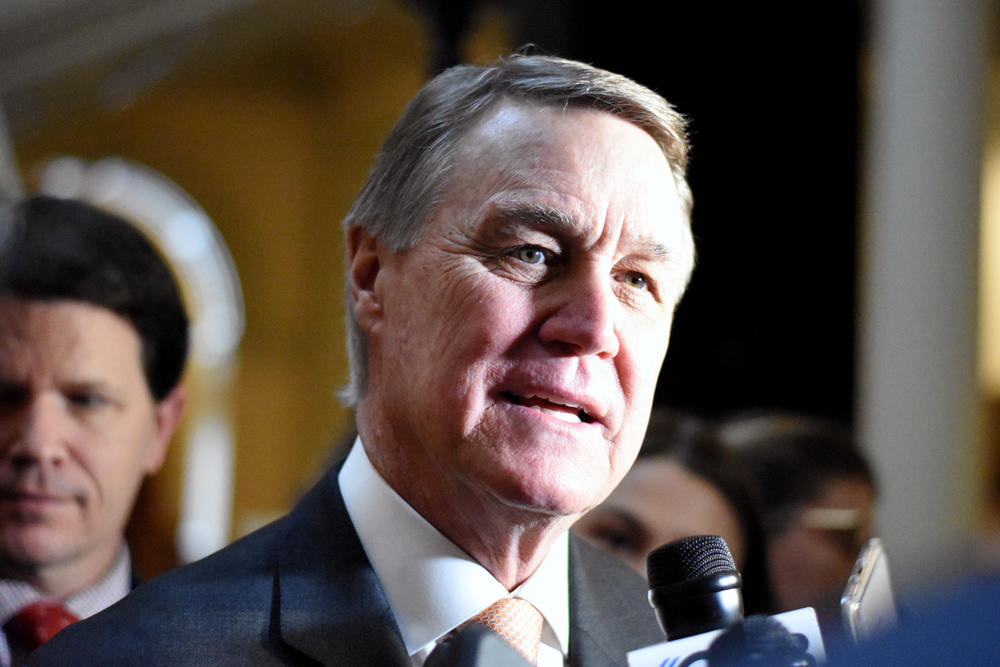 While the U.S. Senate is in August recess, Sen. David Perdue is traveling across the state meeting with Georgia business owners who have benefited from a massive coronavirus relief package passed by Congress earlier this year.
Perdue, who is running for reelection this year, said in an interview that the Paycheck Protection Program was a lifeline for companies that were trying to stay afloat during the beginning of the pandemic.
"In Georgia, we've saved about 1.5 million jobs because of the PPP program," Perdue said. "I've been in places like Valdosta, Atlanta and Smyrna talking to people who have taken these loans."
More than $14 billion in forgivable loans were administered to 156,000 Georgia businesses, covering 86% of the state's small business payroll, according to data from the U.S. Small Business Administration. 
In Valdosta last week, Perdue visited Friends Grille+Bar, part of a three-restaurant group that laid off 75% of its employees at the start of the coronavirus pandemic but was able to bring them all back thanks to the PPP.
Congressional negotiations over a new round of COVID-19 relief are currently stalled, but Perdue said his conversations with business owners only strengthens his determination to find a solution soon.
"We're having some political difficulties, but we want to make sure that the small businesses that have survived the first few months of this have enough to come back," he said. "You've got a health crisis first and, because of that, we shut the economy down to try and deal with it. ... That created an economic crisis." 
RELATED: Georgia Businesses Received $14.5 Billion In Paycheck Protection Program Loans
Perdue pointed to recent jobs numbers that show 7.5 million jobs added back in May and June, mostly from previously displaced workers that benefited from the federal government's assistance.
He supports the HEALS Act, a new Republican Senate proposal that contains similar elements to the CARES Act, like direct payments to Americans and more money for testing and small businesses.
"It is going to have to be a bipartisan solution between primarily Democrats in the House and Republicans in the Senate," he said. "But we're focused on jobs. This is what the whole thing has been about all along, we want to protect jobs!"
The next phase of handling the coronavirus pandemic is school reopening, Perdue said, and something that goes "hand in glove" with restarting the economy.
"I don't want the federal government dictating or determining how a local school system operates," he said. "But there are things the federal government can do."
His proposal for the Safely Creating Healthy Opening Options Locally, or SCHOOL Act, is a $50 billion program that would give grants to systems for personal protective equipment, more testing and better communication for systems to share best practices and virus information with students and parents.
"Eighty percent of our deaths are north of 65 years of age, and a high percentage of those have comorbidities," Perdue said. "Having said that, we know that children interact with their parents and adults all the time, so this is something we have to look at in a holistic way."
School systems across the state have taken different paths toward starting the academic year, ranging from online only to in-person instruction, and nearly all of those methods have encountered hiccups. Perdue said the variety of decisions makes funding for rural broadband, telehealth and education even more important.
Finally, Perdue said Georgians should feel confident in the preparation state and local elections officials are making for the November general election.
"I want every single eligible voter in Georgia to vote, because that's what a representative democracy assumes," he said. "And the way you do that is you have a flexible system that allows everybody wherever they are to be able to vote."
Perdue faces a tight race with Democrat Jon Ossoff this November, one of several closely watched Senate contests that could decide control of the upper chamber. Libertarian Shane Hazel is also on the ballot.
Perdue, who has voted by mail in recent elections, also said concerns over the Postal Service's ability to handle a crush of absentee ballots is a "distraction."
Georgia has three weeks of in-person early voting, no-excuse absentee-by-mail voting and Election Day voting.
Secondary Content
Bottom Content