Section Branding
Header Content
Protesters Stage 'Die In' At Georgia's National Leader In College Coronavirus Spread
Primary Content
Students and faculty sprawled across the grassy quad as if they were dead at the front of the campus of Georgia College and State University in Milledgeville for two hours Friday -- some with cardboard tombstones. "I can't teach if I'm dead," one read.
It was all part of a "die in" to protest the COVID-19 policies at Georgia's public liberal arts school, with students, faculty and staff demanding stronger measures on campus.
First-year mass communications student Kai Morgan of the city of Milton, about 30 miles north of Atlanta, watched the protest from the other side of a plot of blooming azaleas.
"You just see people, like, dropping like flies," Morgan said of life on campus with the virus. "And even with online classes someone will be like, 'Yeah, I have COVID….' just like over Zoom and you're just like, 'Whoa!'"
By 'dropping like flies', Morgan meant disappearing from class. Some instructors have said their in person attendance has already been hollowed out by the virus. In one case, a student wrote their professor from the hospital where they were recovering from COVID-19, asking how they could keep up with course material. No students have died.
About 500 students have been documented as infected with coronavirus at the college. According to the college and university coronavirus case tracker from The New York Times, that gives the school of about 8,000 students one of the worst campus case rates in the country. 
The University of Georgia also sits high on the New York Times list, too. Campus workers staged their own die in at UGA weeks ago. 
"That's unacceptable for us. And we are demanding that the administration and the University System of Georgia do more to protect us," said Denechia Powell, a graduate assistant and graduate student in creative writing who helped organize the protest. 
Powell and others are asking for a number of changes.
First, they would like Georgia College to provide campus housing set aside for students forced to quarantine. Right now, the university asks students to instead go back home for the duration of their quarantine period.
They also want a switch to fully online instruction.
"Because forcing in-person classes is not working," Powell said. "That's what has gotten us to almost 500 cases."
Some faculty at the school also point to a largely unchanged Greek rush that occurred before the start of classes as the main driver of viral spread.
"But that is unfounded to us," Powell said. "The students are not the people who decided to bring us back on campus. So why are they shouldering all of the blame?"
The administration of Georgia College denied a request for an interview for this story.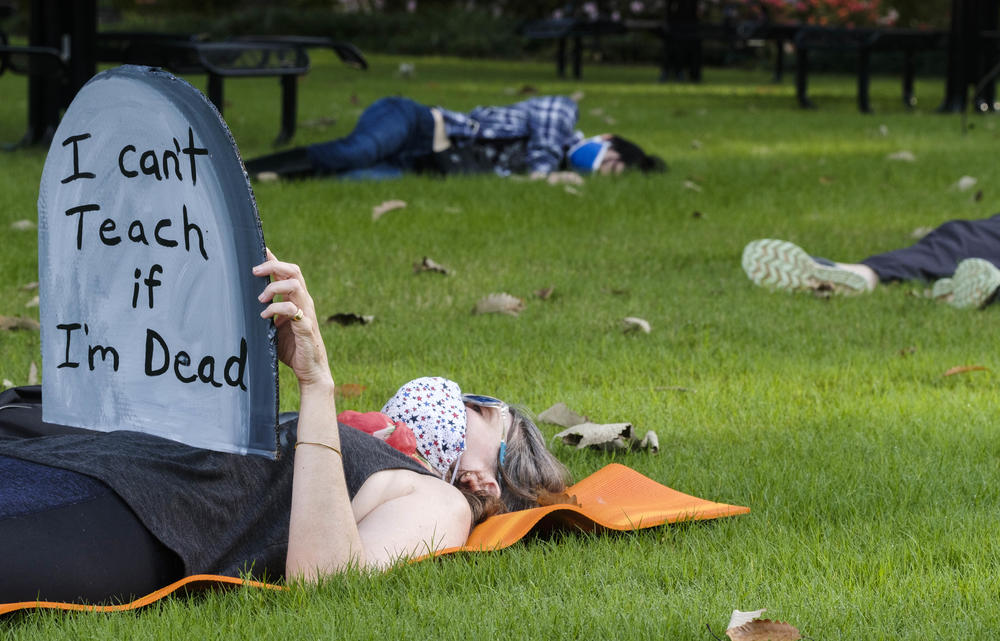 First year student Kai Morgan said the advice from the university on how to stay safe gives her a little comfort.
"They said on campus is not where people are getting the cases. It's at, like, going out and going to parties and all that," she said.
Morgan said that's not her or the friends she knows. "Well, I pretty much only take my mask off with my roommates and the people I'm living with."
To better track on-campus coronavirus cases at Georgia College, the protesters are also asking for on-campus testing and contact tracing, like at other public universities.
For now testing is being left to the health department, private labs and pharmacies.
Contact tracing is left to the North Central Health District which was said to be understaffed for the job, even before the surge of infections that began in July.
Secondary Content
Bottom Content