Section Branding
Header Content
'It Is What It Is:' UGA Students Make Do Amid Historic Pandemic
Primary Content
Some 40,000 undergraduates return to the University of Georgia every fall. This year they contend with the coronavirus.
It was a little early for lunch Tuesday when Ayoub abu Baker sat down on a stone curb to eat with a friend behind Bolton Dining Hall on the University of Georgia campus. 
Eating inside the two-story dining hall at the center of the dormitories used mostly to house first-year students requires a reservation. This due to university social distancing rules brought on by the coronavirus pandemic.
Dining al fresco was just a new part of the student experience of getting settled and making friends for abu Baker and the little groups of other students eating, talking and laughing on the sidewalk near him. 
"You know, you walk down the hall, say 'hi' to whoever is walking past, even if you don't actually know them. Just being nice to everyone," abu Baker said of dorm life.  "I mean, everyone just wants to make friends with whoever is around them because we'll be stuck with these people until we move out."
The pandemic presents a very real possibility that move out day could come soon, even though abu Baker and others just moved in. 
The University of North Carolina at Chapel Hill went fully online this week after logging a few hundred COVID-19 cases among its 30,000-plus undergraduates. The University of Notre Dame has shifted to online instruction, too, at least for a few weeks. 
The masks, the outdoor dining hall food and social distancing rules are aimed at avoiding a similar fate at UGA, although the University System of Georgia has not yet said what threshold of infections would spur such a shift.
RELATED: University System Of Georgia: No Definitive COVID-19 Threshold For Moving Classes Online
Abu Baker had heard about Chapel Hill going digital. So it was with a slight sense of urgency that he was making friends in the days before classes start.
"Just meeting as many new people as I can. Just, you know, getting their phone numbers. IM on Snapchat. Whatever. Just keep in touch until we come back, so that we can sort of, like, maintain a relationship with other people," he said.
Elsewhere on campus, parents moved students into Lipscomb Hall just across Tanyard Creek from the dining hall. A dad in a UGA red polo shirt, little black "G" over his heart, hoisted a rack of cubbies from one end, his new student at the other. Both wore masks during the struggle.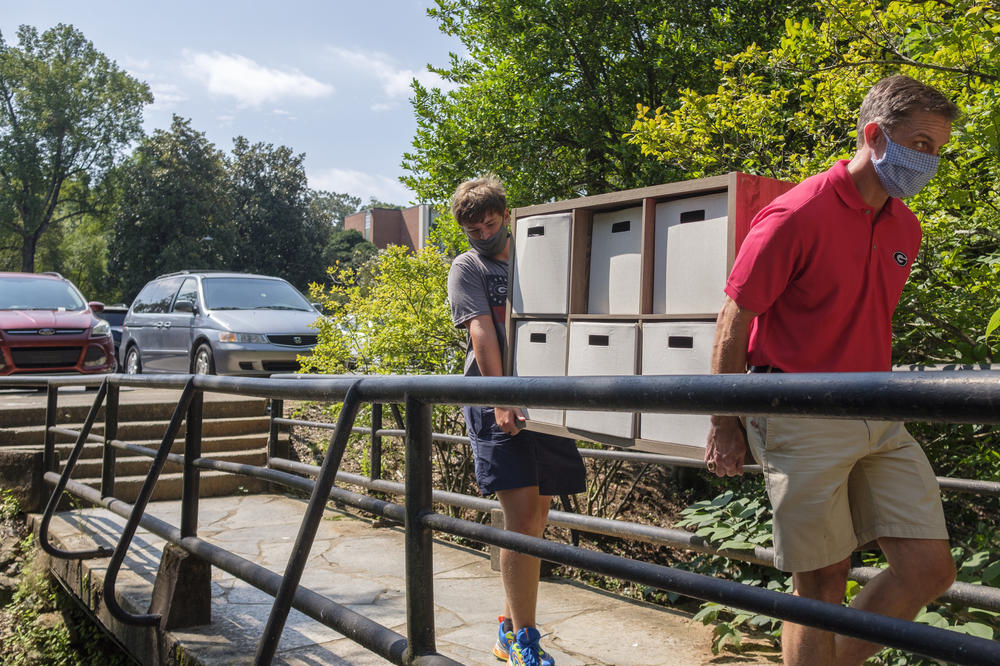 Beyond that, a completely dried pool in the middle of Legion Field sat at the center of a coronavirus testing site. Students dribbled in one at a time to get tested on the Legion Field stage where in past years bands or comedians were booked to entertain the undergrads. The university says it can test around 1% of the student body daily, regardless of symptoms.
Among those getting tested was second-year psychology major Jazmine Grant.
"I just want to make sure, like, I'm being safe," Grant said.  "Like I try my hardest, but doing the surveillance testing is just a way for me to make sure that I'm being safe correctly."
Grant said it was her second test. She said, in general, she believes other students were taking the COVID-19 threat seriously, too.
"I would hope so," she said. "Otherwise, I mean, everybody else is in trouble."
But Grant said if trouble came, she'd be OK with a shift to online learning.
"Because if we had to go online, then I'd feel better with just general traffic being down. So I wouldn't particularly mind," she said.
As students walked around campus, most appeared to accept the baseline coronavirus responsibility of wearing a mask in public per both university and Athens-Clarke County ordinance.
But there were exceptions.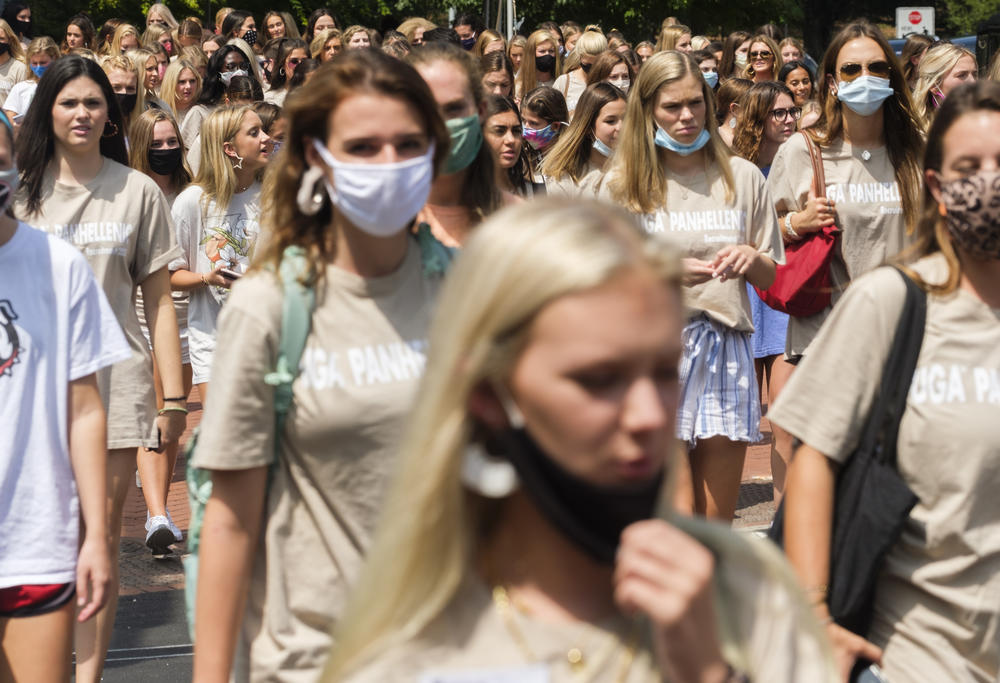 "He's OK with it; I'm OK with it," said one student walking up Baxter Street with a friend, both unmasked.
The area around the Tate Student Center is like the Hartsfield-Jackson International Airport of the UGA campus where most of the bus lines pass through. Sanford Stadium is just across the street and students are drawn to more than one multi-story building of common study areas and more dining.
There, Will Gibson and a handful of friends walked around unmasked.
"We don't want to go online. We want to have a college experience and stuff like that," Gibson said.
Wearing a mask made him uncomfortable, he said. Plus, he said he was sticking to social distancing guidelines.
"I figured I was far enough apart from people, so, it is what it is," Gibson said.
When it comes to indoors spaces or when he feels like he is too close to others, Gibson said, he would, of course, mask up.
On this day, groups of students took part in sorority rush, hoping to get picked by one of the Greek organizations, periodically pulsed through the student center in tightly packed groups of what looked like a hundred at a time. Most had taken off their masks as they moved across campus as a single unit in matching t-shirts that read: "UGA Panhellenic."
Up the hill from the student center sits a trio of high-rise dormitories: Creswell, Russell and Brumby. Behind Russell Hall, a student had just finished working out on the patio, the ring light she used to film herself still on a stand as she replaced her surgical mask. A few masked students threw a football on the lawn on the other side of the building while students could be heard struggling to recognize people they'd only met days before through the relative anonymity of covered faces.
Two or three games of pickup basketball took up the courts on yet a third side of the high rises. No masks there.
"I have asthma and I can't wear one," one first-year student explained as he toweled himself off from his basketball game.
All a part of the heady days between saying goodbye to home and the start of classes.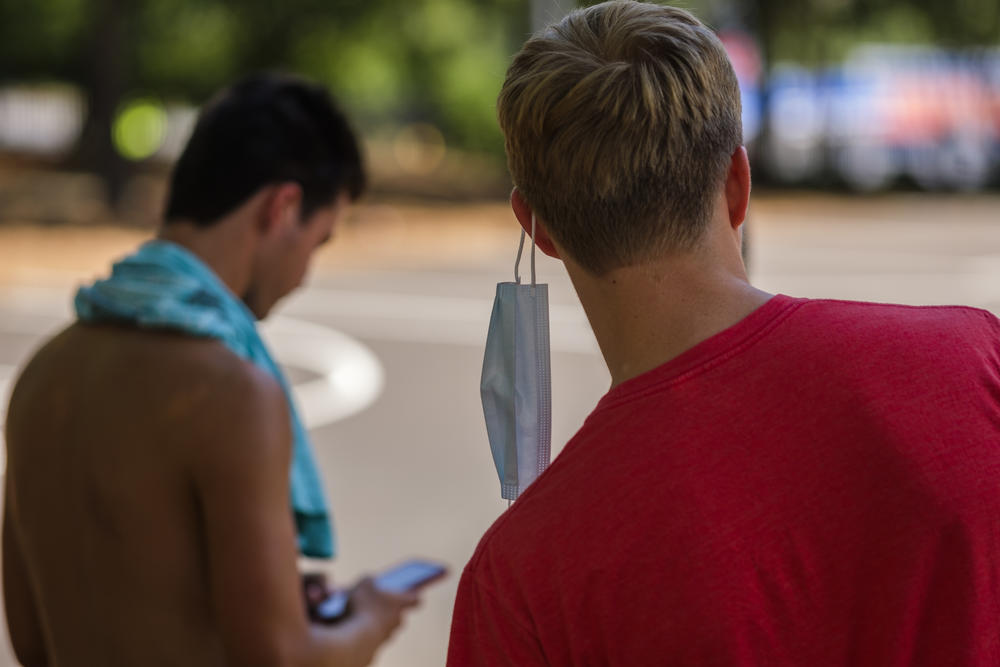 "I was mostly looking forward to not living at home anymore and having a little more independence, which I feel like hasn't really been affected," said Gemma Love, another student eating lunch behind Bolton Hall. "But I feel a lot more pressure to be, like, super responsible with what I'm doing."
When Love said she's making new friends, she turned and sort of eye-smiled with the young woman next to her who laughed a little in return. New friends. Clearly Love doesn't want this to end. But when it comes to coronavirus, she looked at the big picture.
"If we had to move back home, I would definitely be a little bummed," she said. "But I would understand because I don't want to put a whole bunch of people's health at risk just so I can, like, have fun and be independent at college."
Across the street behind Creswell Hall, a mother hugged her son goodbye, releasing him to his own choices.
In-person classes start at the University of Georgia on Thursday.
Secondary Content
Bottom Content