Section Branding
Header Content
Somber Milestone: COVID-19 Deaths In Georgia Top 5,000
Primary Content
COVID-19 has now killed more than 5,000 Georgians since the state health department reported its first death on March 5, the Department of Public Health said Saturday.
In just over five months, the eighth most populous state now ranks 10th in overall coronavirus deaths.
The somber milestone comes roughly four months after the Georgia Department of Public Health reported crossing the 500-mark on April 15. At that time, the state was shut down under a shelter-in-place order from Gov. Brian Kemp.
The state on Saturday also surpassed 250,000 total confirmed coronavirus cases. The state reported 2,615 new coronavirus cases for a total of 252,222 confirmed cases. There were 95 new deaths reported, bringing the total to 5,092. 
Meanwhile, with schools opening around Georgia, state superintendents are asking Kemp and the DPH to categorize educators as essential workers. John Zauner, the executive director of the Georgia State Superintendents Association, said all 180 superintendents were surveyed this week about the topic.
Of the 151 who responded, 92%, or 139 superintendents, said they would like educators classified as essential, which follows guidance released Friday from the White House.
It's not a matter of forcing people who have been exposed to coronavirus to work, Zauner said. Rather, the designation would help alleviate any potential teacher shortages and make clear how long and whether an educator needed to quarantine after possible exposure.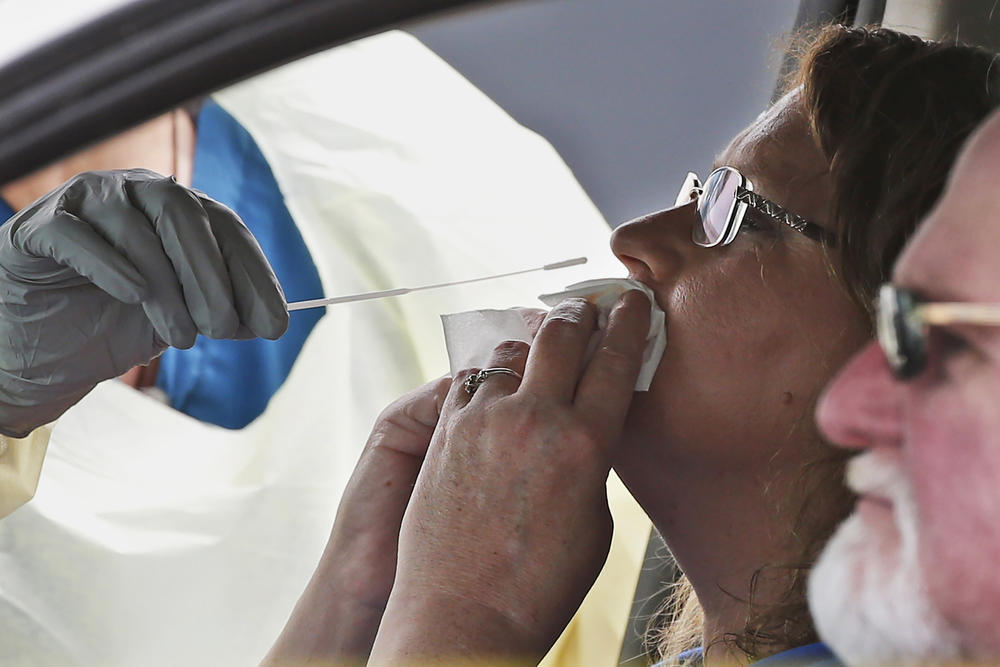 "Local superintendents want to work with their teachers and they want to certainly keep them safe while they're doing their job, whether that's in-person instruction or virtual instruction," Zauner said.
He said the health department's guidelines are a bit unclear about who needs to quarantine based on time and proximity of contact.
When a teacher who spent 15 minutes near a person who later tests positive has to quarantine, Zauner said, that creates staffing problems at local schools.
"They're telling those folks, whether it's students or staff, they have to quarantine for 14 days," Zauner said. "They may never get sick; they may not ever have any symptoms. That's kind of where we're targeting this whole essential worker thing."
Zauner said by classifying educators as essential, they would not have to quarantine as long. This only refers to people who are not sick or showing symptoms of the virus, he said.
Educators in Cherokee County, one of the first school districts to open for in-person instruction without a mask mandate, have been resigning at a faster pace than they did this time last year. Several have said this is because of the school board's decision not to mandate masks and listen more closely to educators who fear for their safety in crowded classrooms.
At the August board meeting, Cherokee County School Board members voted to release 25 certified teachers. In August 2019, the board released three certified teachers.
Of the 34 teachers recently hired and approved by the board Thursday evening, 23 educators recently graduated or have fewer than three years teaching experience. This time last year, the district hired just seven new teachers.
"The brain drain affects quality of instruction and resources needed to mentor these young teachers," said Allison Webb, a Sequoyah High School teacher who resigned before classes started. "Thrown into a difficult situation, with many veterans just trying to get through this year, how will that affect teacher retention? Responsible leaders would have thought long and hard about these risks, but these leaders treat teachers like cogs in the machine."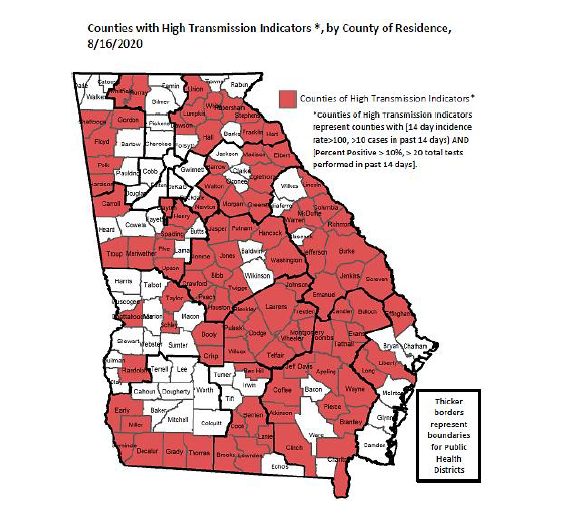 School board members, as well as Kemp, have criticized the news media for reporting the "bad numbers," but the DPH said Friday that it is seeing high transmission of COVID-19 in rural middle, east central, south and southwest parts of Georgia.
"These increases are driven by ongoing community transmission as well as outbreaks," DPH said in its report.
Kemp grew angry at a news conference this week after reports surfaced that Georgia has the highest rate of infection per capita in the nation. Kemp maintained the real story is declining hospitalizations and falling COVID-19 case numbers -- a sign the state is making major progress in the fight. 
"I will tell you that the media only focuses on the bad numbers," Kemp said. "They never focus on the good numbers."
Atlanta internist Dr. Melanie Thompson told GPB News that opening schools while there are high rates of community spread means officials are likely to see numbers rise again.
"We turn this around by following the science as well as the task force recommendations, which are based on sound public health metrics," Thompson said. "And to do that, we must first stop framing this as a political battle. Stop name calling, which is simply not helpful, and focus on the science."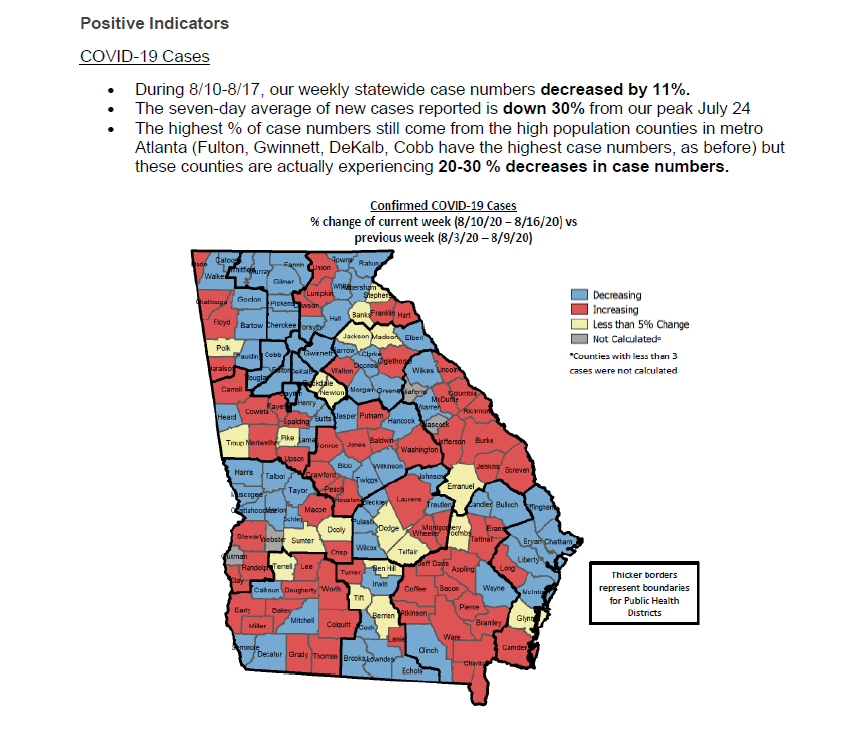 While the number of COVID-19 patients in the hospitals has dropped in recent weeks, Dr. Amber Schmidtke, a microbiologist who publishes her own calculations based off DPH data, said she remains cautiously optimistic about the decline, but she cautioned "we don't know the full context of what that number means right now."
Additionally, she said people are not fully appreciating the toll the pandemic is taking on health care workers.
"Effectively, when we get sick our health care workers get sick. And when they're sick, they can't work to care for the ill," she wrote. As of yesterday's DPH report, we have recorded 83 deaths among healthcare workers since the start of the pandemic."
Secondary Content
Bottom Content