Section Branding
Header Content
Tourism Abounds In Historic Helen Amid Pandemic; Mask-Wearing Doesn't
Primary Content
Helen has always been one of the most unique towns in Georgia. Nestled in the Blue Ridge Mountains in the northern part of the state, the former logging town reinvented itself into a replica of a Bavarian logging city in the late 1960s.
Nowadays, tourists from around the area flock to the town for its unique, Americanized-take on German culture against the backdrop of the Chattahoochee River.
Visiting there now, you wouldn't necessarily know the coronavirus pandemic has drastically impacted the state, from nearly 5,000 people dying to hundreds of businesses closing.
On a recent trip to the tourist town about 90 miles northeast of Atlanta, few visitors donned masks. Most people walked down the town's main strip mask-less, soaking in Helen's various restaurants and pubs with few worries about coronavirus. White County, where Helen resides, has reported more than 400 COVID-19 cases, including eight deaths, according to the Department of Public Health.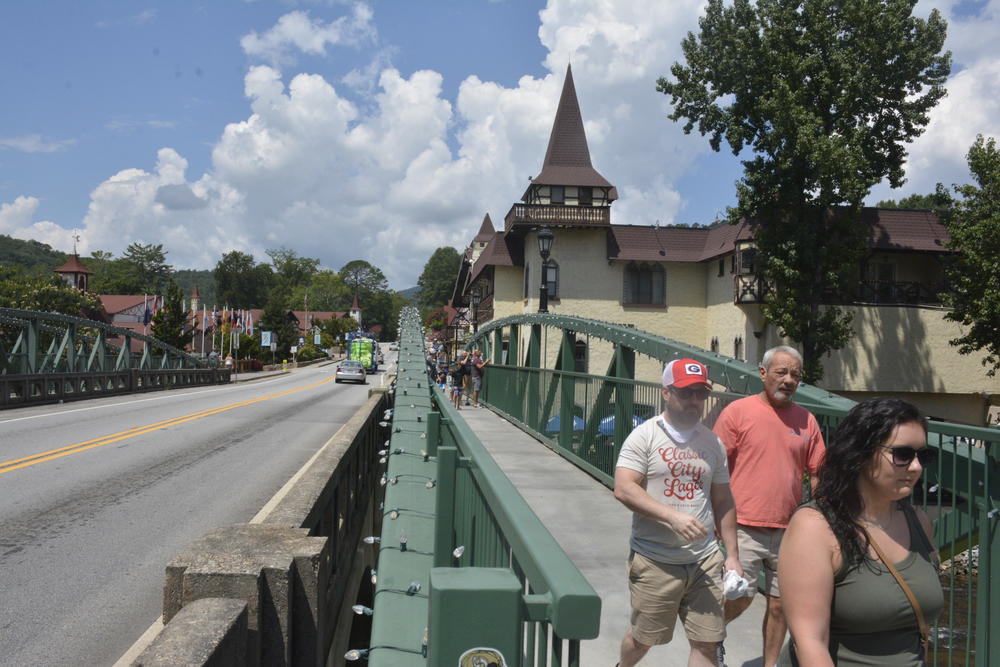 A flux of people sat on the patio at a tavern on Main Street, a restaurant that sports a beautiful view of the river that runs through Helen. Nearly everyone standing outside waiting for their seat was mask-less. Tables remained seemingly close together and not six feet apart as recommended by the Centers for Disease Control and Prevention.
In an outdoor patio area on Main Street, there was no effort to mark off chairs or tables to keep patrons socially distanced.
More than one of the storefronts off Main Street featured kitschy Trump 2020 merchandise in windows. One t-shirt had a mockup of the CNN logo that read: "Fake News Network;" another said, "Hell yeah I voted for Trump, and I'll do it again!" Trump took 82% of the vote in White County in 2016.
No one at the businesses on Main Street approached by GPB News was willing to comment about how the town is holding up amid the pandemic or offer thoughts about masks and social distancing.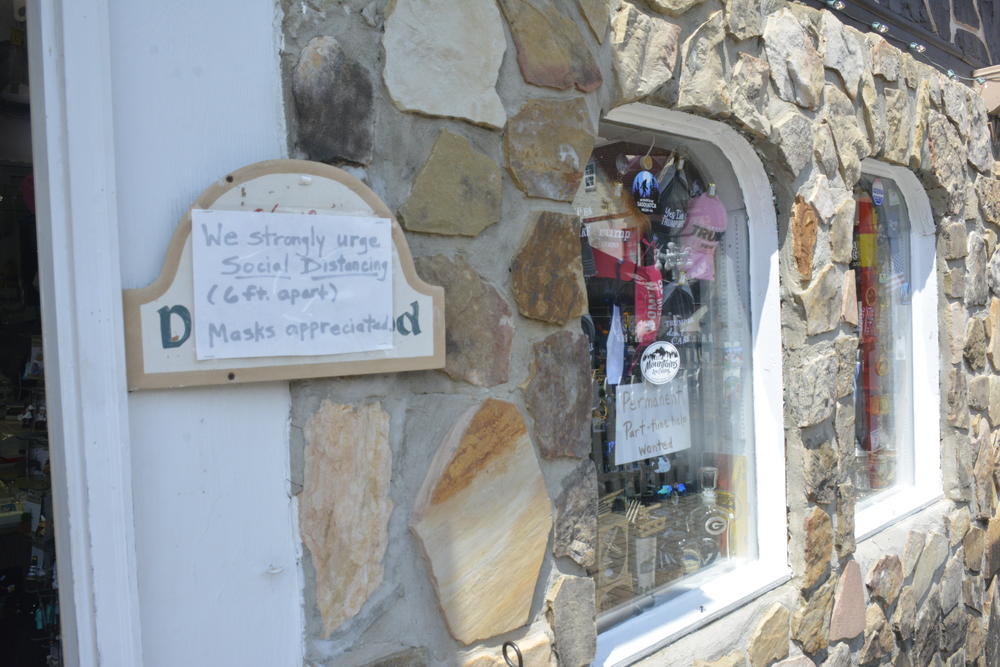 In many ways, the town seemed reflective of Georgia's place in the age of coronavirus. Trump and Gov. Brian Kemp have pushed back against more stringent mask-wearing policies. 
Kemp on Wednesday encouraged all Georgians to wear masks, while blasting the news media for reporting on a White House task force that said Georgia has the highest rate of infection in the nation. The governor emphasized the state's coronavirus cases have been going down in recent weeks. "I will tell you that the media only focuses on the bad numbers," Kemp said. "They never focus on the good numbers."
RELATED: Fiery Kemp Blasts Media Over COVID-19 Reporting: 'You're Not Being Truthful With People'
Fabiola Batiz, a tourist from South Carolina in town for the week, wore a t-shirt that read: "Social Distancing Please." While she didn't expect everyone to wear a mask, Batiz said she was surprised that more people in Helen weren't.
"I take it seriously. We do wear a mask everywhere," she said. "It's on them. It's not on me to tell them to wear it, but they should, right?"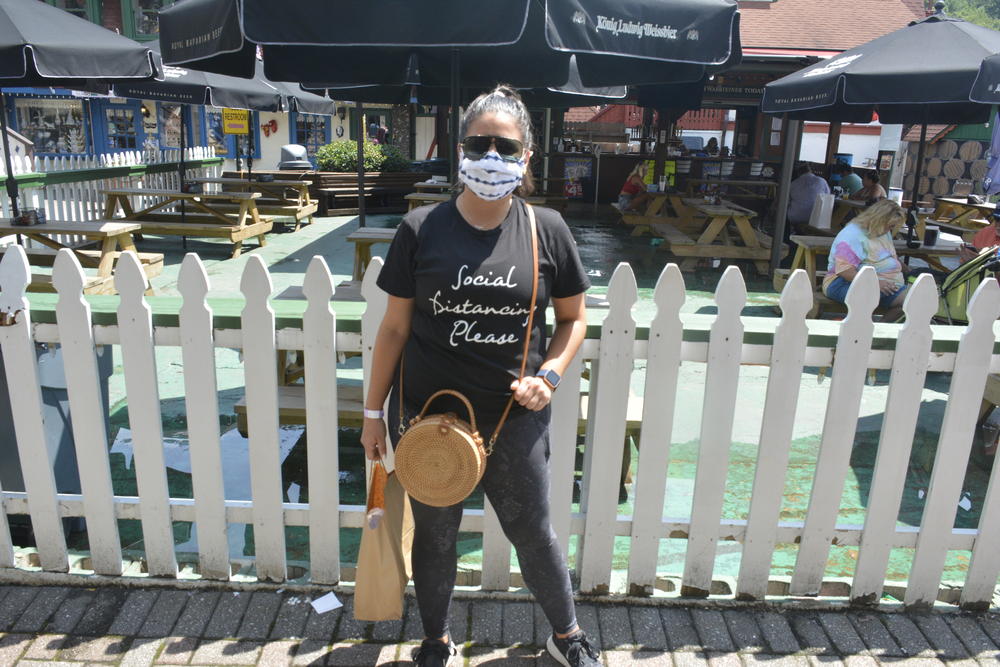 That's not to say that every storefront in Helen lacked a sign encouraging social distancing or mask wearing. Servers at Muller's Famous Fried Cheese Cafe wore masks as they tended to customers. A sign in a candy store window required patrons to put on a mask before entering, too.
For its part, the town has postponed its 50th anniversary of Oktoberfest, the longest running Oktoberfest celebration in the nation. Helen moved the festivities to 2021 due to the pandemic, but businesses this year will still be allowed to host open-air celebrations.
Daniel Smith, who was in Helen for a day trip with his family, said his refusal to wear a mask was less about a disregard for health and more about "personal liberty."
"I believe everyone has to make the right call for what's right for them," he said. "But it's not about the government coming in and telling me I need to wear a mask while I walk around."
Secondary Content
Bottom Content