Section Branding
Header Content
Kemp Allows Local Governments To Require Masks – With Some Restrictions
Primary Content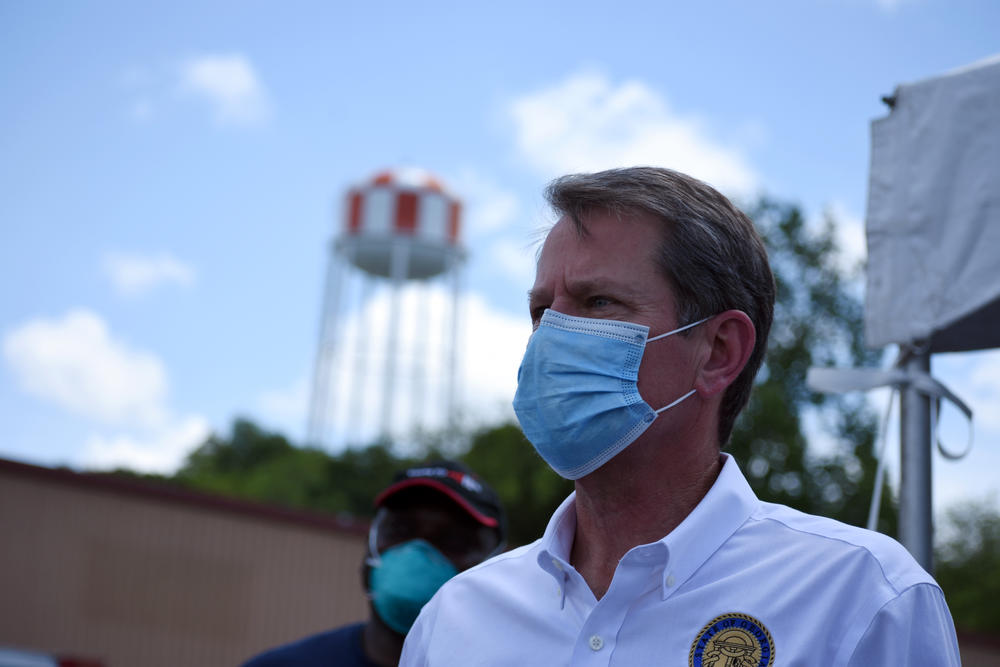 As coronavirus cases and deaths continue to rise in Georgia, Gov. Brian Kemp signed an order Saturday that situationally allows for local mask mandates after negotiations with Atlanta's mayor fell apart.
At any time, local leaders can require masks on government-owned property, but the new language spells out specific thresholds before restrictions can go further.
"This order also protects Georgia businesses from government overreach by restricting the application and enforcement of local masking requirements to public property," Kemp said. "While I support local control, it must be properly balanced with property rights and personal freedoms."
In counties that have a sustained caseload of 100 cases per 100,000 residents for the previous two weeks, local governments can require face coverings in public and fine individuals up to $50 per violation, after a warning.
Governments cannot enforce their mandates on residential property or private property unless the business owner consents. 
RELATED: Kemp To Withdraw Lawsuit Against Atlanta, Issue Updated Order On Masks
Private property requirements were a sticking point in negotiations between Kemp and Atlanta Mayor Keisha Lance Bottoms after the governor sued over Atlanta's mask mandate and decision to roll back a voluntary reopening plan to "Phase One," which could have shuttered some businesses.
As of Saturday, 157 of 159 counties in Georgia would now be eligible to enact public mask ordinances, according to Department of Public Health data.
More than a dozen local governments across the state have enacted public mask mandates to combat the spread of COVID-19, and until now they violated the governor's order that barred them from actions more or less restrictive than the statewide measures.
Kemp, who has continually opposed a statewide mask order while urging Georgians to wear face coverings, said in a statement that progress has been made from the state's high levels of cases and deaths.
"In Georgia, our statewide case numbers have dropped 22% over the last two weeks, and daily hospitalizations have decreased by 7% in the last seven days," he said. "We are on average testing over 31,000 Georgians daily at 180 [sites] while maintaining a low rate of transmission. The positivity rate is on the decline, and the mortality rate continues to fall."
A recent leaked White House Coronavirus Task Force report said Georgia's policies were not enough to prevent "widespread and expanding community viral spread, but the governor's office disputes some of the federal findings.
Still, the new executive order is a sign that Georgia's ongoing battle with COVID-19 is not yet over.
"While encouraged by the data, we cannot grow complacent," Kemp said.
Secondary Content
Bottom Content